UPDATE 2:04 PM CST USA FRIDAY 23 MAY 2014
BBC has issued this new teaser for DOCTOR WHO S8. Short, simple. Coming this August.
=============== ORIGINAL DOCBACK FOLLOWS ===============
Glen here…
…with a look at The Ark, a Hartnell-era story originally broadcast March 1966. The Ark - not to be confused with The Ark in Space (T. Baker, Story #76) - finds the Doctor and companions Dodo (Jackie Lane) and Steven (Peter Purves) materializing within a mysterious vessel which is on a desperate mission - a mission now on the verge of collapse due to their appearance.

It's impossible to discuss The Ark without obliquely spoiling certain elements of it in the review below. So…for those who want to remaining utterly virginal about the tale? I found it a touch slow, but generally smart. highly enjoyable, and would quite recommend it.
More on The Ark below, but first…
TITAN RELEASES PROMOS FOR THEIR UPCOMING DOCTOR WHO COMICS LINE
Unveiling in July…
LOOK AT MATT SMITH'S MUSCLES IN RYAN GOSLING'S DIRECTORIAL DEBUT
LOST RIVER begins its release pattern later this year.
MATT SMITH ALREADY WANTS TO PLAY THE DOCTOR AGAIN??
We've seen this kind of thing happen before when an actor jumps out of a show at the height of its popularity.
At the Calgary Expo, via DoctorWhoTV, Smith revealed:
"I love the idea of other Doctors coming back. Also that gives me the opportunity to come back, which I totally will by the way! I'm just waiting for the next anniversary. I spoke to Steven the other day and said 'what's the quickest one we can do?'"
LINDALEE'S FAN ART GIVEAWAY OVER AT BEYOND THE MARQUEE
BeyondTheMarquee's Lindalee has an amusing episode featuring submitted fan art - and announcing a new contest in which a piece of art can be won. Details via the video below…
A QUICK, INTERESTING, BUT FRUSTRATINGLY VAGUE LOOK AT THE RESTORATION OF THE ENEMY OF THE WORLD
A fun Troughton-era episode presumed lost, but recently announced as recovered and now available on streaming and DVD.
DOCTOR WHO WINS RADIO TIMES' AUDIENCE APPRECIATION AWARD AT BAFTA
A tip of the hat to the show's victory at last weekend's BAFTAs, where The Day of the Doctor - DW's 50th Anniversary episode - won the Audience Appreciation Award mentioned above.
More details HERE.
HORNORSILK REVIEWS THE MOONFLESH BIG FINISH AUDIO
=====================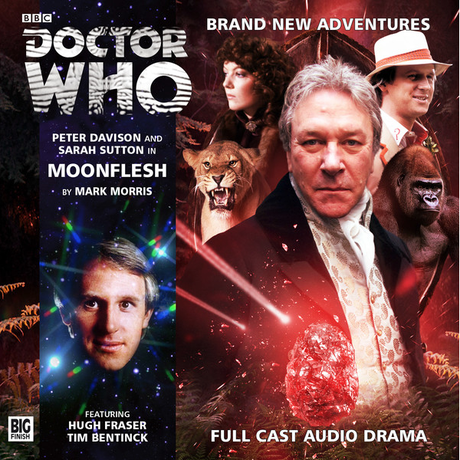 Big Finish 185 – Moonflesh
By: Mark Morris
I am not going to be able to give an adequate review of this story, because, it's one of the few Big Finish adventures which could not hold my interest. I've tried to listen to it several times, but, there is something about it which makes it so it doesn't hold my attention.
The ideas behind it are somewhat interesting. The Doctor and Nyssa find themselves on the grounds of hunter-explorer Nathaniel Whitlock, where Nathaniel has many animals brought in so he and those who pay to be with him can hunt them. Among his servants is the "Sioux" (Lakota) Silver Crow, who had once experienced a vision (while engaging a Ghost Dance) in which he was given a rare mineral, the "moonflesh." The "moonflesh" of course has alien origins, and the alien behind it, has its own story, and when we encounter it, the story then has several twists and turns, the kind which is expected, before the Doctor saves the day.
Now, like usual, the direction is fine, and the actors involved do a good job with what is given them. I'm sure there will be some entertained by this story. Early on, I thought it felt like a cross between Ghostlight and Land of the Dead (an early Big Finish story). However, while there are elements throughout which remind me of these previous stories, it doesn't take this commonality too far, for good or for ill. I would have been more interested if this was a sequel to one of them, truth be told.
I do not think it is fair for me to actually give a rating to the story itself (of course, it is expected, so if I had to give my reaction to it, I would give it a 3/10, which I hope, will be changed one day when I can find myself actually listening to the story and finding something to enjoy).
This brings up a question for everyone. What Big Finish stories have you listened to which you had to stop, being unable to really listen to it (or at least, let it play on, as I did with this, giving it less than half-attention as it went on)? This is really the first for me, though there have been some which came close to losing my attention. Was there anything about them which they did which made you lose interest? (I think for me, here, the way Silver Crow was written, and even being called a Sioux, might have been a part of the problem I had with this story – Lakota do not like the term Sioux, and the surprise that anyone would know "his tribe" when it is one of the most famous tribes, just didn't feel right).
Big Finish does a good job with what they do. But we have to remember, not every story will appeal to everyone. Hopefully next month will turn out much better!
— HornOrSilk
=====================
THE ARK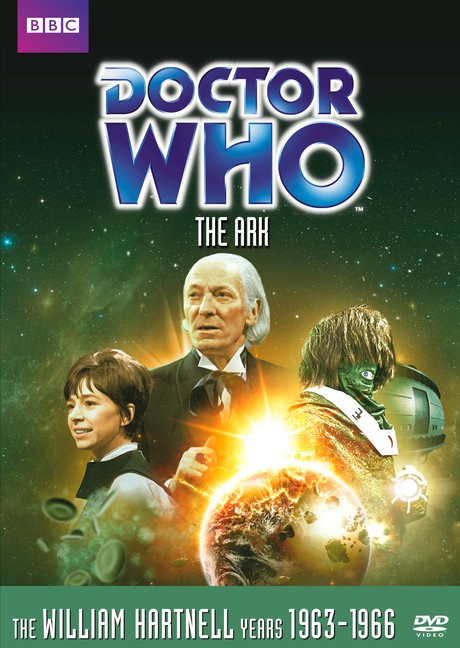 "On top of everything else, it's a jungle without a sky…"
— The Doctor: The Ark - Episode One - 'The Steel Sky'
The Ark is a roundly interesting tale. It's surprisingly consistent in tone, vision, and execution (these accolades can not always be extended to DWs of this era), and its structure is bold: The Ark is essentially two two part tales - one sequelizing the other - spread over a four episode run. I can almost imagine jumping into the second set of episodes without pre-knowledge of the first two installments, and being able to fully grasp the events at hand. They're that delineated.
Scripters Paul Erickson & Leslie Scott infuse their work with no small quantity of smarts: the notion of a common malady in our time becoming a deadly, potentially genocidal threat in a healthier future is a fascinating twist which makes for good Science Fiction, and a resultant witch hunt - in which the Doctor & Co. are accused of deliberately seeding the virus in an effort to sabotage a mission - opens the door to surprisingly tense drama.
Matters soften slightly by Episode Four, where a predilection with Monoid social machinations feels a tad simple minded and 'playground politics' in its depth. It is also here that the narrative drifts ever so slightly - by the end of Episode Three it's glaringly clear how The Ark must end, but it takes perhaps a little too long to get there.
If one can overlook the Sid and Marty Krofft appearance of the Monoids...cycloptic human-sized penises with moppy 60s hair...
...one could well argue that they are actually developed into one of the more intimidating villains in the DOCTOR WHO history here: they are bitchy, ruthless, untrustworthy, and quick to act. None of the Daleks' dithering, none of the Cybermen's lumbering, these guys are paranoid, sharp-witted, backstabbing asshole murders and director Michael Imison has no compunction with presenting them as such. A very unexpected characterization and move - which, perhaps, contemporary WHO might consider revisiting given Season/Series 8's (apparently) more intense trajectory.
While obviously set bound, and despite some unfortunately conspicuous background paintings (one of which can clearly be seen rippling in a breeze roughly 7 minutes into Episode Four), The Ark still manages to convey an impressive sense of scale, especially in its introductory episode.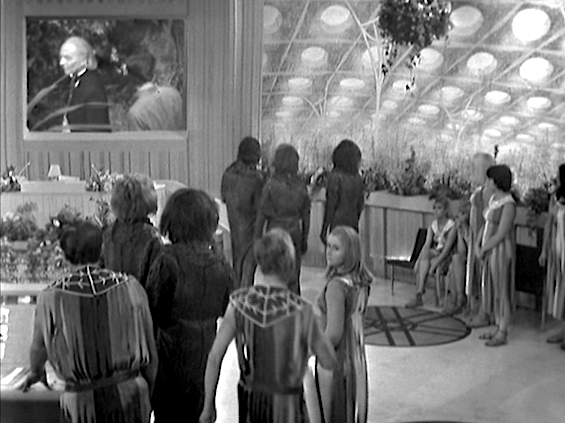 Note the conspicuously grating sound of (metal scraping?) which seems to disturb the actors on-screen 'round the 17 minute mark of Episode Two ('The Plague'), and Episode One's peculiar reference to the TARDIS being black. Was this a thing in some episode I have yet to see? An error by the actor which simply wasn't re-recorded? Or, just a plain old continuity screw up?
A very brief exchange midway through the first episode between our three heroes evokes some of the better, more 'classic' DOCTOR WHO communications breakdowns (it involves whether a character is sniffling or crying, and is recalled later for a payoff). And, despite being produced relatively late in Hartnell's tenure as the Doctor (thus presumably being filmed when the actor's health was in significant decline), Hartnell seems very much on-game here. In fact, I'd even go so far to say that this is one of his stronger appearances as the Doctor. He's sharp, authoritative, brilliant, assured.
The Ark does sport some regrettable blemishes (the aforementioned technical glitches, and the overall goofy appearance of the Monoids), but there's a great deal of savvy and interesting material to be found here - in a package which is, for the most part, very nicely wrapped. Running at 90 minutes, The Ark is recommended as solid story in itself, and as a fun case study of all the fun things 'classic' DOCTOR WHO can be: it's a teeny bit clunky in some areas, but bold and nearly perfect in others. An agreeable and, in the end, rather cool ride.
—————-
Glen Oliver
"Merrick"
- e-mail
- Twitter

DOCBACK CODE OF CONDUCT

1) a Docback should be about completely open and free discourse regarding all things WHO with, obviously, some variation on subject matter from time to time - the real world intervenes, discussions of other shows are inevitable, etc.)...

2) converse, agree, disagree, and question as much as you want - but the freedom to do so is NOT a license to be rude, crass, disrespectful, or uncivilized in any way. Not remaining courteous and civil, as well as TROLLING or undertaking sensational efforts to ignite controversy, will result in banning. Lack of courtesy may receive one (1) warning before a ban is instigated. Obvious Trolling or Spamming will result in summary banning with no warning.