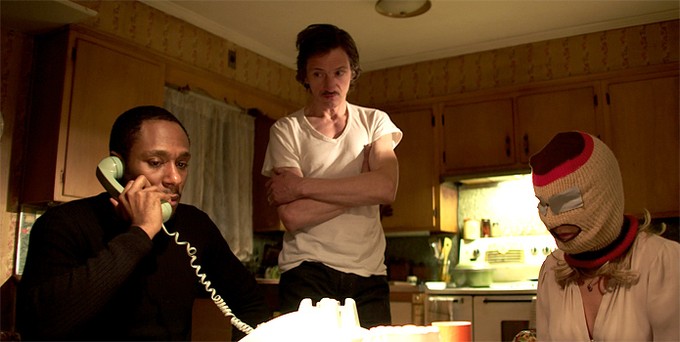 The JACKIE BROWN pseudo-prequel, LIFE OF CRIME (formerly THE SWITCH), now has a trailer that allows us to see Mos Def (billed as Yasiin Bay) and John Hawkes in action as the characters formerly played by Samuel L. Jackson and Robert De Niro. Also, somehow I hadn't heard this, but it seems that Isla Fisher is indeed playing a younger version of Melanie Ralston, Bridget Fonda's "blonde little surfer gal" from Tarantino's movie (despite Fisher being a few years older than Fonda was when she played the part). Will a young, African-American flight attendant make an appearance somewhere (or, at least, a fast-talking young black kid with a vaguely Chris Tucker-esque high-pitched whine)?
The reviews out of Toronto were positive, with Variety describing it as "a fitting tribute to Elmore Leonard" (who, of course, wrote the source material for both films), and it certainly seems like one of the better Leonard adaptations. The dialogue's snappy, the tone is comic but not absurd, and the characters are interesting...well, fuck-ups.
And what a cast! On top of Mos, Hawkes, and Fisher (all of whom look terrific, even if Fisher is veering very close to her character in GREAT GATSBY), you got Tim Robbing, Will Forte, Mark Boone Junior, and Jennifer Aniston all kidnapped and shrouded up and desperate.
Can't wait to catch this for myself, and see whether it's an OUT OF SIGHT/GET SHORTY/MR. MAJESTYK, a KILLSHOT/52 PICK-UP, or (heaven forbid) a BE COOL/THE BIG BOUNCE (the remake).
LIFE OF CRIME is liable to steal your wife on August 29th.
-Vincent Kim-Zahedi
"Papa Vinyard"
vincentzahedi@gmail.com
Follow Me On Twitter