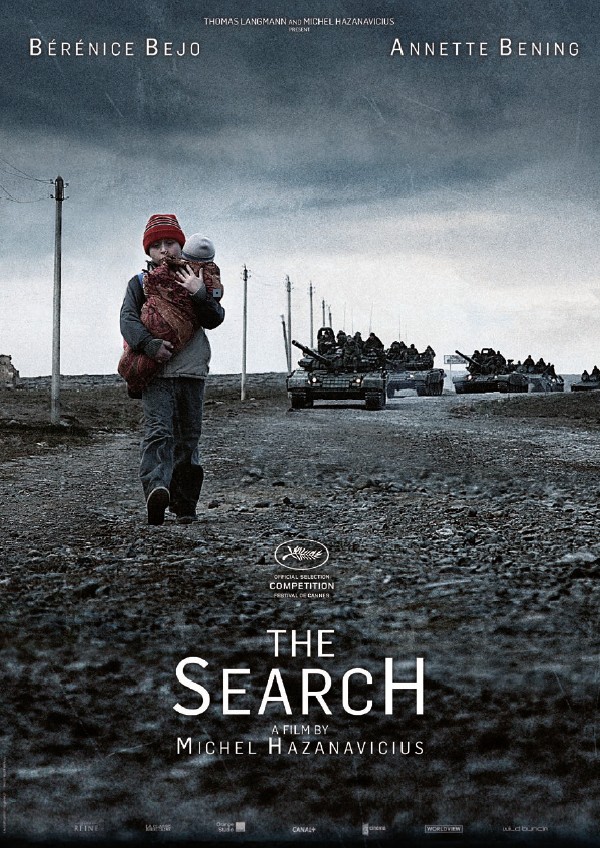 Michel Hazanavicius has been circling the Zach Galifianakis flick WILL since 2012, but he pushed the film back to work on something a little less commercial and more daunting using his post-ARTIST fame. THE SEARCH is what he decided to lend his talents to.
THE SEARCH is a remake of the 1948 original starring Montgomery Clift and directed by Fred Zinnemann (HIGH NOON, FROM HERE TO ETERNITY), and it updates that film's post-WWII setting to the conflicts in Chechnya in 1999. It seems to tell a few parallel stories: that of a young Chechen boy forced to protect his baby sibling when his parents are killed, an E.U. delegate doing her best to find the children a home, the boy's older sister tirelessly looking for the rest of her fractured family, and a young, conflicted Russian soldier.
The imagery here is bleak, powerful, and far more straightforwardly dramatic than anything in Mr. Hazanavicius' previous work. Additionally, with its 1999 setting, it's also the least "period" of his features so far (save for his segment in THE PLAYERS). Add to that the presence of his remarkably dependable (and stunningly pretty) leading lady/wife Berenice Bejo, and you have the elements for a potential win for Hazanavicius, far outside of his comfort zone.
Curious to hear people's reactions when the film screens tomorrow at Cannes.
THE SEARCH doesn't currently have a U.S. release date, but it's playing tomorrow at Cannes and will be released in France on November 26th.
-Vincent Kim-Zahedi
"Papa Vinyard"
vincentzahedi@gmail.com
Follow Me On Twitter