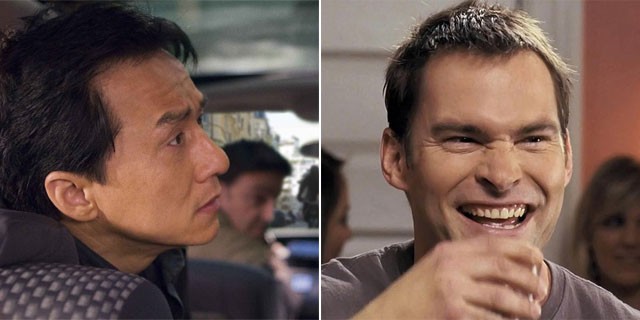 Above photo courtesy of I Watch Stuff.
That Jackie Chan/Seann William Scott buddy pic just got a little more interesting.
Sam Fell was originally set to make his live-action debut with SKIPTRACER starring the legendary Hong Kong action star and the former Steve Stifler, but has dropped out for undisclosed reasons. Replacing him is none other than Renny Harlin, a dude with somewhat of an inconsistent output (I'm a defender of his work) but more than a passing familiarity with the tropes of the action and buddy-movie genres.
It's easy to point at disasters like CUTTHROAT ISLAND, MINDHUNTERS (an underrated flick which sat on the shelf for years before being unceremoniously dumped onto a few screens in May of '05), and the recent LEGEND OF HERCULES, and say that Harlin is a washed-up hack whose blown all his goodwill and was probably never all that talented to begin with.
BUT.
There's a few of us out there who point to the best of Harlin's filmography and see movies with personality and a studio sheen that are worth remembering fondly. I'm talking DIE HARD 2: DIE HARDER, CLIFFHANGER, THE LONG KISS GOODNIGHT, DEEP BLUE SEA, and of course, the immortal THE ADVENTURES OF FORD FAIRLANE (complete with its stuffed-animal Koala sidekick). Those movies, as ridiculous as each and every one of them may be, have spirit and kinetic energy to spare, and I hold out hope that the guy who made those flicks is still kicking around somewhere inside Harlin, poking its head out to add little flourishes to the trash he's been putting out for the past decade.
If the Harlin who made FORD FAIRLANE is the one who shows up to helm this Jackie Chan/Seann William Scott buddy comedy (which has had a rewrite by friend-of-the-site BenDavid Grabinski), this might prove to be something of a blast for the inner 14-year-olds in all of us. Holding out the hope.
-Vincent Kim-Zahedi
"Papa Vinyard"
vincentzahedi@gmail.com
Follow Me On Twitter