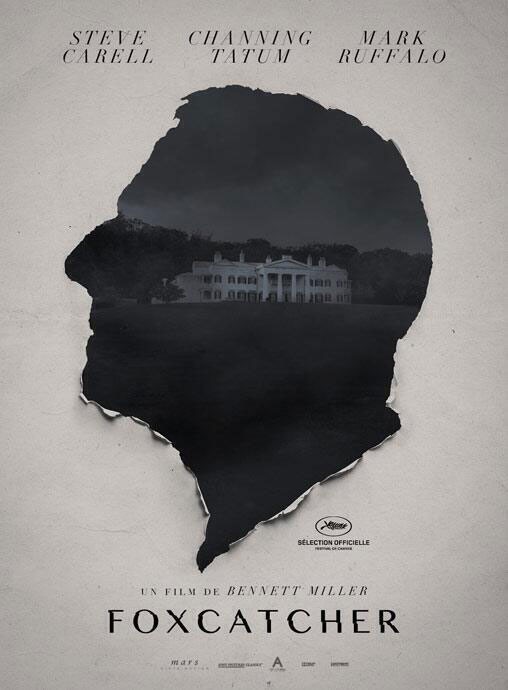 Bennett Miller's FOXCATCHER, starring Steve Carell, Channing Tatum, Mark Ruffalo, Anthony Michael Hall, Sienna Miller, and Vanessa Redgrave, has been getting strong marks out of Cannes, particularly for Carell's purely dramatic performance as John du Pont. Carell's physical and vocal transformation into du Pont is the most eye-catching thing about both this clip and this trailer, which both highlight up his relationship with Tatum's Mark Schultz.
For those unfamiliar with du Pont and Schultz' story, the former was a wealthy philanthropist/ornithologist who had turned to coaching Olympic events such as wrestling, track, and swimming. He took Schultz under his wing, and befriended his brother David, but ended up fatally shooting David in January 1996. After a bizarre standoff with the police, where he was holed up inside his mansion for two days, he was arrested, and died in prison in 2010.
Carell taking on this real-life figure is ballsy enough, but the level of transformation on display here is awe-worthy. This is the former DAILY SHOW correspondent's biggest stab at a leading dramatic role to date, and if this footage (and the reviews) are any indication, it seems to have been a great success.
This story is fascinating, and the actors (including Ruffalo, no stranger to excellent period biopics after ZODIAC) seem to have immersed themselves into this odd and tragic story well. Looking forward to seeing this relationship between du Pont and Schultz devolve onscreen this November.
FOXCATCHER wants to be the best in the world on November 14th.
-Vincent Kim-Zahedi
"Papa Vinyard"
vincentzahedi@gmail.com
Follow Me On Twitter