Movie News
Check out J.J. Abrams' Note to EPISODE VII Cast and Crew!
Hey guys! Horrorella here...
We got a photo of the first slate last week, signaling that production on EPISODE VII is officially underway. Excitement in the fan community is hugely high as we await any word or information as to what the next chapter in the Saga will consist of, and the pressure is certainly on – fans are absolutely excited to see what the next film will bring, but that excitement also carries with it the underlying current of "Don't you dare screw it up." This anticipation no doubt injects the Pinewood Studios set with equal amounts of excitement and abject terror as director J.J. Abrams and crew begin making history on this brand-new STAR WARS film.
Abrams seems to be embracing the challenge head-on, and encourages everyone else working on the film to do to the same. A photo has appeared online (via Screencrush) wherein he offers up an encouraging note to his cast and crew, urging them to "give 'em something GREAT."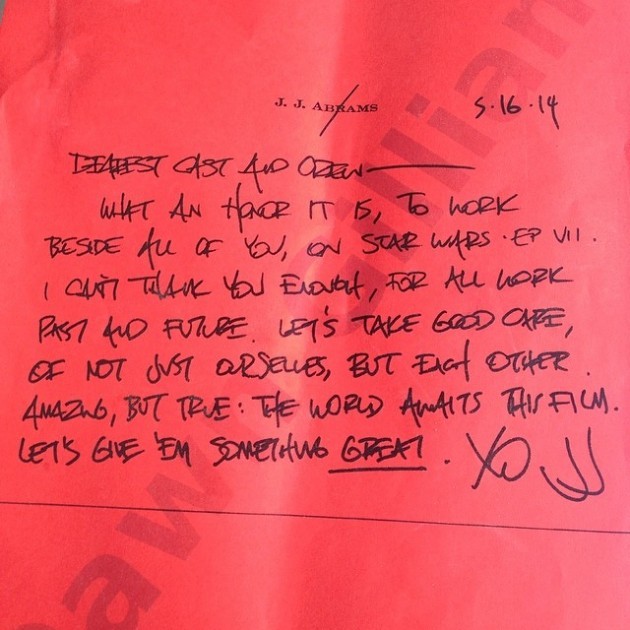 Dearest Cast and Crew, What an honor it is to work beside all of you, on Star Wars Ep VII. I can't thank you enough, for all work past and future. Let's take good care of not just ourselves, but of each other. Amazing, but true: the world awaits this film. Let's give 'em something GREAT. xo JJ