Ahoy, squirts! Quint here. I've long been carrying the torch for Indiana Jones and the Temple of Doom, perhaps to the point of being annoying about my adoration of the movie. I can't help it. When people start talking shit about Willie being too shrill or Indy having a stupid kid sidekick my hackles raise, my fists clench and I come very close to hulking out.
I will debate anyone on the many merits of this film. There are a lot out there that don't like the movie and they're in good company alongside Steven Spielberg himself. But I told Spielberg directly he's too tough on the movie (read that at the end of my 2001 interview here), so don't think I won't stand up to any other Temple of Doom hater out there!
Truth be told, I think I'm part of a silent majority in my opinion on Temple of Doom. The movie is the highest grossing of all the Indy sequels (adjusted, of course) and the wave of criticism and finger wagging upon release has diminished to nothing while those who actually were kids when they saw it hold it closer to their hearts (no pun intended) than the other Indy films.
So, in my assuredly foolhardy assumption that I'm part of a large number of secret Temple of Doom lovers I decided to really make a special occasion out of it's pending 30th Anniversary. The film was released May 23rd, 1984. All this week leading up to Friday May 23rd, 2014 I'm going to be posting various Temple of Doom related articles. There will be essays from yours truly as well as some content from special guests, new interviews with a few high level Temple of Doom folks, rare behind the scenes material direct from the Lucasfilm vaults and a few other surprises.
Before you get too excited, try as I might I couldn't quite pry Steven Spielberg away from his crazy-busy schedule to talk about the flick. However, I did find a way for his voice to be included. Cryptic, I know, but it's not as creepy as it sounds. You'll see what I mean in a few days.
However, there are a few great interviews I did land that I can't wait to share. I'll kick off this series, which I'm calling Fortune and Glory, with one, as a matter of fact. If you're reading this you should see my interview with Executive Producer Frank Marshall hanging out over in the left-hand column.
Hold on to your potatoes, ladies and gentlemen. The rollercoaster ride is about to begin. I hope you join me for the ride.
Play me off, Dr. Jones!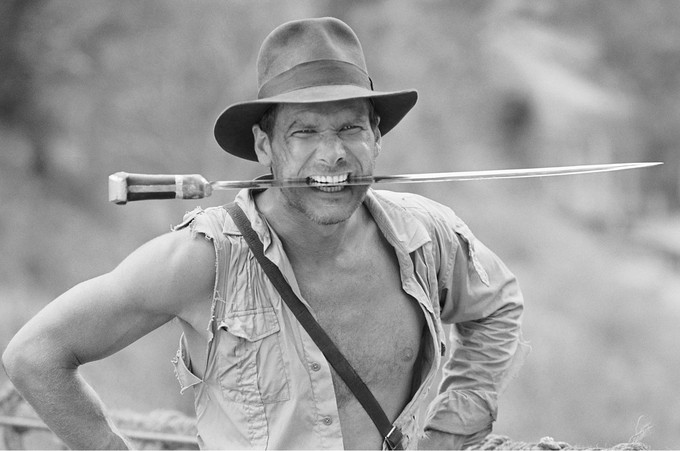 -Eric Vespe
"Quint"
quint@aintitcool.com
Follow Me On Twitter