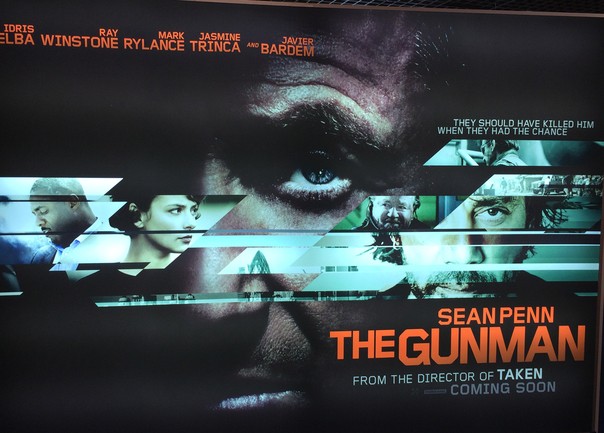 There are a ton of produced, in-production, and yet-to-be-shot projects angling for attention at Cannes, and a ton of artwork comes out that sometimes bears little or no similarity to the official marketing when the picture is finally being released. Hitfix compiled 33 of the posters found around Cannes, and hidden in there was the slightly-obscured one-sheet you see above for Pierre Morel's THE GUNMAN.
It highlights the heavy duty male cast, including Sean Penn, Idris Elba, Ray Winstone, and Javier Bardem, and is eye-catching enough that I think it may be relatively similar to what we'll end up seeing to promote the film stateside.
The film, an adaptation of Jean-Patrick Manchette's The Prone Gunman, has Penn starring as an international spy whose handlers won't let him ride into the sunset gracefully, forcing him into a cat-and-mouse chase across Europe. Elba and Winstone play fellow operatives, and Bardem is a nefarious businessman who serves as the film's central villain.
If it has the action and pacing of DISTRICT B13 and TAKEN with that testosterone-heavy cast on top, I'll be quite the happy camper.
THE GUNMAN doesn't currently have a U.S. release date, but I expect we'll see it premiere here by the end of the year.
-Vincent Kim-Zahedi
"Papa Vinyard"
vincentzahedi@gmail.com
Follow Me On Twitter