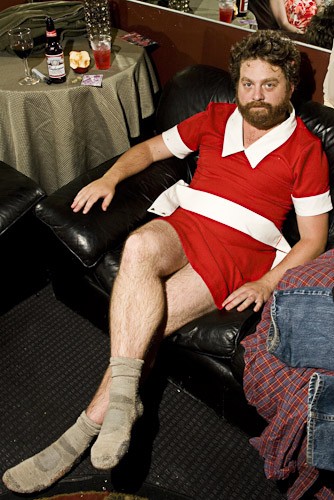 After his third go-around as Alan in THE HANGOVER PART III earned a 19% Rotten Tomatoes score and the series' lowest grosses both in the U.S. and abroad, it became fairly clear that Zach Galifianakis' man-child schtick was maybe wearing a little thin. He's been taking a shot at segueing his career into more dynamic territory, appearing in the upcoming indie YOU ARE HERE and Alejandro Gonzalez Inarritu's BIRDMAN, and there's news out of Cannes that he's taking on two additional, even more left-field projects.
First there's TULIP FEVER. Based on the 2001 novel by Deborah Moggach, FEVER tells of a love triangle between a wealthy man, his young wife, and the artist he commissions to take her portrait in 1630's Amsterdam. It's to be directed by MANDELA: LONG WALK TO FREEDOM's Justin Chadwick, and was written by Academy and Tony Award-winner Sir Tom Stoppard (BRAZIL, EMPIRE OF THE SUN). No idea who Galifianakis would play, but the rest of the cast includes Christoph Waltz, Dane DeHaan, Alicia Vikander (A ROYAL AFFAIR), Jack O'Connell (THIS IS ENGLAND), and Holliday Grainger (GREAT EXPECTATIONS). Galifianakis in period garb, possibly playing it totally straight (but probably not)? Sold.
Then there's WILL, which Galifianakis has been attached to for a while, but which just officially landed Academy Award-winner Michel Hazanavicius (OSS 117, THE ARTIST) to direct, based on a screenplay by actor/comedian Demetri Martin. Zach will play one of many Heavenly angels responsible for dictating the lives of humanity below. When he quits, the human he was responsible for suddenly is bestowed with a previously unmatched level of free will.
Paul Rudd has been attached to co-star with Galifianakis as the human since the project was going to be directed by LITTLE MISS SUNSHINE's Valerie Ferris and Jonathan Dayton, and Hazanavicius himself has circled the project for almost two years. He wanted to knock out THE SEARCH (with Annette Bening and his wife Berenice Bejo) before taking on this more surefire mass-audience comedy, but will shoot WILL by the end of this year or early 2015 before moving onto IN THE GARDEN OF BEASTS with Tom Hanks and Natalie Portman.
Both of these projects sound like they have potential, but Galifianakis' taking a starring role in Hazanavicius' next is truly exciting. As anyone who's seen the OSS 117 films can attest, Hazanavicius is no stranger to bizarre, deadpan comedy, and I'm fascinated to see the result of his work with Galifianakis and Rudd. It could drive both actors to a place far removed from their comfort zones, allowing them to score laughs in ways they haven't yet been allowed to in their more typical studio flicks.
Or it could be THE INVENTION OF LYING. But I'm keeping the faith.
-Vincent Kim-Zahedi
"Papa Vinyard"
vincentzahedi@gmail.com
Follow Me On Twitter