Papa Vinyard here, now here's a little somethin' for ya...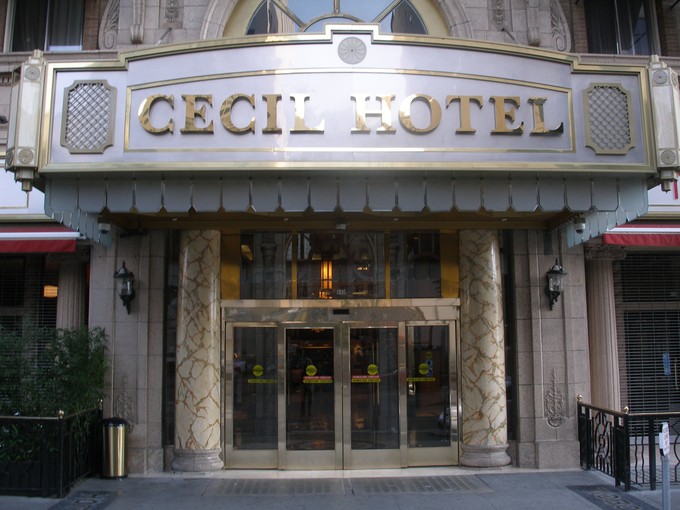 Say what you will about his work, but Nicolas Winding Refn is no studio hack. Though he's worked with people like Ryan Gosling, Mads Mikkelsen, John Turturro, and Albert Brooks, and has circled remakes of LOGAN'S RUN, BARBARELLA, and THE EQUALIZER (which Antoine Fuqua eventually directed), he remains a very idiosyncratic creative, and used his post-DRIVE fame to get his broody Bangkok-set ONLY GOD FORGIVES off the ground. So when it comes out that he sought out the haunted hotel project THE BRINGING on his own, we can only assume that it's not some for-hire horror gig, but that he has some epic plans for this SHINING-esque project with real-world roots.
THE BRINGING was written by Brandon and Phillip Murphy, and was reportedly inspired by last year's death of Elisa Lam at the former Cecil Hotel in downtown Los Angeles. For those unfamiliar with the infamous hotel, it holds a special place of notoreity among spooked-out U.S. establishments. It's been the location of at least 3 suicides and a 1964 murder. Elizabeth Short ("The Black Dahlia" was seen there shortly before her vicious murder in 1947, and serial killers Richard Ramirez ("The Night Stalker") and Jack Unterweger stayed there in the midst of their killing sprees. In February of last year, the body of 21-year-old Elisa Lam was found in the water tanks on the roof of the hotel, with no indication of how or why she ended up there. A creepy surveillance video (seen below) surfaced soon after showing Ms. Lam exhibiting uncharacteristically bizarre behavior in one of the hotel's elevators, featuring her repeatedly walking in and out of the car, pressing multiple buttons, and making very odd gestures with her arms.
Even if you're not the superstitious type, you have to admit the hotel is a ripe battleground for a really dark, haunting horror movie. I mean, even the Overlook only had one confirmed murderer stay there.
The script for THE BRINGING doesn't directly center around Ms. Lam, but concerns another (presumably fictional) death at the hotel, and the man who digs into the building's secrets while investigating it.
Refn's work defies genre classification, but there is a constant foreboding tone in each of his projects that should lend itself magnificently to this spooky setting. Refn's slow, deliberate style could make this project into something as gut-wrenchingly intense and memorable as THE SHINING, and the real-life circumstances that inspired the script give it a strong air of mystique and eeriness. I'm hoping Sony, First Born Films, and Refn can make these negotiations work out, and he delivers a horror classic that puts the Blumhouse productions of the last few years to shame.
So, is it safe to assume Ryan Gosling will play the investigator?
-Vincent Kim-Zahedi
"Papa Vinyard"
vincentzahedi@gmail.com
Follow Me On Twitter