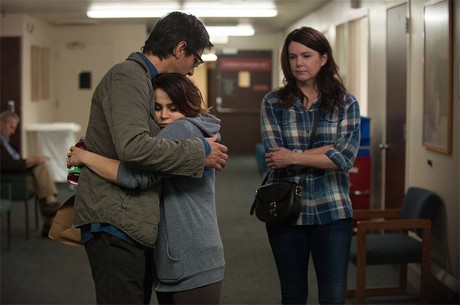 With the cancellation of "Dracula," there is but a single show on the broadcast bubble, as NBC negotiates with the stars of "Parenthood," many of whom – Lauren Graham, Craig T. Nelson, Peter Krause and Ray Romano – were leads on long-running prior series.
Deadline Hollywood indicates NBC now looks likely to announce a 13-episode final season for "Parenthood" Sunday or Monday.
NBC announces its fall slate Monday. Note that half of NBC's six returning dramas are Dick Wolf productions:
NBC UNDETERMINED:
Parenthood
NBC CANCELLED:
Believe
Community
Crisis
Dracula
Growing Up Fisher
Ironside
The Michael J. Fox Show
Revolution
Sean Saves The World
Welcome To The Family
NBC RENEWED:
About A Boy
The Biggest Loser
The Blacklist
Chicago Fire
Chicago PD
Dateline
Grimm
Hannibal
Law & Order SVU
Parks And Recreation
The Voice
Fox announces its fall slate Monday.
FOX CANCELLED:
Almost Human
American Dad (headed to TBS)
Dads
Enlisted
Raising Hope
Rake
Surviving Jack
The X Factor
FOX RENEWED:
American Idol
Bob's Burgers
Bones
Brooklyn Nine-Nine
Family Guy
The Following
Glee
The Mindy Project
New Girl
The Simpsons
Sleepy Hollow
ABC announces its fall slate Tuesday.
ABC CANCELLED:
Back In The Game
Betrayal
Killer Women
Lucky 7
Mind Games
Mixology
The Neighbors
Once Upon A Time In Wonderland
Suburgatory
Super Fun Night
Trophy Wife
ABC RENEWED:
Agents of SHIELD
The Bachelor
Castle
Dancing With The Stars
The Goldbergs
Grey's Anatomy
Last Man Standing
The Middle
Modern Family
Nashville
Once Upon A Time
Resurrection
Revenge
Scandal
CBS announces its fall slate Wednesday.
CBS CANCELLED:
Bad Teacher
The Crazy Ones
Friends With Better Lives
Hostages
Intelligence
We Are Men
CBS RENEWED:
The Amazing Race
The Big Bang Theory
Blue Bloods
Criminal Minds
CSI
Elementary
48 Hours
The Good Wife
Hawaii Five-0
The Mentalist
Mike & Molly
The Millers
Mom
NCIS
NCIS LA
Person Of Interest
60 Minutes
Survivor
Two And A Half Men
2 Broke Girls
The CW announces its fall slate Thursday.
CW CANCELLED:
The Carrie Diaries
Nikita
Star-Crossed
The Tomorrow People
CW RENEWED:
Arrow
Beauty & The Beast
Hart of Dixie
The 100
The Originals
Reign
Supernatural
The Vampire Diaries
In broadcast-shows-that-are-now-cable-shows news, TBS just announced a sixth and final season of "Cougar Town."