Hey folks Harry here... I'm very intrigued by this film. First off, I'm quite fond of David Koepp's work as a director, even moreso than his work as a screenwriter. As a director, his films TRIGGER EFFECT, STIR OF ECHOES and PREMIUM RUSH were absolutely excellent. As a screenwriter, his work on DEATH BECOMES HER, THE SHADOW, MISSION IMPOSSIBLE, JURASSIC PARK, PANIC ROOM, WAR OF THE WORLDS and JACK RYAN: SHADOW RECRUIT have delighted me. But in particular - that direction of his has been particularly sharp. In adapting Kyril Bonfiglioli's Charlie Mortdecai for Johnny Depp... well I'm particularly curious. Johnny Depp will be playing an Art Dealer, who is an amoral psychopath/anti-hero... and is a pulpish character by way of a wicked sense of humor. With the additional cast of Ewan MacGregor, Paul Bettany, Jeff Goldblum, Olivia Munn, Oliver Platt, Audrey Plaza and Gwyneth Paltrow... well... I'm expecting the best. Our first Test Screening review from "The Phantom Stranger." Now the film isn't due till February of 2015 - and from this non-spoiler review, it sounds like it is well on its way. There's still much to be done on the film, visual effects, scoring, color timing and much more. So that the film plays as solid as it did for THE PHANTOM STRANGER is a very good sign. This is one we'll have to look out for!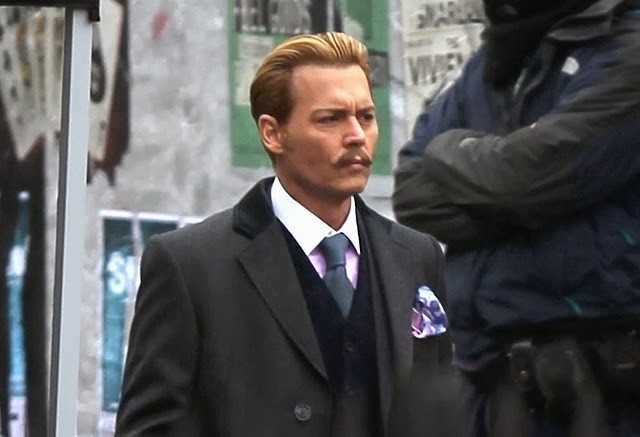 No spoilers just a quick review. So, I have just returned from a special preview of Johnny Depp's next film "Mortdecai" Directed by David Koepp. The film was the rough cut. Many scenes had yet to be filtered as there were many pixelated shots. Two of the chase scenes were not 100% finished. That was not too bad, as it actually matched the humor and feel of the film.
First, who or what is "Mortdecai"? He is a character from a
trilogy
of
comic thriller novels by Kyril Bonfiglioli. An English aristocrat art dealer Charlie Mortdecai and his manservant Jock.
So a quick plot synopsis. Lord Mortdaci owes money to the British government and is coaxed by MI5 Inspector Martland (Ewan McGregor) to help in a recent murder and art theft. Reluctantly the knowledgable yet bumbling art dealer begins his investigation. He is followed by his faithful servant Jock Strapp (Paul Bettany). Jock seems to be there in the nick of time for Mortdecai. In the mean time Mortdecai has a wife Johanna (Gwyneth Paltrow). She wants to help with the case on her own, to help pay off the money The Mortdecai family owes. Fights, torture,gunfights and some sex, maybe. All that and a possible missing Nazi bank account number.
Okay, Mr. Depp does a great job as the bumbling aristocratic Mortdecai. The character he has fleshed out for us is typical magical Depp. When he is up there you do not see him you see Charlie Mortdecai. His servant Jock, played by the always wonderful Paul Bettany is a great partner. He is the Bruce lee to Mordecai's Green Hornet. Even better Jock is the Kato to Inspector Clouseau. Great job by both of these actors. The rest of the cast is kind of what you would expect. Good performances from everyone else. I don't think some of the other actors fit in with the characters and the feel of the film.
The movie reminded me of a few film. As mentioned above Depp's Mortdecai, is like a Peter Sellers character. bumbling but smart. The back and forth between Depp and Paltrow remind me bit of William Powell and Myrna Loy from "The Thin Man" films. (I would love to see Depp play this part eventually as he has a script I believe)
What I saw worked. It was not a perfect film. But it was fun. I know i didn't hate it. It was like tasting a food while your cooking. It was missing something I just don't know what.
I don't wanna give away too much as this viewing was only a work in progress. So what comes out later (February, 2015) might be changed. One note is Aubrey Plaza was supposed to be in this as well and never showed up in the film tonight.
So when February 2015 rolls around we will see what happens.
Thanks Harry for your time. I hope this intrigues you...or whatever.