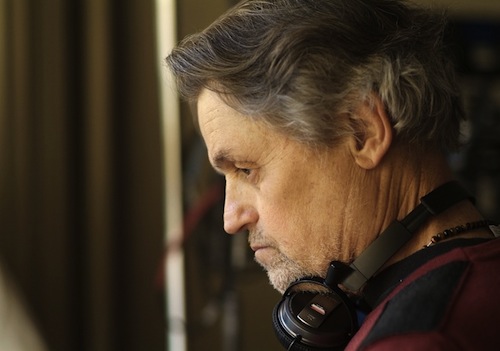 Jeremy here...
Having already seen a number of this summer's big event offerings, I'd advise you to start looking for indie film alternatives - that is, if paying to watch a movie you might actually enjoy is a priority. Just this month, there are a number of well-reviewed "specialty" titles that are well worth your consideration: James Gray's THE IMMIGRANT, Kelly Reichardt's NIGHT MOVES, Jon Favreau's CHEF, Ti West's THE SACRAMENT and Jim Mickle's COLD IN JULY. Looking ahead to June there's David Michod's THE ROVER, Roman Polanski's VENUS IN FUR and Bong Joon-ho's long-awaited SNOWPIERCER. Sounds a helluva lot more promising than X-MEN: DAYS OF FUTURE PAST, MALEFICENT and TRANSFORMERS: AGE OF EXTINCTION, right?
And now we can add a new Jonathan Demme movie to the summer indie lineup. According to Deadline, Abramorama has bought the U.S. distribution rights for Demme's A MASTER BUILDER, with plans to release the film on July 23rd. The movie is essentially an intimate staging of an Andre Gregory-directed, Wallace Shawn-adapted production of Henrik Ibsen's THE MASTER BUILDER. It sounds a good deal like Louis Malle's wonderful Gregory-Shawn collaboration VANYA ON 42ND STREET, and I can't think of a better director to step in for Malle than Demme. The movie stars Shawn as the titular architect and Lisa Joyce as Hilde, the young woman who spurs him to great heights. Also appearing in the film are Julie Hagerty, Larry Pine, Jeff Biehl and Emily Cass McDonnell.
There's no word as to whether there will be a concurrent VOD release, though Abramorama is eyeing a national rollout following the July 23rd debut in New York City. As a huge fan of MY DINNER WITH ANDRE and VANYA ON 42ND STREET (and, hell, THE DESIGNATED MOURNER), I'm really looking forward to this one.