Papa Vinyard here, now here's a little somethin' for ya...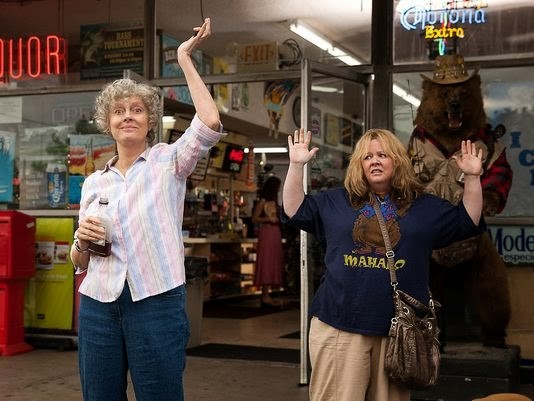 The first trailer for Melissa McCarthy's TAMMY, which she co-wrote with husband Ben Falcone (who also directed), focused on a mid-section scene where the titular character holds up a fast foot joint using her finger and a couple of judiciously applied paper bags. This longer look at the McCarthy vehicle still uses that scene as a centerpiece, and gives away basically all the gags within before laying out the road trip story that actually serves as the film's plot.
I got a chance to see this flick recently, and despite applauding McCarthy and Falcone on attempting to create a showcase for her talents themselves, I don't have high hopes for its commercial prospects. Despite a high-wattage cast, including Susan Sarandon (who is really the co-lead of the movie), Mark Duplass, Gary Cole, Toni Collette, Kathy Bates, Sandra Oh, and Dan freakin' Aykroyd, the film, about a white-trash young woman and her grandma fleeing away from their podunk lives to Niagra Falls, lands really softly. The robbery bit that the trailers lean so hard on is one of the only solidly funny sections of the film, and it has absolutely nothing to do with the rest of the film (and now you've already seen it, saving you 10 bucks). Even for the more diehard McCarthy fans, it may prove less than satisfying, due to her decision to make the film a BRIDESMAIDS-esque dramedy about a sad, loser-y character, but still buttressing the pathos with fat jokes and clumsy physical comedy.
Between BRIDESMAIDS, IDENTITY THIEF, and THE HEAT, McCarthy has had a real solid wave of momentum over the past couple of years, but seeing as they had trouble cobbling together a decent trailer out of this film's jokes, I don't see this doing anything to sustain said momentum. Let's hope her reteam with Paul Feig, next year's SPY, will use the talented comedienne in a more interesting, less obvious way.
TAMMY rattles off hastily-improvised jokes and pop references on July 2nd.
-Vincent Kim-Zahedi
"Papa Vinyard"
vincentzahedi@gmail.com
Follow Me On Twitter