Hey everyone. Capone in Chicago here.

When you walk into a room where Kevin Spacey is, you notice something different right away. Even when he's not talking, all energy seems to emanate from a single location, and you are immediately drawn to watch him because, after years of watching him in film and now a highly regarded television series, it seems like Spacey was put on this earth to entertain humanity. Whether it's in the impressive lineup of films that includes Oscar-winning turns in THE USUAL SUSPECTS and AMERICAN BEAUTY or his Emmy-nominated role as Francis Underwood on Netflix's "House of Cards" or doing countless impressions hosting "Saturday Night Live" twice or his original acting stomping grounds on the stage (yeah, he has a Tony award too), Spacey rules the performing arts like the CEO of entertainment.

But after shaking us all up with film performances in GLENGARY GLEN ROSS, THE REF, SWIMMING WITH SHARKS, SEVEN, THE NEGOTIATOR, A TIME TO KILL, and perhaps most memorably L.A. CONFIDENTIAL, Spacey appeared in a string of films he was less than proud of (you can look them up) about eight-and-a-half years ago, he agreed to take a break from any long-term film projects to become the Artistic Director of The Old Vic theater in London for 10 years, taking only film roles that require less than two months of his time.

It was during this time at the Vic that Spacey recruited his AMERICAN BEAUTY director Sam Mendes to direct him in Shakespeare's "Richard III" (the character his plays on "House of Cards," coincidentally, was based on Richard when it was originally done in the UK) as part of the theater's Bridge Project, which combined American and British actors to do a play that would premiere at the Old Vic, and then tour the world. And at some point early in the pre-production process, it was decided that director Jeremy Whelehan would chronicle the process of putting up such a show and touring it for the better part of a year. The resulting film, NOW: IN THE WINGS ON A WORLD STAGE, gives us an extraordinary look behind the scenes of this ambitious production and examines why it is that the character of Richard III seems just as relevant today as it did hundreds of years ago when the play was first written.

I had a chance to sit down with Spacey last week while he was in Chicago to catch up on his final months at the Old Vic, the incredible success of "House of Cards," and why he'll always consider himself a stage actor first. Enjoy my talk with Kevin Spacey…





Capone: Hello, sir.


Kevin Spacey: Hello. How are you? Kevin.



Capone: I'm Steve. Good to meet you.



KS: Come on, let's go over here, Steve.



Capone: Alright, that works.



KS: [To others in the room] All you people, fuck off.



[Spacey show me the latest issue of "Chicago Social" magazine, which he'd been reading before I came in the room. It happens to feature his "House of Cards" co-star Kate Mara on the cover looking especially dolled up.]



KS: Look at that girl.



Capone: Is that Kate Mara?



KS: That's Kate. Looking quite beautiful.



Capone: Wow, I've never seen her look like that before.



KS: Glamour! [laughs] These are great glamour shots.



Capone: I didn't realize how long the Bridge Project had been going on before…



KS: …our production [of Richard III]?



Capone: Tell me why you thought this particular production should be documented. Or was it even your idea?

KS: I remember sitting next to Sam Mendes in the Epidaurus Theatre [a theater in Greece that dates back to ancient times] in the first season of the Bridge Project, where we took "The Winter's Tale," and watching Simon Russell Beale in that environment, in that atmosphere, packed theater, thinking "Whatever we do…," and at that point, we didn't know we were going to do "Richard III." I don't think we decided until the middle of the second season of the Bridge Project. And I remember leaning over and going, "Whatever we do, we have to bring it here."

And then that night, we started talking back at the hotel about, "This is such a unique thing, taking a company of actors around the world doing classic work. We've got to somehow find a way to capture it." So the discussions really started then. And then ultimately when we finally decided that "Richard III" was going to be the production--because there were a whole lot of choices on the table. And thank god we ended with "Richard," only because the other choice would have meant two plays instead of one, because each of the seasons did two in rep. And I guess also part of it was that, for a long time, particularly after I found success in film, people look at you like a slightly puzzled dog. "Why's theater so important to you? Isn't it the same every night? And why did you go to London to run this theater instead of, like, doing movies?"

Capone: Is that still the case? Because now, that seems a little bit more understood.



KS: True, but I'm also talking about people who just don't get theater at all. People who don't go, who only think movies are what actors should be doing. So in a way, I also thought that maybe this was an opportunity to delve into and explore, and a) answer some of those questions, and b) maybe people walking out of this film will go, "Wow, I get it now. I totally get why this means so much to you." I first and foremost call myself a theater rat before anything else.



Capone: But this is not the typical theater experience for an actor. I don't think that everyone who gets to be in a play also gets to tour the world. It could elevate their expectations a bit.

KS: [laughs] That is very true. Yeah, it was definitely ambitious. It was definitely slightly crazy. But it really was born out of Sam's, my, and Joe Melillo's, who runs the Brooklyn Academy of Music [where "Richard III" ended up], love of the living theater. And when Sam and I started talking, I called Sam--he was literally the first call I made when I decided to go to London and run the Old Vic, partly because I thought, "If anyone can talk me out of it, it would be Sam," because he had been running the Donmar Warehouse for nearly 10 years. I just said, "Look, obviously when I get to the Vic, I'm going to want you to come at some point and do something together. It'd be great to re-team after AMERICAN BEAUTY." And he said, "Yeah, just give me a couple of years. I want to go make some movies, and I'm going to move to New York for a while."

And then we continued these conversations, and I remember I was in New York for some reason, and it was maybe our fifth season at the Vic, and I had lunch with Sam, and it was at that point that he had been thinking about what he might want to do and how he wanted to do it. I didn't at this point know that he was talking to John Melillo about doing something at BAM as well. But he sat me down and said, "There's something about whatever we do that I think is staring us in the face, and maybe we're missing it." And I said, "What?" and he goes, "You're an American actor living in London, running a theater. I'm a British director living in New York, directing plays, doing movies. There's something about that cultural bridge that we should strengthen and embrace in whatever it is we do." And that is where ultimately the Bridge Project idea was born.

Capone: So that's why it was key then, having half British, half American actors in the company?



KS: Yeah, Sam literally made a joke about it that, "Let's see if we can bring Brits and Americans together to do classic work and it won't be shit. Wouldn't that be a good review? The Bridge Project: Not Shit."



Capone: That's a start. Was there something about it being that particular play and character that this is an even easier decision? Because it is the most physically taxing of all of the Shakespeare characters, and it also is just such a great just distillation of evil.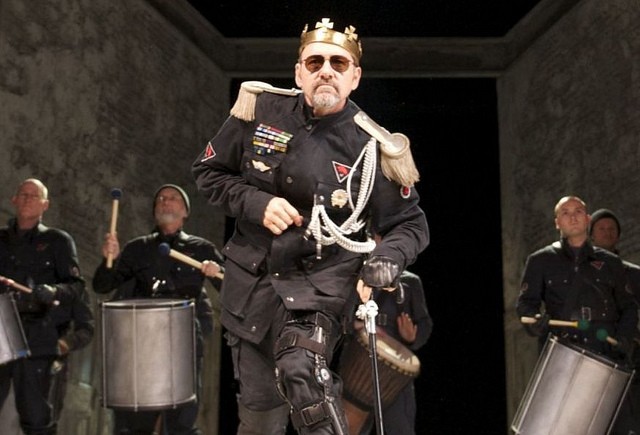 KS: Well, it really was Sam's choice. I'm not an actor who covets parts. I don't sit around and dream, "Oh, I have to play King Lear." I don't fucking give a shit. I'm not that kind of guy. I am led by my directors. I would have never thought to do Richard II. But Trevor Nunn wanted to direct me in "Richard II." And then when he told me that he'd never directed "Richard II" in his entire career--7 years at the Royal Shakespeare Company, he'd never done "Richard II,"--I was like, "Well that's fucking great. We'll have our first experience doing this play rather me being your seventh Richard II." So I like to put myself in the hands of directors and let them guide me. Howard Davies: "I want to direct you in 'The Iceman Cometh'." Matthew Warchus: "I want to direct you in 'Speed the Plow'." "Great, let's do it."

So I'm not that kind of person that covets parts. And I suppose part of it also was, Jeremy Whelan, who's a first-time director of this documentary also came to me as we were going to begin "Richard III" and said, "I think this is something that should be documented. It seems like a really important thing." And so it seemed like everybody was thinking in the same area, and then without really knowing what it was going to be, where it was going to end up, I asked everybody, "Would you mind if we brought cameras in and documented it?" And Sam was incredibly generous to let us do that, and some of the actors were not so pleased about it. Gemma [Jones], for example, was like, "Get that fucking camera out of my face."

But as time went on, and Jeremy is a lovely Irish lad, he started to ingratiate himself into the company, and started to disappear, and you know, by the middle of the fucking experience, Gemma is lifting her skirt up and flipping people off. She was fine with the cameras after a while, and I guess to some degree, I was very happy about that, because it meant that people forgot they were there, and that we were able to capture both the onstage experience and backstage and also off stage.

Capone: There are a few shots of you in particular backstage just before various entrances where we see you--I can't think of a better expression--revving yourself up. And I don't think you were aware the camera was on you in those moments. It doesn't seem like it.



KS: I was very rarely aware of where the camera was.



Capone: Are you okay with us seeing that part of your process? I've never been lucky enough to see you do that, but it adds something to this and makes it all feel very intimate.



KS: Yeah. I basically said, "Capture it," and then I didn't think about it again until we got into editing. So there was never a time when I was worried about that, because I was producing the film; I figured if they shot anything I didn't want you so see, I would have fucking cut it out. But I never felt that way about anything. I wanted to expose to some degree the process that actors go through in creating a role and putting together a play.



Capone: You said you're not an actor who covets particular roles, but once Sam proposes that this one be the role, what did you find in Richard that hooked you and you found most interesting?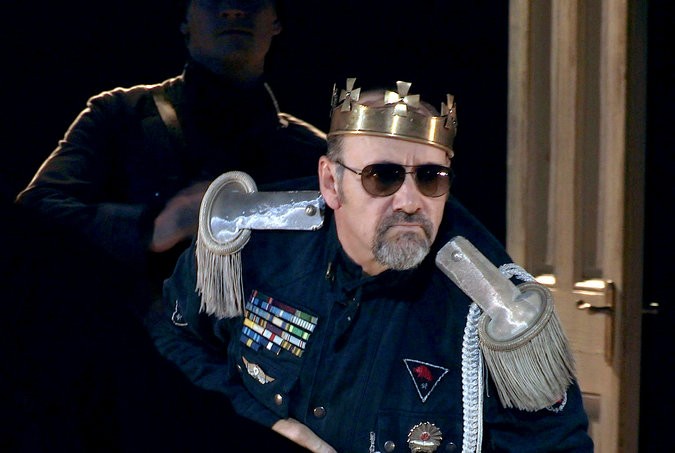 KS: You know, it's a weird thing. Maybe it's just me and the way I work, but I really don't. It takes me so fucking long to figure it out. And this particular role…you get lucky in rehearsal if you can run a play maybe three times before you move into the theater. You're putting scenes together and then you're putting acts together very, very late, and then you eventually begin to run the play. We might have run it, I don't know, maybe three times. And most of that is, "What's my fucking line. What am I supposed to say? What is next? Is it…? Okay." So it's kind of disjointed.

Then when you move into a theater, it becomes even more disjointed, because you're not running it, you're not teching it. And when you're in a tech rehearsal that might last four days, you're basically stopping and starting and stopping and starting, because they're readjusting the lights, they want to go back and do that entrance again. They have to readjust props. The table didn't come out when it was supposed to. So there's just a tremendous amount of just learning the show in all of it's technical aspects--Costumes that don't work, I had a leg brace, and blah, blah, blah.

So I don't think--I could be wrong about this--but I don't think we ever had a chance to run it until the afternoon of our first public performance that night. And that was in front of, I think we brought in some of the young actors from Old Vic New Voices Program and the ushers. So it was a small audience. So, the first public preview, I'm absolutely certain that every member of the company would say to you that they thought I was going to have a heart attack, because not only did I have no fucking idea how the play worked or what was next. I would come off stage after a scene, and I would have absolutely no idea what was next. I didn't know. "What happens now? Where do I go?"

And literally, people are dragging me behind stage, handing me props, telling me, "It's the council scene!" and throwing me on stage and just flipping out and sweating and going fucking nuts. It took me probably four, five, six performances before I got a sense of what the whole was, and got a sense of what it was asking, and then began to be able to modulate the degree of energy attack, physicality, vocal work--it takes a while. That first week of previews is critical for me just to figure it out.

Capone: Is there anything fun about those first few previews? Is flying by the seat of your pants in any way enjoyable?



KS: If you enjoy walking on the high wire, as I have my whole life, yes you wouldn't fucking change it for the world, but it is terrifying, especially a role that is second-longest role in all of Shakespeare's canon after "Hamlet." Because Shakespeare, you see, love him to death. But this is a very early play of Shakespeare's; he was quite young. So he had not yet employed the device that he had employed in later plays, you clearly see where he gave the leading character breaks. And I'm fairly certain that the first actor to play "Richard III" shoved him up against the bar wall and said, "Don't you fucking ever write a role like this again." Because out of about 24 scenes, he's in 22 of them. So there are just literally no breaks at all. It's a monster.



Capone: You seem breathless in all the backstage footage.



KS: [laughs] Yeah, I was.



Capone: Is fear a motivating factor for you in selecting roles? Do you ever say, "I'm not sure that I can do that, therefore I must try to do it."



KS: Yes, always. Maybe I'm just really sick, [laughs] but I have always been drawn to making a left turn when everyone thinks I'm supposed to go straight ahead or go right. I've always been drawn to the thing that scares me and walk toward the thing that I'm terrified of, because that's more interesting than doing the thing that feels safe and easy. I don't ever want to have it easy. When I'm dead, I'll have it easy. I don't ever want to have it easy. Between now and then, I want to be challenged, I want to do new things, I want to do things I've never done before, I want to challenge audiences, I want to challenge the viewer. I get bored at lazy acting and bored at lazy theater and bored at lazy filmmaking. It annoys me. How dare you in the position you're in waste everyone's time with what comes easy for you? It's just boring.



Capone: With Sam being a part of this theater experience, coupled with the fact that the directing roster for "House of Cards" is peppered with people that you have worked with before, does it make these experiences more enjoyable to work with folks that you've worked with before?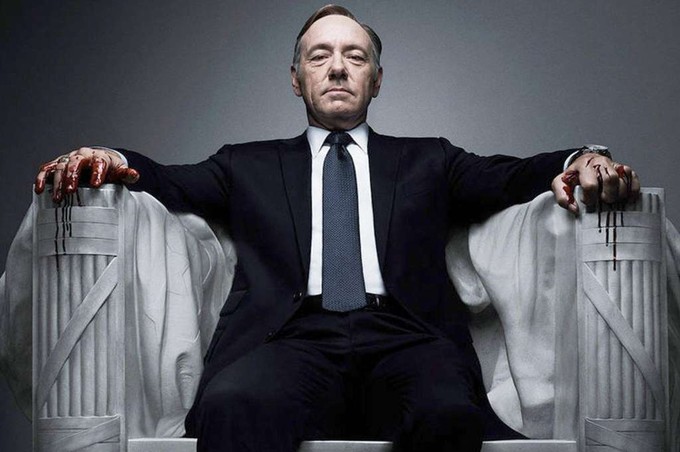 KS: Yeah, to some degree because I've never done a series. Well, I did one series ["Wiseguy"]; I did seven episodes in a show that I love. And I was very fortunate in that I had a couple of directors in that experience that were really great, but I also had directors that weren't that great. When you're in a situation like this, we have directors that basically come in to do two episodes at a time, and then we usually have one odd episode, because we do 13 per season. Working with Fincher again as a director was extraordinary. He set's the bar very high. Bringing John [David] Coles on, who I had done "Darrow" with many years ago, has had a very successful career in television since we did that.



Capone: James Foley too, right?



KS: Foley. I'm enormously grateful to Foley because he really gave me my first big role in a movie [GLENGARRY GLEN ROSS]. And Joel Schumacher, and I hope to have some other directors come back that I've worked with in the past. And we had Jodie Foster this year, Robin Wright did one, which was great. There is a familiarity, there's a language, there's an ease in terms of how you go about doing the work, particularly when someone comes in for a brief period of time, and you have to, from a producerial point of you, get the work done, you have to make your days. There's a lot of work that we do. And so yes, it's been very nice to bring people in that I have had previous experiences with that were good ones. You won't see any of the directors that I had bad experiences with. Or maybe you will, just to make it a challenge [laughs].



Capone: Bringing it back to that fear thing again. My mother was a huge fan of the original British version of "House of Cards."



KS: So was my mother.



Capone: Even if I'd only watched your version, I think I would have figured out that the origins of the show were British, if only for the direct address.



KS: Do you know who invented the direct address?



Capone: I know you want me to say Ferris Bueller.



KS: [laughs] William Shakespeare in "Richard III." Francis Underwood was based on Richard III. Michael Dobbs wrote the book and based him on Richard III, and in that series, he was called Urquhart, which is a different name, which is why we changed the name because we didn't thing Urquhart was a convincing American name. But we wanted to keep the initials F.U. So we did Underwood. But yeah, it's entirely based on "Richard III," and that's what I ended up having a chance to experience in doing the play and closing the play a month before I started shooting "House Of Cards." I went all over the world and was able to look in people's eyes and see what that relationship is like. Now I'm just looking down the barrel of a lens. It's a very different experience. But the memory of that is so potent.



Capone: That's just pure coincidence too, right? You didn't get the offer for "House of Cards" and go, "Oh, wow. It just so happens I played this person."



KS: No, it was completely coincidental.



Capone: It just so happens that last night on the Sundance Channel they ran "The Writers Room" episode that featured your "House of Cards" writers.



KS: I've haven't seen it; they asked me to be in it, but I couldn't be there. But I know Beau [Willimon] did it.



Capone: Molly Parker was there for the actors, but it was mostly writers.



KS: I hope you got a sense of how fucking brilliant Beau Willimon is. He's extraordinary to work with.



Capone: I know there was a point a few years back, I think it was right before you agreed to work at the Old Vic, that you said, "I'm going to give movies a little time off here."

KS: That was the reason. I made a decision in the year 2000. There's a lot of myth about that. No one offered me the Old Vic role. I had been asked to go on a committee to help them find an artistic director, and a year and a half later, it suddenly dawned on me that it was a job I wanted. So it's as close to Dick Cheney as I'll ever get [laughs]. And I made the decision to leave the United States in 2003 and to begin the theater company, and that is the reason

It's not that I walked away from making films. It's that I walked into a commitment for 10 years, and part of that commitment was I vowed to myself that no matter what kind of movie I was offered, under what circumstance or what director, I would never leave the Old Vic for more than eight weeks. And I held that vow for nine seasons, and it was only in the ninth season that I accepted "House of Cards" and went to Baltimore to shoot for six months out of the year. I mean, I wasn't gone the whole time. I was back for important dates and opening nights and things like that. But essentially, it was the first job I took that took me away for more than eight weeks. But we were ready by that point. We had done lots of productions, the staff knew what they were doing, it was a well-oiled machine at that point, so I felt I could take that time.

Capone: So the eight-week time limit, that explains some of the smaller supporting of late. HORRIBLE BOSSES, for example.



KS: I went three weeks on that. MARGIN CALL was 17 days. RECOUNT was eight weeks. SUPERMAN was eight weeks. Those are the two, eight-week ones I did the entire 10 years I've been at the Old Vic. Everything else has been a few days, a couple of weeks, five weeks I think on CASINO JACK. So that's why I chose the films I chose, because my commitment to the Old Vic was first. So it means I turned down a lot in the 10 years.



Capone: Are you at a point now where you're going to start reconsidering this with the 10 years almost being done?



KS: I leave the Old Vic in August of 2015, hand it over to somebody else, and then I'm a free man to do anything I want.



Capone: Any thoughts on that freedom, beyond continuing with "House of Cards"?



KS: I'll be happy to not run a building anymore, and as long as "House of Cards" is going, that is asking a tremendous amount of my attention, and frankly that's enough. For the moment, that's enough.



Capone: Kevin, thank you so much. It was really great to meet you.



KS: You bet. Thanks for coming in.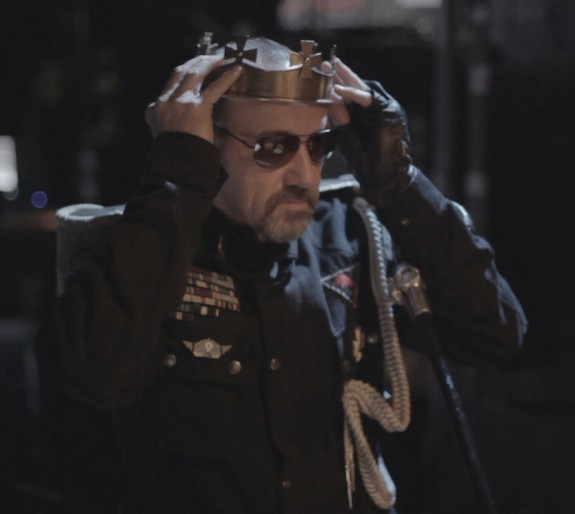 -- Steve Prokopy
"Capone"
capone@aintitcool.com
Follow Me On Twitter