Papa Vinyard here, now here's a little somethin' for ya...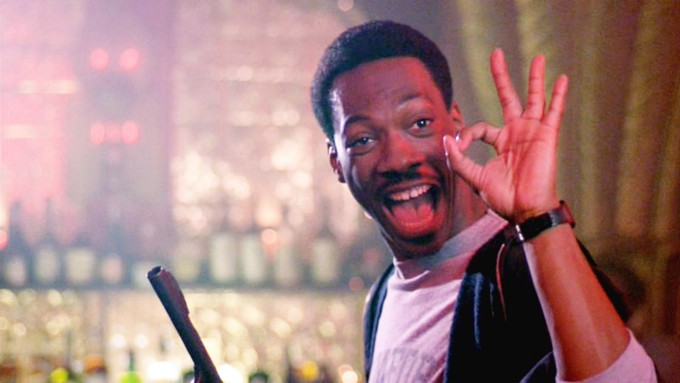 I'm leading off with video on this one:
In December, we learned that Jerry Bruckheimer was working with Paramount on getting another BEVERLY HILLS COP movie together following the failed pilot that paired Eddie Murphy with Brandon T. Jackson. Today, Paramount has set a release date for the fourth entry of their internationally successful franchise, making it seem more likely that it will actually get made than it has in over 20 years.
The next BEVERLY HILLS COP, described as a "reboot" that will bring Eddie Murphy back to the role that made him a global superstar, will premiere in March 2016. Eddie's TOWER HEIST director Brett Ratner is still signed on to helm the flick, which may or may not feature Murphy's Axel Foley in the starring role. Remember that the proposed series would've had Axel in the background, with his son (played by Jackson) to serve as the lead. The word "reboot" makes me think that still might be the plan, but considering that Murphy's guest spot as Axel was reportedly one of the more winning aspects of the pilot, this could very well have evolved into a legitimate BHC IV instead of an out-and-out refresh on the franchise.
At least, I bloody well hope so.
Despite the series' title, this BEVERLY HILLS COP will mostly take place in Foley's native Detroit. Will Paul Reiser make an appearance as his pal Jeffrey? We can hope, but more importantly, I'm praying screenwriters Andre Nemec and Josh Appelbaum (MISSION: IMPOSSIBLE - GHOST PROTOCOL and the upcoming TMNT reboot) have figured out how to get Judge Reinhold's Billy Rosewood from Beverly Hills to Michigan.
The major cause for concern is obviously Ratner, who isn't even in the same ballpark as the series' previous directors, Martin Brest, Tony Scott, and John Landis. However, one must remember that Ratner was able to spin some really fun, 80s-style buddy flicks out of MONEY TALKS and the first RUSH HOUR, so moving over to a BHC movie isn't the world's biggest stretch for him. He got one of Murphy's better comedic performances in years for TOWER HEIST, so hopefully, once he gets him back in that jacket, he can bring our beloved Axel to us bigger, badder, and better than ever.
More than anything, I can't wait to see Eddie Murphy cussing and shooting his way through an R-rated action-comedy again. He keeps popping up in family-friendly or supporting roles, and teasing us with hints of an upcoming tour (which would only include a few comedy bits alongside musical performances), but there's no way he could hold back that unbeatable comedic talent of his in a BEVERLY HILLS COP movie, is there?
Wait, I forgot about BHC III for a second. Dammit. Still, color me super-freaking-excited for this one. Just waiting for confirmation that Axel F will be kicking ass front and center with no New Jack partner waiting in the wings for BHC V.
Now, once more, this time with feering:
BEVERLY HILLS COP IV won't fall for a banana in the tailpipe on March 25th, 2016.
-Vincent Kim-Zahedi
"Papa Vinyard"
vincentzahedi@gmail.com
Follow Me On Twitter