Papa Vinyard here, now here's a little somethin' for ya...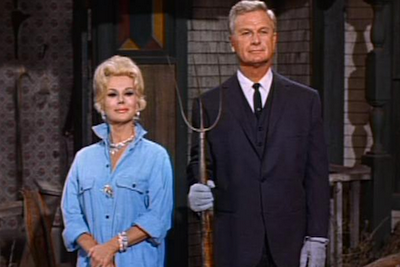 According to director Richard L. Bare and producer Phillip Goldfine, for GREEN ACRES, the big screen is the place to be.
Deadline broke the news that the rights to the 1965-1971 sitcom have been scooped up by Bare, who directed all but 4 of the original 170 episodes (as well as 7 TWILIGHT ZONES, including NICK OF TIME and TO SERVE MAN) and Goldfine, who's been producing most of Steven Seagal's output over the past 16 years. The goal is to update the property for both a movie and a Broadway show, following the original premise of a mismatched husband-and-wife who move out of New York and into a farm located in the fictional town of Hooterville.
Deadline mentions a whole mess of TV shows that have been adapted into modern-day feature films, but aside from the STAR TREKs , THE FUGITIVE, the first BRADY movie, CHARLIE'S ANGELS, and GET SMART, have any of them had any actual box-office success? Haven't the relative failures of LAND OF THE LOST, THE SAINT, BEWITCHED, THE BEVERLY HILLBILLIES, LOST IN SPACE, and countless others clued Hollywood in classic TV is one realm of nostalgia that doesn't necessarily lend itself to revisitation?
There's a chance nothing will ever come of this, or that the Broadway show will somehow work out but the film won't, but their big challenge is going to be finding suitable replacements for Eddie Albert and Eva Gabor as Oliver and Lisa Douglas. Might I suggest George Clooney and Penelope Cruz?
-Vincent Kim-Zahedi
"Papa Vinyard"
vincentzahedi@gmail.com
Follow Me On Twitter