Papa Vinyard here, now here's a little somethin' for ya...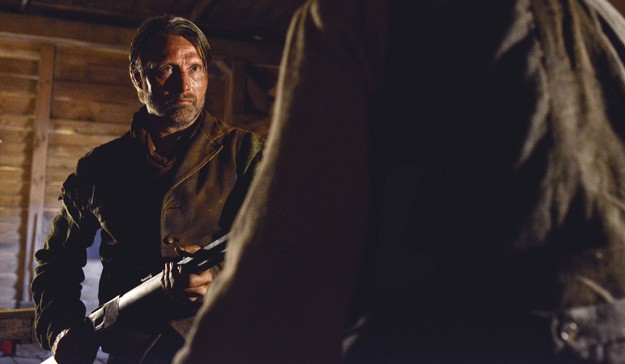 Mads Mikkelsen has played a Knight of the Round Table, Le Chiffre, a viking, an ancient Greek, Rochefort (in the weird THREE MUSKETEERS update), Count Johann Fiedrich Struensee, and of course, Hannibal Lecter. With THE SALVATION, the super-talented actor adds another place and time to his repertoire: the old west.
THE SALVATION, directed by former Dogme 95 participant Kristian Levring (THE KING IS ALIVE), has Mikkelsen playing a Scandinavian immigrant whose wife and child are carriage-jacked on the frontier. When he catches up with the culprits and exacts his vengeance, he finds himself the target of outlaw Jeffrey Dean Morgan, who has no problem putting the responsibility of Mikkelsen's actions on the shoulders of the local townspeople. A showdown ensues. Eva Green's (hairlipped? scarred?) widow plays into it somehow.
There are some gorgeous shots in here, and the look at the immigrant's role in the formation of the American West gives a unique spin on this age-old black-hat-white-hat story. Mikkelsen and Green have proven themselves electric actors in even the films that seemingly don't have room for memorable performances (CLASH OF THE TITANS, 300: RISE OF AN EMPIRE) so watching them throw down in a western setting definitely bumps up the excitement level for this film. Add Jeffrey Dean Morgan getting really nasty for the first time since WATCHMEN, and you have something that may very well be the rare indie western that proves to be something engaging and memorable.
We'll hear more about the quality of this flick when it plays at Cannes later this month. My ears are open.
THE SALVATION ain't comin' to the country it's set in in the immediate future, but it plays at Cannes in a couple of weeks.
-Vincent Kim-Zahedi
"Papa Vinyard"
vincentzahedi@gmail.com
Follow Me On Twitter