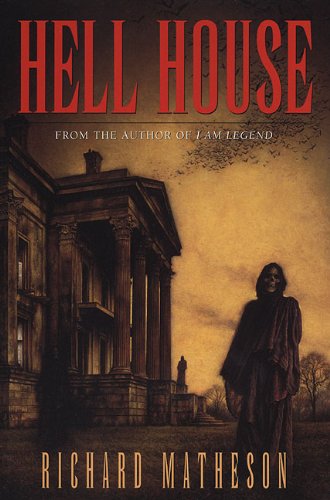 Jeremy here...
"HELL HOUSE is the scariest haunted house novel ever written. It looms over the rest the way the mountains loom over the foothills." -Stephen King
This is not frivolous praise. I re-read HELL HOUSE a few years ago before interviewing Richard Matheson, and I lost a few nights of sleep because of it. The book calls its shot early: a physicist, his wife and two mediums (one of which survived a previous investigation of the dwelling) are offered $100,000 apiece to set up shop in the Mt. Everest of haunted houses in order to find tangible proof of life after death. They quickly learn that the house is infested with malevolence. Never read the book? Order it now. You're welcome.
Matheson adapted his novel for director John Hough in 1973, and the resulting film, THE LEGEND OF HELL HOUSE, is a tremendously effective haunted house flick. But it's not really HELL HOUSE. If done right, HELL HOUSE would be a hard R-rated horror film that contains some of the most shockingly sacrilegious imagery this side of THE EXORCIST. We've already got the PG-rated version. If someone wants to give it another big-screen go, I want the uncut Matheson.
According to Shock Til You Drop, 20th Century Fox is developing a "remake" of THE LEGEND OF HELL HOUSE, which makes me think they're looking to cash in on the success of THE CONJURING (which was a PG-13 haunted house film regardless of what the MPAA says). I cannot imagine any studio in town committing to a graphically violent haunted house movie nowadays, but a Matheson fan can dream. There's no writer or director attached to this remake just yet, but I imagine we'll hear some names soon. Fingers crossed that Fox will honor the late Matheson's wishes and go balls-to-the-wall with this iteration.