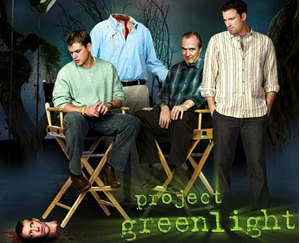 Reality series may go away but they never really die. "Last Comic Standing," "Fear Factor," and "I'm A Celebrity Get Me Out Of Here" have skipped seasons, but I don't immediately recall a hiatus as long as that employed by "Project Greenlight," whose third season concluded May 12. 2005, just a few months after "The Late Late Show With Craig Ferguson" launched.
But Affleck and Damon are bring a fourth season of their novice-filmmaker series to HBO.
Press release:
PROJECT GREENLIGHT RETURNS TO HBO FOR A NEW SEASON, WITH BEN AFFLECK AND MATT DAMON EXECUTIVE PRODUCING

LOS ANGELES, April 30, 2014 – PROJECT GREENLIGHT, the documentary series chronicling the search for a first-time director and exploring the filmmaking process, will return to HBO for a new season, it was announced today by Michael Lombardo, president, HBO Programming. Executive producers of the new season include Ben Affleck and Matt Damon, who were executive producers of the previous two seasons on HBO in 2001 and 2003, as well as Adaptive Studios' Marc Joubert, TJ Barrack, Perrin Chiles, Marshall Lewy and Miramax's Zanne Devine. The new season of PROJECT GREENLIGHT is being produced for HBO by Adaptive Studios, Affleck and Damon's Pearl Street Films, and Miramax.

"PROJECT GREENLIGHT was ahead of its time," notes Affleck. "Now that technology has caught up to the concept, we thought it was a perfect time to bring it back. A whole new generation of filmmakers has grown up sharing everything, and the next big director could be just an upload away. It is really great having PROJECT GREENLIGHT back at HBO."

Damon says, "PROJECT GREENLIGHT works — careers have been launched and sustained as a direct result of this contest. Pete Jones, John Gulager, Patrick Melton and Marcus Dunstan are just a few of the PGL alums who've gone on to do great things in Hollywood, and Ben and I are really proud of that."

"We are delighted to reunite with Ben and Matt for a new season of PROJECT GREENLIGHT," noted Lombardo. "This unique show offers a fascinating look inside moviemaking that is unlike anything else on TV."

Spanning the entire process of creating a movie, PROJECT GREENLIGHT takes a revealing, uncensored look at the challenges facing a first-time director. The show begins with a digital competition, and will follow the winner from pre-production and casting through principal photography and post-production. Equipped with a Hollywood-vetted script and surrounded by a team of industry professionals, the fledging director must learn to cope with pressure from the studio and producers, surviving on-set politics and leading a veteran cast and crew, while trying to deliver a viable movie – on schedule and on budget.

"Reuniting the original forces behind PROJECT GREENLIGHT — Matt, Ben, Miramax and HBO — is pretty awesome and demonstrates Adaptive's commitment to revitalizing and re-imagining compelling ideas," says Marc Joubert, co-founder of Adaptive Studios.

PROJECT GREENLIGHT will be produced for HBO by Adaptive Studios in association with Pearl Street Films and Miramax; executive producers, Ben Affleck, Matt Damon, Marc Joubert, TJ Barrack, Perrin Chiles, Marshall Lewy and Zanne Devine.