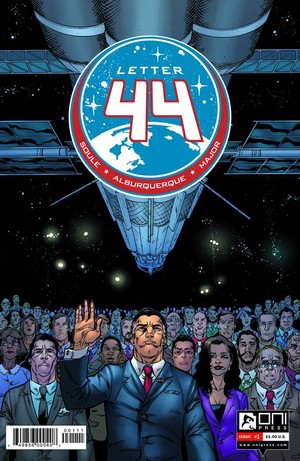 Copernicus here. In 2012, comic book writer Charles Soule asked if he could run some concepts by me for a new series he was developing at Oni Press. It was about a mission to the asteroid belt, and he wanted to make sure he got the science right. Of course, he already had a great story in mind, about a signal that was detected from out in the belt, a mission that was secretly launched, and then a new president having to deal with the consequences. He had the science pretty well thought out -- I just helped getting a few details right. In October, 2013, he sent me the first issue, now titled "Letter 44," and it was great!
Well, now it is being developed as a series at SyFy with Jonathan Mostow at the helm! And it turns out they are developing Frank Miller's Ronin as a miniseries as well!
The Hollywood Reporter broke the story and has more details.
Incidentally, Charles went on to write titles such as "Superman/Wonder Woman" for DC, and a major upcoming miniseries that will shake up the Marvel universe. Spoilers on that (although they are in the title of the series) at this Entertainment Weekly story.