Papa Vinyard here, now here's a little somethin' for ya...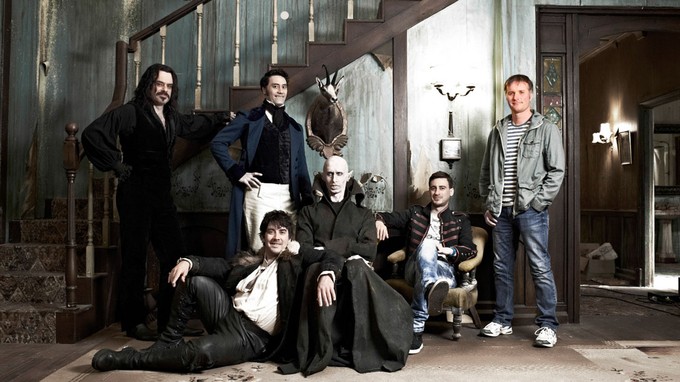 Writer/director Taika Waititi's reunited with Jemaine Clement, who he collaborated with on EAGLE VS. SHARK and four episodes of FLIGHT OF THE CONCHORDS, on a vampire mockumentary called WHAT WE DO IN THE SHADOWS. Both Quint and Annette Kellerman adored the film when it played at Sundance and SXSW, respectively, and now, we have a trailer that lets us get in on the fun.
The flick is about a group of vampires, including Clement and Waititi, who share a flat together in their native New Zealand. The film was obviously made on a budget smaller than maybe an episode or two of TRUE BLOOD, but the low-fi, DIY vibe seems like part of the appeal.
This reminds me a little of BIG MAN JAPAN on the surface, a mockumentary about a genre which has been done to death, but the jokes obviously lean more towards Waititi and Clement's more human, awkward humor than eye-candy and spectacle. As a huge fan of both the CONCHORDS and EAGLE VS. SHARK (an adorable rom-com that I highly recommend), I can't wait to see this one for myself.
WHAT WE DO IN THE SHADOWS doesn't currently have a U.S. release date, but you Kiwis over in NZ should expect it on June 12th.
-Vincent Kim-Zahedi
"Papa Vinyard"
vincentzahedi@gmail.com
Follow Me On Twitter