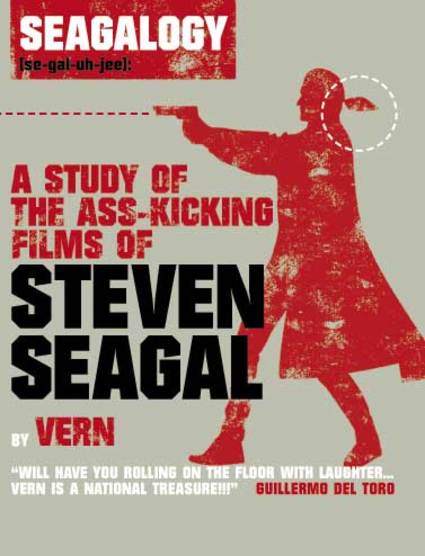 Jeremy here...
This June 14th at The Cinefamily in Los Angeles, you will come to know the essence of a man.
Ladies and gentlemen of the known universe, it is my honor to announce "Seagalogy: A Steven Seagal Movie Marathon". Inspired by the holy scripture of Vern (and a drunken late-night viewing of UNDER SIEGE 2: DARK TERRITORY last January by yours truly), Heavy Midnites and Ain't It Cool News have joined forces to bring you the ultimate Steven Seagal retrospective. Starting at 5:00 PM on Saturday, June 14th, we will screen four 35mm prints of his finest works: HARD TO KILL, UNDER SIEGE 2: DARK TERRITORY, OUT FOR JUSTICE and his directorial debut ON DEADLY GROUND. And to make it good to you, we're flying in the one and only Vern to make his first-ever public appearance!
I'm sure there have been other Steven Seagal marathons, but I can guarantee you they weren't presided over by Vern. So if you are a loyal student of Take Sensei, you will hit up The Cinefamily's official site and buy your tickets right this instant. The marathon will likely stretch into Sunday, which, as fate would have it, is Father's Day, so bring your pops to enjoy some limb-snapping, nose-cracking, train-smashing action!
Screenwriter Richard Hatem will join us to discuss his role in banging out the magnificent UNDER SIEGE 2, and we're hoping to announce a few other special guests as we get closer to the event. To whet your bloodlust, I've embedded the trailers of our four selections. Also be sure to read Phil Blankenship's program essay, which I've reprinted below. But most importantly, BUY YOUR TICKETS NOW BECAUSE THIS MOTHERFUCKER IS GOING TO SELL OUT! AND YOU CAN TAKE THAT TO THE BANK!!!
The official Heavy Midnites press release...
ORDER OF FILMS (start times VERY approximate):
1) Hard To Kill – approx. 5:15pm
2) Under Siege 2: Dark Territory – approx. 7:30pm
3) Out For Justice – approx. 10:00pm
4) On Deadly Ground – approx. midnight

Steven Seagal: aikido instructor, environmental activist and movie star. He writes, directs, plays blues guitar, creates energy drinks and is a reserve deputy sheriff. He might be an authority on antique samurai swords, and may have even killed for the CIA. For three decades he's left an indelible and deeply personal mark on action cinema, igniting screens with his unique blend of machismo and mysticism. And now, those fist-pumping hits are coming to Cinefamily for a take-no-prisoners, one-day-only 35mm blowout!

But that's not all: we're flying in cinematic outlaw/bestselling author/legendary film scholar Vern (the man who literally wrote the book on Seagalogy) for his FIRST-EVER public appearance to help better explain the man, the myth and the magic behind your favorite dealer of swift, lethal moves. Plus we'll have special guests, vintage trailers and more fun 'n games than should legally be allowed, all to celebrate Heavy Midnites' 2nd anniversary!

HARD TO KILL


In the pulse-pounding box office hit that debuted his iconic ponytail, Seagal is Mason Storm, an honest cop gunned down and left for dead, but secretly plotting his revenge while in a seven-year coma. Now he must avenge his murdered wife, reconnect with his son and keep his red hot nurse (Kelly LeBrock, the beauty from Weird Science and Seagal's then-real-life spouse) safe from the corrupt killers biting at their heels. One of Seagal's most purely enjoyable flicks, Hard to Kill engaged a generation of teenage popcorn munchers, VHS enthusiasts and cable fanatics, cementing Seagal's screen appeal while furthering his legend. It's a guaranteed good time, and you can take that to the bank — the blood bank!
Dir. Bruce Malmuth, 1990, 35mm, 96 min.

UNDER SIEGE 2: DARK TERRITORY


Screenwriter Richard Hatem in person. America's favorite bone-breaking, neck-snapping chef is off the boat, on vacation and taking his maladjusted teen niece (Katherine Heigl…what?!) cross-country by rail. The film's powerfully concise explanation: "Would you fly if your parents just died in a plane crash?" The secret sleeper in the pantheon of Seagal classics, Under Siege 2 proves the master's only as good as the villains he's up against. And our ponytailed hero isn't just up against your average group of computer hacking hijackers here; Seagal goes fist-to-fist with a wild assortment of disparate character actors: monologist Eric Bogosian(!), Twin Peaks' Everett McGill, Pulp Fiction's Peter Greene, Breaking Bad's Jonathan Banks, along with other disposable mercenaries and buff badasses. The explosive Casey Ryback saga charges ahead like an unstoppable locomotive of non-stop entertainment!
Dir. Geoff Murphy, 1995, 35mm, 100 min.

OUT FOR JUSTICE


Look, we all know being a cop's a dirty job, but somebody's got to take out the garbage. In the acknowledged masterpiece of Seagal's filmography, director John Flynn (Rolling Thunder) and screenwriter David Lee Henry (straight off Road House) perfect the actor's '90s template with elegant simplicity, showcasing the star's brutal physical ability and strong code of honor. When a police officer is savagely gunned down in front of his family, his partner/best friend Gino (Seagal) goes on the hunt for the psychotic cokehound Richie (William Forsythe, foaming at the mouth and chewing scenery with blithe recklessness.) Seagal gets to speak guido, shoot a guy's leg completely off with a shotgun, and, most importantly, kick a ton of butt while turning the neighborhood into a war zone, tearing through armies of goons, street urchins and made men while growling bon mots like "I'm gonna cut off his head and piss down his throat." Skulls will be cracked, bones will be broken and glass will be shattered in this top-tier beat-em-up!
Dir. John Flynn, 1991, 35mm, 91 min. (Print courtesy of the Academy Film Archive)

ON DEADLY GROUND


We're flying in a rare U.K. 35mm print just for this one show only of the defining Seagal masterwork! The capper to our day of Seagal: the most Seagal of them all! Steven's directorial debut showcases the star's then-newly-discovered environmentalism, his blossoming interest in Native American culture and the best bar room brawl in all of Seagalogy. Our hero is Forrest Taft, "patron saint of the impossible," an expert in putting out oil rig fires who must battle an evil corporation to save Alaska and its indigenous people. He wears a fringed jacket, goes on an Inuit vision quest and totally hates pollution. As Vern wrote in his epic tome, "before this movie, he was a popular action star, like so many others. Only now did he become Steven fucking Seagal." But it's not just a one man show, for On Deadly Ground features great performances by a truly embarrassed Michael Caine, Joan Chen as an Eskimo love interest, R. Lee Ermey and Billy Bob Thornton as vicious mercenaries and Scrubs star John C. McGinley as a henchman named MacGruder. Vern sums it up eloquently: "you can't understand Seagal if you haven't seen On Deadly Ground."
Dir. Steven Seagal, 1994, 35mm, 101 min.

- See more at: http://www.cinefamily.org/films/heavy-hitter-midnites/#sthash.ryaizenx.dpuf