Papa Vinyard here, now here's a little somethin' for ya...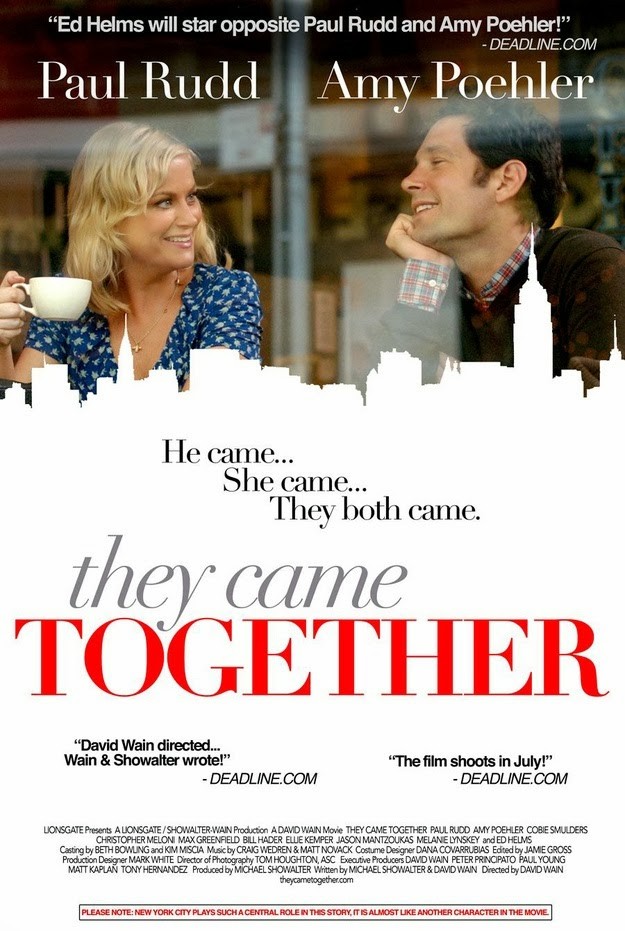 We got the trailer for David Wain's next, THEY CAME TOGETHER, and it wears its anti-rom-com sentiments right there on its sleeve. After making more traditional comedies with ROLE MODELS (which I adore) and WANDERLUST (which I borderline despise), it seems that Wain's going back to the cutting absurdity of films like WET HOT AMERICAN SUMMER and THE TEN, and telling cinematic realism to take a hike. The deadpan humor here is pure THE STATE, from the self-referential buddy talks to how painfully over-cute the central relationship seems. Some of the stuff, like the last two gags, seem like they probably work way better in the actual films, but you definitely get an idea at the gleeful absuridity that won Quint over at Sundance.
We also get a look at the stellar cast, led by Paul Rudd and Amy Poehler and featuring Ellie Kemper, Bill Hader, Melanie Lynsky, Ken Marino, Jack McBrayer, Christopher Meloni, Michael Ian Black, Ed Helms, Kenan Thompson, and Cobie Smulders. If Quint's review got it right, expect even more famous faces to pop up i the actual film.
WANDERLUST really did kind of deflate my interest in further Wain-Rudd team-ups (that improv-ed scene with him psyching himself up for Malin Akerman just…depresses me), but this seems crazy and out-there enough for me to give the pair another chance. Who knows, maybe this will even top WHAS in both absurdity and cult appeal. It could happen.
THEY CAME TOGETHER and made a mess of things on June 27th.
-Vincent Kim-Zahedi
"Papa Vinyard"
vincentzahedi@gmail.com
Follow Me On Twitter