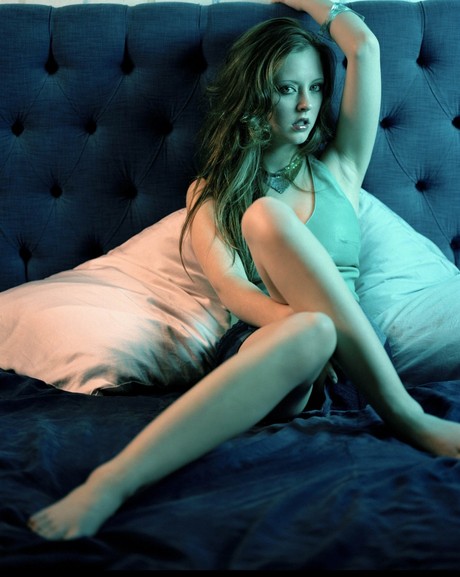 Pedophile Mason Verger's disturbed sister Margot, a key player in Thomas Harris' 1999 novel "Hannibal," was left out of the 2001 "Hannibal" movie, but has an ongoing role in NBC's prequel series. She's played by the insanely hot Katherine Isabelle.
And Jeremy Davies, of "Lost" and "Justified" fame, returns tonight as damaged professional animal rescuer Peter Bernadone!
NBC says of tonight's "Shizakana":
The FBI is called in to investigate the discovery of a truck driver's body, seemingly torn apart by two separate species of animal working in tandem, neither of which consumed their kill. After one of his therapy sessions, Will (Hugh Dancy) meets Hannibal's (Mads Mikkelsen) strange new patient, Margot Verger (Katherine Isabelle). Will and Margot compare notes on Hannibal and his unconventional advice. Continually encouraging his patients to revel in what they are, Hannibal aims to determine Will's true self by sending him a test, the results of which surprise even Hannibal. Also starring Aaron Abrams, Scott Thompson and Jeremy Davies.
Bill Maher's "Pizza Man" co-star Annabelle Gurwitch is the mid-show interview guest on tonight's "Real Time With Bill Maher." Environmentalist Tom Steyer is the top-of-show interview guest. The roundtable guests are political analyst John Avlon, political scientist Charles Murray and former New York City Council speaker Christine Quinn.
Premiering tonight:
I Found The Gown (10pm TLC)
Relative Insanity (10pm Lifetime)
"Hannibal" caught an uptick last week. On cable a 0.8 is considered pretty solid; FX's "The Americans" just got renewed with a lot of 0.4s.
Fridays, March 7-April 18, 2014
(Adults 18-49; repeats in gray; earlier weeks in parentheses)
1.8 (1.5) (1.5) (1.4) (1.8) (1.9) (1.8) 20/20
1.7 (1.8) (2.0) (1.3) (2.1) (2.0) (2.1) Shark Tank
1.2 (0.7) (1.1) (1.5) (1.4) (1.1) (1.5) Dateline
1.2 (1.2) (1.4) (1.4) (0.9) (0.8) (1.3) Last Man Standing
1.0 (1.2) (0.8) (---) (---) (---) (---) Kitchen Nightmares
0.9 (1.4) (1.5) (---) (---) (1.4) (1.4) Blue Bloods
0.9 (1.0) (0.9) (---) (---) (---) (---) Unforgettable
0.8 (0.7) (0.8) (1.0) (0.9) (0.9) (0.8) Hannibal
0.8 (0.8) (0.7) (0.8) (0.8) (0.8) (0.9) WWE Smackdown
0.7 (1.3) (1.4) (---) (---) (1.4) (1.4) Hawaii Five-0
0.6 (0.6) (0.7) (0.6) (0.8) (---) (---) Sons of Guns
0.4 (0.4) (0.4) (0.5) (0.6) (0.4) (0.5) Whose Line
0.3 (0.3) (0.2) (0.3) (0.3) (---) (---) Heart of Dixie