Papa Vinyard here, now here's a little somethin' for ya...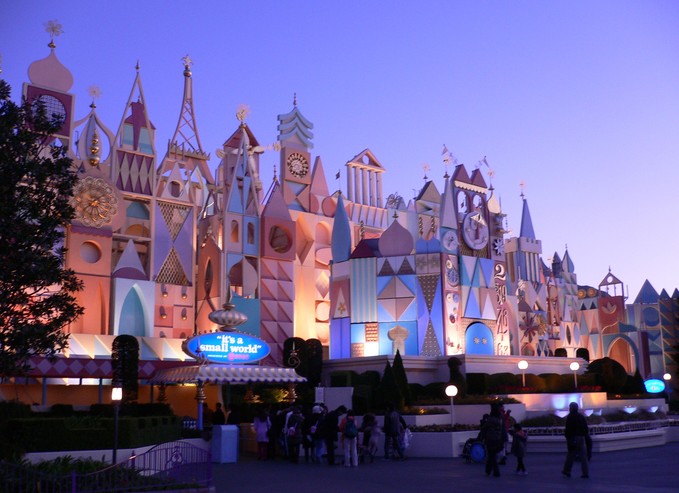 As Jeff Sneider tweeted earlier today, this is the sound "the bottom of the barrel being scraped".
Disney has hired NATIONAL TREASURE/LAST VEGAS director Jon Turteltaub to turn yet another of their rides into a major motion picture. They've tasked Jared Stern (THE WATCH, THE INTERNSHIP) to write a script based on IT'S A SMALL WORLD (currently celebrating it's 50-year anniversary), and have lined up Turteltaub, hot off the relatively cheap hit LAST VEGAS (which earned $134 million on a reported 28 mil budget), to direct.
With TOMORROWLAND, MAGIC KINGDOM, and PIRATES OF THE CARIBBEAN: DEAD MEN TELL NO TALES, this would bring the total of movies based on Disney theme park rides to 11. Plus, they've all been made within the past 17 years, and only one of those franchises (guess which) proved to be a bonified hit with audiences. But IT'S A SMALL WORLD is on the same level of PIRATES or THE HAUNTED MANSION in terms of iconography, and has been one of the most popular rides in both Disneyland and Disneyworld for almost half a century (the ride first made an appearance at the 1964 New York World's Fair). In their current property-plumbing mode, it makes sense for Disney to try and connect folks' affection/nostalgia for the ride to a brand-new feature, and even more sense for them to tap Turteltaub (who has pumped out international hits like the NATIONAL TREASUREs, THE SORCERER'S APPRENTICS, PHENOMENON, DISNEY'S THE KID, and COOL RUNNINGS for the studio) to do it.
I imagine Stern will concoct a story involving children of different ethnicities banding together and making the world a little more empathetic in some way, but the ride's so genial and bland that the filmmakers have very few requirements to meet in terms of plot (as long as it's, you know, kid-friendly and mother-approved). But I'm with Sneider; for a company that has 80+ years worth of preexisting properties, and one that just spun an original(ish) idea into the highest-grossing animated movie of all time, this kind of does stink of desperation. Is there really an audience out there in the world that will get excited over an IT'S A SMALL WORLD movie??
Let's see if Turteltaub can find the right actor(s)/actress(es) to help spin this project from a cynical-sounding cash grab into a must-see curiosity. My vote totally goes to Nicolas Cage.
-Vincent Kim-Zahedi
"Papa Vinyard"
vincentzahedi@gmail.com
Follow Me On Twitter