Papa Vinyard here, now here's a little somethin' for ya...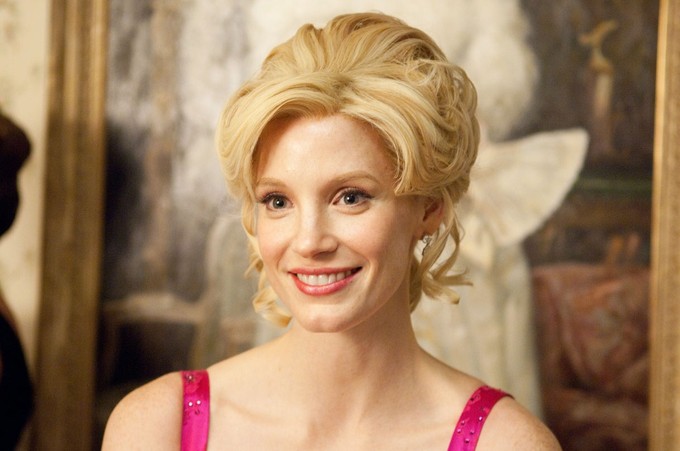 Jessica Chastain is a two-time Oscar nominee, and has gotten rave reviews for her performances in movies like THE HELP, TREE OF LIFE, and particularly ZERO DARK THIRTY, but she's not really thought of as much of a sex symbol. She does the occasional skimpily-clad ad/pictorial, sure, but like her ZERO DARK THIRTY character, she is defined more by her talent and impressive instincts than her physical assets. This makes her a very interesting choice to play Marilyn Monroe, which The Wrap says she's in talks to do for THE ASSASSINATION OF JESSE JAMES BY THE COWARD ROBERT FORD/KILLING THEM SOFTLY director Andrew Dominik.
Dominik's film, described as a "passion project," is called BLONDE, based on a 2000 novel by Joyce Carol Oates. The Pulitzer Prize and National Book Award finalist tells the story of Marilyn Monroe in her own words, depicting her life through the raw, undiluted psyche of the former Norma Jeane Baker. This alone distinguishes this movie from Monroe-centric flicks like MY WEEK WITH MARILYN (which depicted her from the perspective of Eddie Redmayne's character), NORMA JEAN AND MARILYN (which took a more experimental, clinical approach, casting Ashley Judd as "Norma Jean" and Mira Sorvino as "Marilyn"), and INSIGNIFICANCE (which only portrayed one totally fictional night where Monroe encountered both Joe McCarthy and Albert Einstein). Expect the film to get at least close to the iconic, borderline-inscrutable Monroe as we got to Mark "Chopper" Read, Jesse James, and Robert Ford.
Chastain has a natural sexiness that doesn't really match Monroe's pouty, exhibitionist tendencies, but playing a bleached-blonde '60s woman in THE HELP earned her first Oscar nom, and her liberated (brunette) character in MAMA tapped into an earthy allure that won over more than a few fans (even married ones like me and Kumail Nanjiani). Even if we haven't seen her do the "sex-symbol" thing yet, this role is probably going to require a whole range of personas, from the struggling ingenue to the actress trying to be taken more seriously and finally to the drugged-out insecurity that (probably) ended up costing her her life. I have no doubt that Chastain will do wonders with the role, perhaps even usurping Michelle Williams' own Oscar-nominated take, and getting more intimate with the late star than any actress to brave the challenge thus far.
I mean…it's Andrew Dominik. Could it really be anything other than awesome?
-Vincent Kim-Zahedi
"Papa Vinyard"
vincentzahedi@gmail.com
Follow Me On Twitter