Papa Vinyard here, now here's a little somethin' for ya...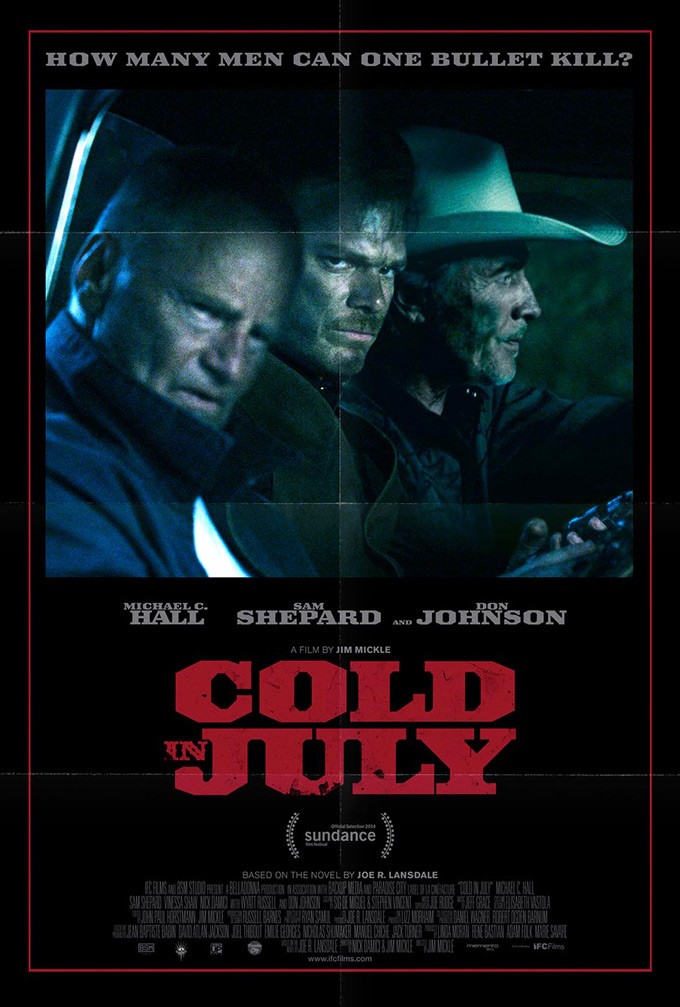 Sometimes all it takes is Don Johnson snarling some cool lines to get me to want to see a movie. I can be easy like that every now and again.
Jim Mickle's fourth movie, following MULBERRY ST., STAKE LAND, and WE ARE WHAT WE ARE, premiered at Sundance back in January, and our very own Quint liked it quite a bit. The trailer below emphasizes the tense, CAPE FEAR-esque setup, with Sam Shepard coming dangerously close to breaking stalking laws while hounding the man (Michael C. Hall) who killed his son in self defense. When Hall's character feels his family's in danger, he takes things into his own hands. Enter Don Johnson's Jim Bob, a swaggering Texas P.I. with a bright red cadillac (complete with "RED BTCH" vanity plate) and an attitude, to boot. Violence ensues.
WE ARE WHAT WE ARE was a fresh, interesting take on the horror genre, and I'm curious to see what Mickle does with the southern-fried noir this time around. He's got his biggest-name cast to date, and Johnson's apparently scene-stealing role alone seems to make it worth seeing the flick. Gotta love that mullet on Hall, too.
Dig the Carpenter influence in the font and the music! Like ALMOST HUMAN director Joe Begos, Mickle knows that if great artists steal, you gotta steal from the best.
COLD IN JULY opens in select theaters and VOD on May 23rd.
-Vincent Kim-Zahedi
"Papa Vinyard"
vincentzahedi@gmail.com
Follow Me On Twitter