Ahoy, squirts! Quint here. Guillermo del Toro is currently filming his period gothic horror flick CRIMSON PEAK up in Canada and recently rolled back the clock on the small town of Kingston.
A local TV station did a story on some exterior filming that shows the production turning modern day Kingston into old timey land complete with bowler hatted extras, dirt roads and horse drawn carriages.
There's no footage of any of the famous people involved (the movie stars Tom Hiddleston, Jessica Chastain, Mia Wasikowska and Charlie Hunnam), but it'll give you a little glimmer of an idea of what Guillermo is up to with this one.
Click the image below to view the video, eh.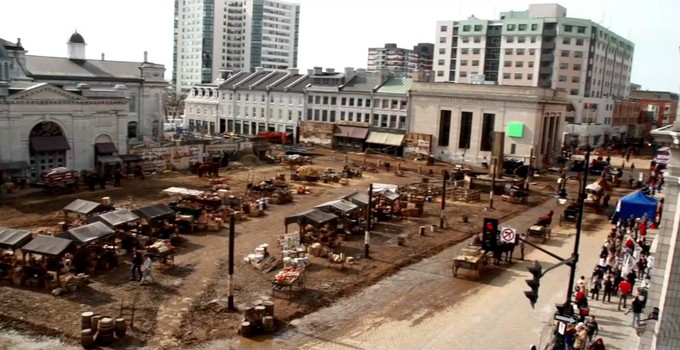 Thoughts? Looks like a fun set to be on, doesn't it?
-Eric Vespe
"Quint"
quint@aintitcool.com
Follow Me On Twitter