Papa Vinyard here, now here's a little somethin' for ya...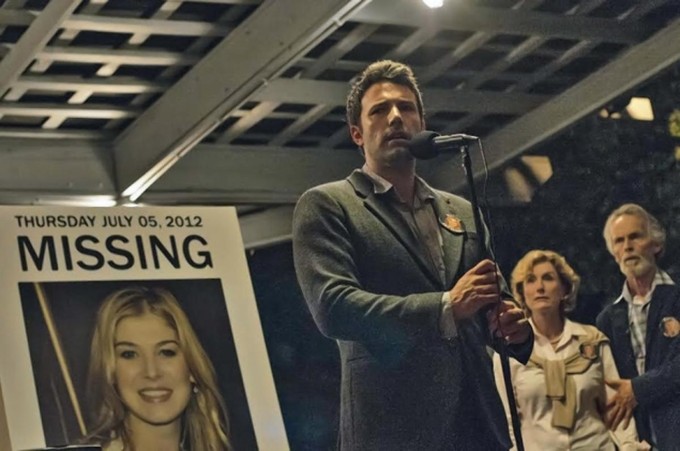 Earlier today, we saw the first teaser one-sheet for David Fincher's adaptation of Gillian Flynn's GONE GIRL, and now we have a lovely, moody teaser trailer to go along with it. It's light on the plot, only taking time out of its 1:37 runtime (remember, pretty soon most trailers are going to be less than 2 minutes long) to establish that Ben Affleck's Nick Dunne is on the hunt for his missing wife (played by Rosamund Pike), who he may have been having problems with before her disappearance. As the search goes on, clues start pointing in Nick's direction, and he becomes a victim of the public's unquenchable thirst for information regarding what actually happened to his beloved Amy. Catch fleeting glimpses of the supporting cast, including Kim Dickens, Missi Pyle, Sela Ward, and Tyler Perry, and one chilling shot, possibly spoiler-y, possibly a flashback, right at the end there.
The film seems to feature more of Fincher's trademark visual flourishes than I previously expected, and it feels very similar to his masterful ZODIAC from 7 years ago (that's right, 7 years ago). Affleck looks like he's doing some raw, emotional work here, and I am hoping he can provide a human center for what looks to be a fairly dark, intense procedural.
Also, I really hope this trend of featuring cool covers of rock songs (following "Creep" in that SOCIAL NETWORK trailer and "The Immigrant Song" in the GIRL WITH THE DRAGON TATTOO teaser) on David Fincher trailers continues. Elvis Costello's "She" has never been used quite like this, and I love it.
UPDATED (19:10): The Youtube video below's been taken down, but you can watch the trailer here. We'll repost an embed when possible.
GONE GIRL will be found on October 3rd.
-Vincent Kim-Zahedi
"Papa Vinyard"
vincentzahedi@gmail.com
Follow Me On Twitter