Papa Vinyard here, now here's a little somethin' for ya...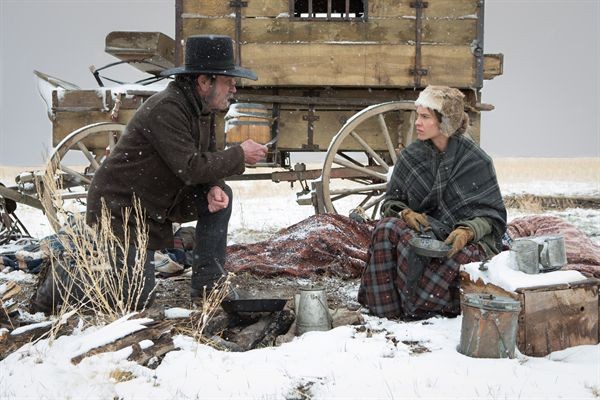 This look at Tommy Lee Jones' second feature film as a director (fourth if you count his TV work), THE HOMESMAN, makes it seem like a particularly gritty slice of western. Jones plays a guy quite literally on the noose when Hilary Swank's (widowed?) farmer saves his life, in return for quite a large favor. He has to help her transport three mentally ill women across state lines, from Nebraska to Iowa, where a facility can take better care of them than their ill-equipped husbands. He kvetches, and lays out the threats, including rapists, marauders, and murderous Natives, but he's got no choice in the matter, and has to help Swank traverse the dangerous 1850's western landscape.
I love how the trailer keeps the focus on Jones, Swank, and the task at hand, rather than the violence or the rather extensive cast. Aside from those two Academy Award-winners, the film boasts the presence of Hailee Steinfeld, John Lithgow, James Spader, William Fichtner, Jesse Plemons, Tim Blake Nelson, and Meryl freakin' Streep (blink and you'll miss her). But it's the relationship between Jones and Swank's characters, and the implications of the situation (the dangers of the west have driven these women to the brink, making this a sort of mood-inverted A MILLION WAYS TO DIE IN THE WEST) that make the biggest impressions. I want to see these characters go on this quest together, and to grow and overcome daunting odds and all that good stuff.
Jones' work on THE THREE BURIALS AND MELQUIADES ESTRADA and THE SUNSET LIMITED (both highly recommended) makes this film something of a must-see, even without the excellent cast (which certainly doesn't hurt). Jones and Swank are both terrific actors who don't appear onscreen nearly enough, and I bet it'll be a joy to see them interacting for the length of this picture.
THE HOMESMAN doesn't currently have a U.S. release date, but is expected to premiere at Cannes next month. We'll know for sure when the lineup is announced this Thursday.
-Vincent Kim-Zahedi
"Papa Vinyard"
vincentzahedi@gmail.com
Follow Me On Twitter