Papa Vinyard here, now here's a little somethin' for ya...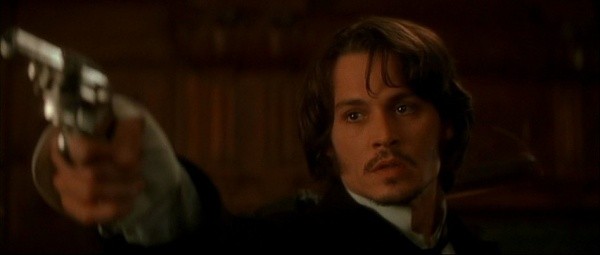 Back in December, Kevin Smith said that TUSK wasn't going to be ready in time for his original intended premiere at Sundance. The reason he gave was that the actor signed to play the "fifth Beatle" of the film, investigator Guy Lapointe, wasn't available to film his scenes (which only required two days of shooting time) until only a couple of weeks before the festival. He has yet to confirm who the actor is, aside from this tweet implying that whoever he signed for the role is a big-name actor (I mean, he refers to it as the highlight of his career).
You know who it sounds like he got for Guy Lapointe? JOHNNY DEPP.
The Johnny Depp Zone forum (via VideoETA) culled together a list of clues that heavily indicate the billion-dollar+ grossing actor is appearing in Smith's film.:
1. The online resume of Johnny Depp's longtime makeup artist, Joel Harlow, had TUSK listed as his latest project. The page has since been edited.
2. The revelation by VideoETA that Depp and Smith know each other personally. At one point, both their daughters went to the same school, and the two have apparently hosted charity events together. This doesn't necessarily suggest that he'd act in one of Smith's films, but it certainly establishes a connection between the two.
3. Depp's latest film, MORTDECAI, was scheduled to wrap around the time that Smith claimed he was scheduled to have his Guy Lapointe on set. The mid-January wrap date is a little past the "late December/early January" that Smith originally announced, but it's possible Depp's stuff for MORTDECAI was finished earlier.
4. One of TUSK's production companies, Demarest Films, has done three films featuring Amber Heard (PARANOIA, MACHETE KILLS, and the upcoming LONDON FIELDS which also features Depp). For those who don't follow the gossip rags, Ms. Heard is currently Mr. Depp's fiancee.
5. Last, but certainly not least. Justin Long did an interview with Long Island Newsday where he answered the question, "Are you working on any other movies right now?" like so:
Yeah, the one where a man turns into a war horse. It's called "TUSK." Johnny Depp is in that one. I'm working on something coming up later.
Assuming that the interviewer mistranscribed "war horse" for "walrus," this not only confirms that he's in the movie, but also that he's featured prominently enough to warrant Long's mentioning of him. Other than that, it could be surmised that Depp's involvement, if true, would be limited to a cameo appearance, but I don't think Long would give away a special appearance like that, all nonchalant-like. It's not like back in '04, Ben Affleck would be all like (*spoiler alert*) "Yeah, I'm in JERSEY GIRL, it's awesome, Will Smith is in it," right?
If Depp is confirmed to be featured in a prominent supporting role in this film, that means it has a huge marketing secret weapon that Smith has been very slick about keeping under wraps. A Kevin Smith horror-comedy hybrid about a psycho with a walrus obsession featuring Justin Long, Michael Parks, and Haley Joel Osment is one thing. Add Johnny Depp as the investigator assigned with hunting down said psycho, and it becomes another thing entirely. Something that's all but assured to make it to at least a few hundred theaters based on name value alone (and perhaps a thousand or so more if Smith's got a particularly awesome gem on his hands).
TUSK still doesn't have a release date, but I'll bet we'll be getting some info on that and this casting story fairly soon.
-Vincent Kim-Zahedi
"Papa Vinyard"
vincentzahedi@gmail.com
Follow Me On Twitter