Hey guys! Horrorella here...
Interesting piece of casting! Deadline reports that Brie Larson has signed on to the adaptation of Emma Donoghue's novel, Room.
Room is the story of a woman who is kidnapped and held for years in a small bunker built by her kidnapper. She fathers a child by him, and raises him in the single-room prison they call home.
The book is partially based on the true-life case of Elisabeth Fritzl, an Austrian woman who was held captive in much the same way by her father, Josef. She escaped in 2008 after spending 24 years in captivating and having seven children.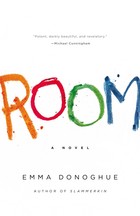 As grim as the topic and its basis are, the book Room is actually rather light and innocent, as it is told from the perspective of the woman's five-year-old son, Jack. He recounts their life together in their single-room abode, having no knowledge of the world beyond or the true nature of their circumstances.
It's certainly an interesting role for Larson to take on. Her work over the past few years has certainly been memorable, in films such as SCOTT PILGRIM VS THE WORLD and 21 JUMP STREET, but it was her role in last year's SHORT TERM 12 that really demonstrated her skill as an actress. It's good to see her continuing to explore challenging and complex roles.
ROOM will be directed by Lenny Abrahamson, from a script by Donoghue herself. Abrhamson is coming off of some serious acclaim at Sundance from his film FRANK (the one with Michael Fassbender and the gigantic fake head).