Papa Vinyard here, now here's a little somethin' for ya...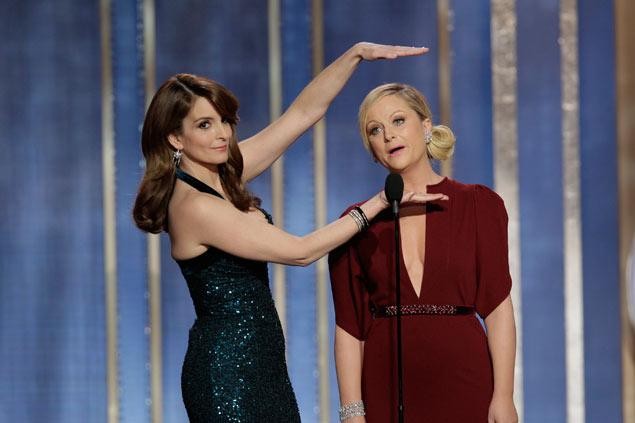 Tina Fey and Amy Poehler have famously been friends and frequent collaborators since they first worked together on SNL back in '01, popping up in each other's TV shows, co-starring in flicks like MEAN GIRLS, and BABY MAMA (as well as a certain recent high-profile comedy sequel), and, of course, co-hosting awards shows.. According to Showbiz 411, the pair will next team up on a feature comedy called THE NEST, which would have them playing sisters who decide to throw a massive house party when their parents decide to sell of their family home.
Poehler is a vet of UPRIGHT CITIZEN'S BRIGADE and WET HOT AMERICAN SUMMER, so she's certainly no stranger to cinematic raunch-fests, but Fey's repertoire is usually slightly more high-brow (or at least respectable). If I were a bettin' man, I'd say that Fey would be playing the more reserved of the two, leaving Poehler to once again play the unhinged, wild crazy. I'd be thrilled if they pulled a NEIGHBORS (Belushi/Aykroyd, not Rogen/Efron) and switched their respective personas, allowing Fey to go all batshit loco and leaving Poehler to clean up as the straight-man (or rather straight-woman). Who knows, maybe both of these sisters are Hilton/Bush sister-level hellions; the premise certainly leaves room for that.
PITCH PERFECT's Jason Moore is set to start directing the film this June in NYC, so we should be hearing more details on this project in the next couple months, including more casting and story tidbits. The Fey/Poehler connection is doing great guns on TV (they're lined up to co-host their third consecutive Golden Globes next January), but I'm glad they're still doing their thing side-by-side on the big screen as well.
http://www.buzzfeed.com/whitneyjefferson/watch-tina-fey-and-amy-poehlers-opening-monologue-from-the-g?sub=2901105_2270023
THE NEST is set to start shooting in June, and my guess is it'll land in theaters around Summer 2015.
-Vincent Kim-Zahedi
"Papa Vinyard"
vincentzahedi@gmail.com
Follow Me On Twitter