Papa Vinyard here, now here's a little somethin' for ya...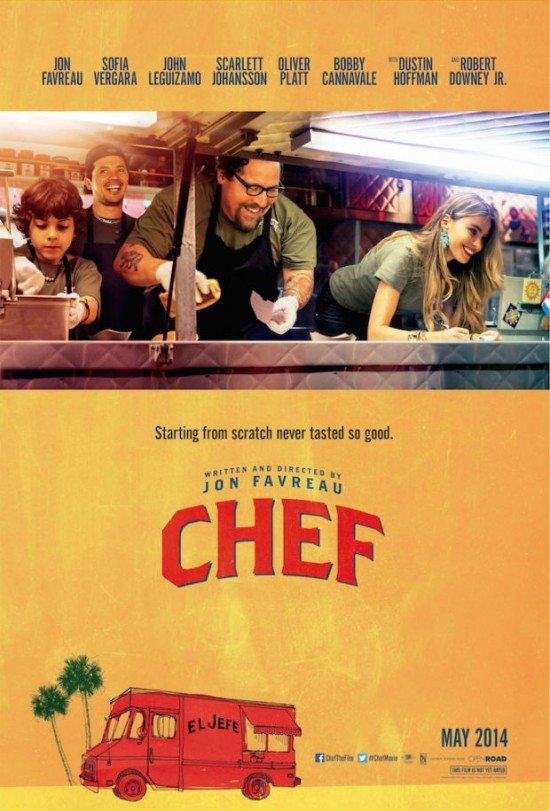 Jon Favreau's return to his indie roots, CHEF, certainly seems somewhat more conventional than what I was expecting. The story kind of parallels Farvreau's own trajectory as a director; up-and-coming director who got hired by the big dogs (Marvel in real life, Dustin Hoffman's upscale joint in the flick), only to find the restrictions of his high-demand position somewhat stifling, before going out on his own again to make something that is totally "his." The weird thing is, in the case of the film, it doesn't seem quite as non-mainstream as you'd expect, nor does it contain any of the charming hilarity that defined his early work, specifically SWINGERS and MADE. Granted, this is just a trailer meant to package the premise and star-power for the masses, and I'm holding out hope that the final product has that Favreau charm that made his first films so engaging and memorable.
Speaking of star-power, the trailer does do a good job of sneaking all the famous faces into this 2-and-a-half minute peek. Aside from Favreau in his first lead role in a decade, you got Bobby Cannavale and John Leguizamo as his fellow chefs, Sofia Vergara as Favs' ex-wife, Scarlett Johansson as a girl who apparently has the hots for him despite looking like Scarlett Johansson, Robert Downey Jr. in the kind of role Downey used to take before Favs gave him Phase 2 (see what I did there) of his career with IRON MAN, and the aforementioned Hoffman as an uppity restauranteur.
I like the idea of putting food trucks and artisinal cooking front and center in this flick, even if the stuff we see in this trailer pales in comparison to the food (of questionable origin) that HANNIBAL serves to his pals and confidantes week after week. Still, Favs did have big-name chefs helping him out on the production, so I bet the real film features some mouth-watering dishes, and I have no doubt this is one of those BIG NIGHT films that will instantly make you hungry,
CHEF gets cookin' on May 9th.
-Vincent Kim-Zahedi
"Papa Vinyard"
vincentzahedi@gmail.com
Follow Me On Twitter