Papa Vinyard here, now here's a little somethin' for ya...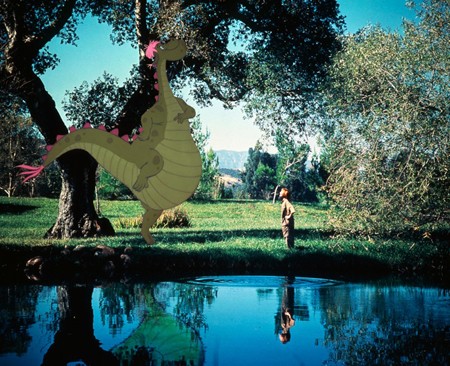 A year ago, we learned that AIN'T THEM BODIES SAINTS director David Lowery was assigned to script and maybe possibly direct a remake of the family-film classic, PETE'S DRAGON. It's looking more sure than ever that he'll helm the remake, as The Wrap announced today that Lowery is "in negotiations to direct" the update of the 1977 animation/live-action hybrid for Disney. Lowery co-wrote the script with his BODIES SAINTS producer, Toby Halbrooks, which apparently "reinvents the core of the original," and almost definitely won't feature any musical numbers (even though the song "Candle on the Water" scored the original's only Oscar nomination).
Lowery seems like an outside-the-box pick until you remember that his first feature as a director, ST. NICK, featured a young boy and girl in starring roles, proving his ability to handle child actors. That'll prove an asset in updating Disney's tale of a young orphan who moves into a strange town, and has only an occasionally-invisible dragon named Pete as a companion.
Maybe this only feels like a recent trend, but Disney's really plumbing their vaults for recognizable properties these days, and while PETE'S DRAGON doesn't have the cultural cache of SLEEPING BEAUTY or CINDERELLA, it still holds a special place the hearts of a particular generation. Alongside MARY POPPINS and BEDKNOBS AND BROOMSTICKS, it was one of the prime examples of successful integration between live-action and animation, in those days before Robert Zemeckis and Roger Williams schooled everyone with their work on WHO FRAMED ROGER RABBIT. I frequently saw PETE'S DRAGON among family VHS collections (remember those big-ass clamshell cases?) in the early-to-mid-'90s, so I'm fairly sure there's an audience out there nostalgic for this story of a boy and his dragon.
Let's see who Lowery picks as the 21st-century equivalents of Shelley Winters, Red Buttons, and Mickey Rooney (who could still make a totally welcome cameo).
-Vincent Kim-Zahedi
"Papa Vinyard"
vincentzahedi@gmail.com
Follow Me On Twitter