Papa Vinyard here, now here's a little somethin' for ya...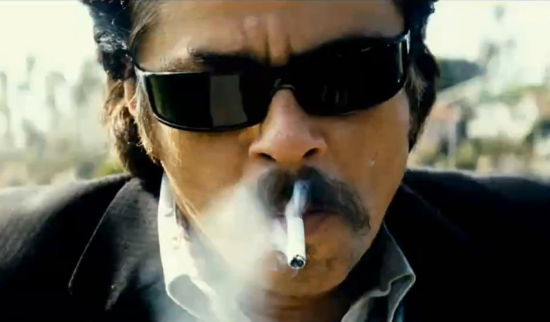 Not two full days after we told you that Emily Blunt was lined up to play the lead in Denis Villeneuve's next, SICARIO, we now have word of another big-name actor ready to sign on. Benicio del Toro is in "final negotiations" to star alongside Blunt in the PRISONERS director's story of a Tuscon P.D. officer's quest to take out a drug kingpin in his native Mexico. Variety doesn't specify who Benicio's playing, but my money says he'll be the drug lord, and not one of the two mercs who offer their services to Blunt's character.
As Variety mentions, Del Toro's got a hell of a year ahead of him, between playing Pablo Escobar in PARADISE LOST, co-starring with Joaquin Phoenix in P.T.A's INHERENT VICE, and, of course, eating scenery as The Collector in GUARDIANS OF THE GALAXY. Needless to say, Benicio is a truly gifted actor, and does amazing, original stuff when given the opportunity. Villeneuve got a bunch of strong performances out of his ensemble cast in PRISONERS, and if he can do with Del Toro (and Blunt) what he was able to do with Jackman & co., SICARIO is going to be much more than your standard revenge-action picture (or it could be DEATH WISH 3, I'm fine either way).
-Vincent Kim-Zahedi
"Papa Vinyard"
vincentzahedi@gmail.com
Follow Me On Twitter