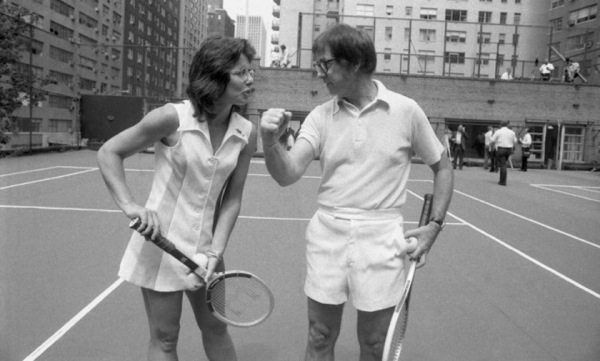 Jeremy here...
According to Variety, Will Ferrell is set to wage the "Battle of the Sexes" all over again in a film about the real-life tennis rivalry between Bobby Riggs and Billie Jean King.
The untitled project will be adapted from a fascinating Don Van Natta, Jr. article by Steven Conrad (THE SECRET LIFE OF WALTER MITTY and Gore Verbinski's underrated THE WEATHER MAN), and has yet to land a director or a Billie Jean. Riggs was fifty-five when he came out of retirement to challenge women's champion Margaret Court to an exhibition match. He embarrassed her, which prompted King to take up Riggs's challenge, resulting in the legendary "Battle of the Sexes" at the Houston Astrodome in 1973. King avenged Court's defeat with a straight-set shellacking of Riggs, though it has since been revealed that Riggs probably threw the match to make good on gambling debts. It's a great story that could make for a great film. I just hope it doesn't turn into a goofy game of '70s dress-up like AMERICAN HUSTLE.
I can't wait to see who they cast as King. I've been trying to fan cast it in my head, but can't come up with a perfect fit.