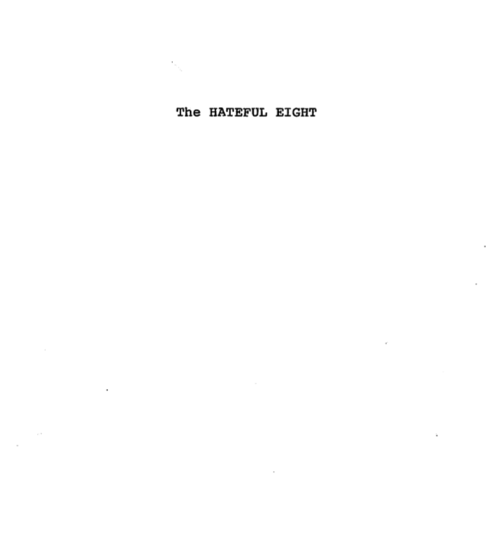 Jeremy here...
Got any plans for April 24th, 2014? Got $200 sitting around waiting to be spent?
Film Independent has just announced that the next selection in its live-read series will be a one-time-only staging of Quentin Tarantino's shelved screenplay THE HATEFUL EIGHT. Tarantino will stage the reading himself and pick the actors. Having read the script, I think you can bank on Christoph Waltz being involved. Samuel L. Jackson would seem probable, too, but he might be preoccupied with THE AVENGERS 2: AGE OF ULTRON. In any event, Film Independent's press release states that the cast will likely remain secret until the night of the performance, so this is all just idle speculation.
As you probably know, Tarantino spiked the script when the first draft leaked unexpectedly last January. Though it's been customary for Tarantino's scripts to get passed around before production, this one wasn't ready for mass consumption just yet. According to Tarantino, he'd only given the script to six people. Some folks have expressed skepticism over QT's motives here, but I believe him; there's one crossed-out chunk of dialogue in the script, and a few other handwritten alterations. Still, it's a great fucking screenplay, a largely one-set suspense play ala Agatha Christie that simmers with all manner of hatred. It's a real pressure cooker, one that would work just as well on the stage as it would on the big screen.
Here's the official synopsis from Film Independent:
The Hateful Eight follows the steadily ratcheting tension that develops after a blizzard diverts a stagecoach from its route, trapping a pitiless and mistrustful group, which includes a competing pair of bounty hunters, a renegade Confederate soldier and a female prisoner in a saloon in the middle of nowhere.
There's was talk that Bruce Dern, Michael Madsen and Tim Roth were favored for roles in the film. Perhaps they'll be involved. Or maybe one of those rascals leaked the script and will never work with Tarantino again! Who knows?
Tickets will go on sale April 9th at 5 PM, but only for members of Film Independent, LACMA Film Club and The New York Times Film Club. If there are any tix left over, they will be made available at 5 PM on April 16th. For more info, hit up Film Independent's website.