Hello gamers, Abstruse here with your dose of tabletop gaming news. Because so much news came out this week, I've had to push back my review of Hero Lab until next week.
Unfortunately, we have sad news to start off the column. Legendary artist David A. Trampier passed away. Trampier created many iconic pieces of art for 1st Edition AD&D, including the cover of the Player's Handbook and the Dungeonmaster Screen above. He also wrote and drew one of the first comic strips appearing in DRAGON MAGAZINE, a six-panel strip WORMY which set the bar for the many others to come. He withdrew from gaming in the late 1980s, becoming a cab driver. He recently agreed to appear at a convention and was in talks with Troll Lord Games to reprint WORMY, but passed away suddenly before he could make his return to gaming. He was an amazing talent who defined a look and feel for roleplaying for the first generations of gamers.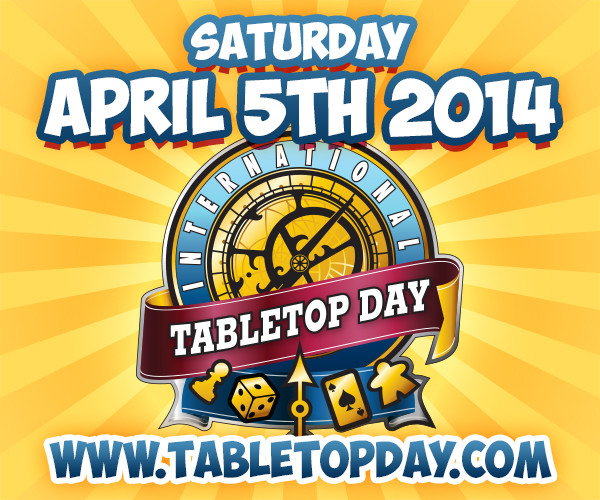 This weekend celebrates INTERNATIONAL TABLETOP DAY!
Saturday, April 5, game stores all over the world will hold special events and gaming marathons. Check the link above to find out if your Friendly Local Game Store is holding an event. If there's not one near you or you're chained to the desk at work this weekend, many game stores, organizations, and YouTube channels are doing live video streams of their events.

The GAMA trade show finished this week, and there were a ton of announcements. Starting with DUNGEONS & DRAGONS, it should be noted that both Amazon and Barnes & Noble have pulled their pre-order pages for the game (most likely because an official announcement has not been made yet). We did get our first solid news about how the new edition will be printed. There will be a Player's Handbook, Dungeon Master's Guide, and Monster Manual. Each of these will be the ONLY entry for the edition having that title, and all iconic classes, races, and monsters will be in the initial set.
Covers for the new edition were shown off, but no photography was allowed and pictures have not leaked yet. Reports say that the Player's Handbook has a beholder on the cover, the Dungeon Master's Guide an underdark battle featuring drow, and the Monster Manual a fire giant.
Wizards of the Coast spoke about their philosophy in creating this edition. They wanted to eliminate the "Edition Wars" philosophy and stated they will continue to support 4th Edition as long as there is a demand. They also spoke of their guiding light for this edition, "What Would Gary and Dave Do?"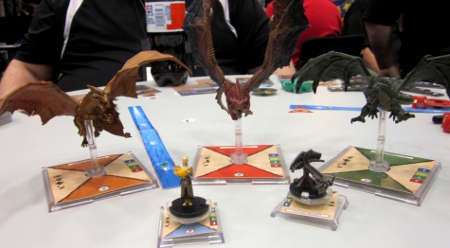 and they previewed the first wave of miniatures which will be produced by WizKids. They look on par with everything else, with some really detailed paint jobs. Also announced was
an Attack Wing based game for D&D
, similar to STAR WARS: X-WING MINIATURES and STAR TREK: ATTACK WING. These miniatures, however, won't be that useful outside the game unless you re-base them as the bases have the standard game information.

WizKids had a busy time at GAMA as well, showing off their newest Attack Wing based game, DUNGEONS & DRAGONS ATTACK WING. The game uses similar rule as STAR WARS: X-WING MINIATURES and STAR TREK ATTACK WING licensed from Fantasy Flight Games, but features dragons battling in the skies. The miniatures look good, but may not translate well for use in D&D itself due to the custom bases Attack Wing uses.
But if you want prepainted miniatures for use in your game, they've got you covered. Not only are they creating a D&D-based line of licensed miniatures for use in roleplaying games, they're also expanding their PATHFINDER BATTLES line.
The new expansion, Reign of Winter,
had its showpiece at the convention, a fucking MASSIVE white dragon in flight. Just look at the thing!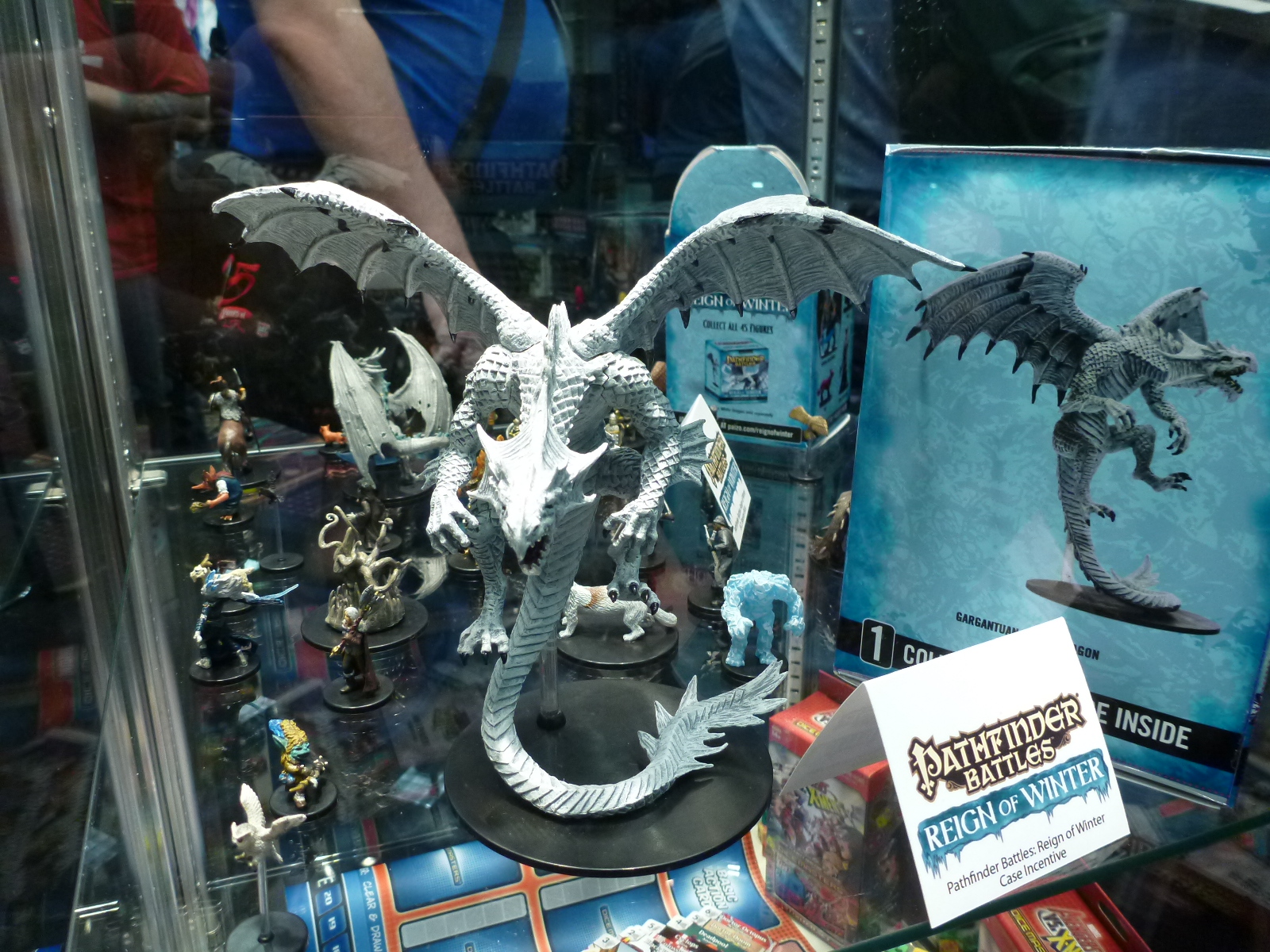 They also have a dice battle game coming out, MARVEL DICE MASTERS: AVENGERS VS. X-MEN. The game features multiple custom dice similar to QUARRIORS, themed for the Marvel universe. The starter set contains 44 dice and 22 cards retailing for $14.99, with expansions coming in the form of blind packs containing two additional cards and dice for $0.99.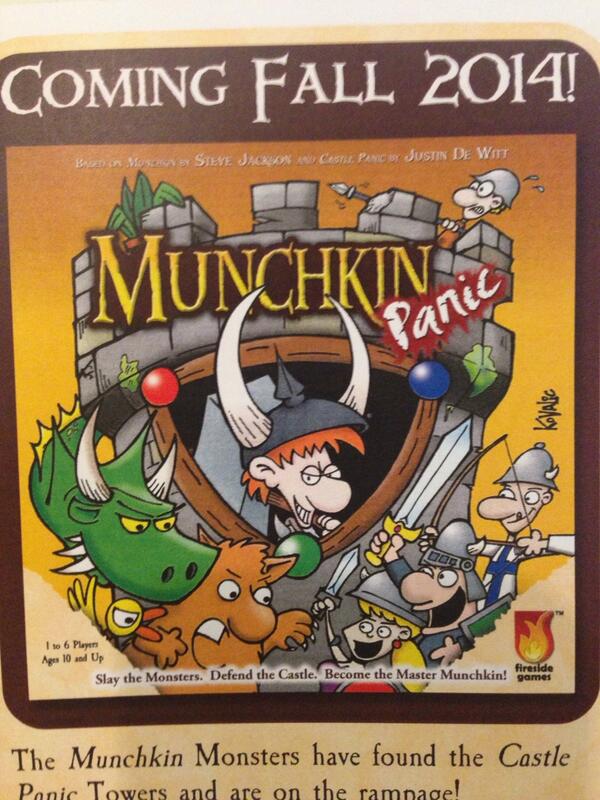 Steve Jackson Games and Fireside Games (both Austin-based game companies) announced a partnership to release MUNCHKIN PANIC, a version of their PANIC line of board games (CASTLE PANIC and DEAD PANIC released already) themed to the MUNCHKIN card game. The game will keep MUNCHKIN's all-for-me style of play with the balance of cooperation to keep the castle standing. The game, for 1-6 players, will be $39.95 and will come out this fall.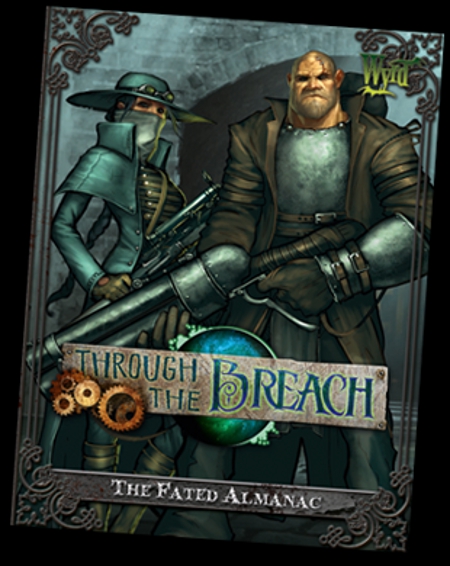 The Wyrd Miniatures skirmish miniature game MALIFAUX is creating
a roleplaying game set in the world called THROUGH THE BREACH
. The mechanics of this Kickstarted game are card-based, with a communal Fate Deck and individual Plot Twist decks deciding the outcome of events. There's no release date at this time. This game was delayed several months, but will be releasing imminently (it's at the printers right now according to designer Mack Martin).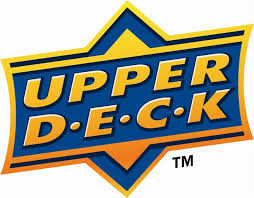 Upper Deck had several announcements at GAMA, including a license agreement for the entire catalog of THE CROW This includes all the films, the TV series, and the original comics, but not the reboot film that's currently planned. They haven't announced any specific products yet, but stated they wanted to bring card games, board games, trading cards, and limited edition posters to the market. I wouldn't expect to see anything from this license until 2015 though.
They also announced FIREFLY DICE GAME (not the final name), which will be a fast-paced, press-your-luck style dice game slated for release in November. The price tag will be around $20, and the game itself will play in around 15 minutes as you attempt to complete jobs to get money, while avoiding potential pitfalls.
The LEGENDARY series of games is expanding, with particular announcements on their Marvel license. On June 25, they will release LEGENDARY: MARVEL VILLAINS DECK BUILDING GAME. It's a reboot of the original game involving new art and mechanics, and you play the bad guys trying to defeat mastermind heroes like Professor X or Odin. Even with the new mechanics, this game will be compatible with the other LEGENDARY games, and the original set is not going out of print.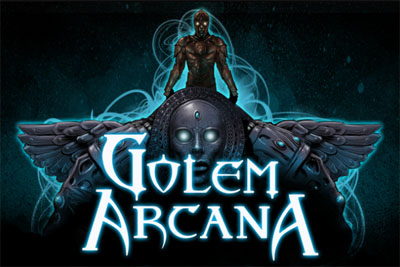 The smartphone/tablet app supported miniature wargame GOLEM ARCANA got a little new information. The game, designed by BATTLETECH and SHADOWRUN creator Jordan Weisman, is schedule for release on August 1st. The base game will include six miniatures, six terrain tiles, and a Bluetooth 4 capable stylus (batteries included). The retail price for the game is $80, and that includes the app. The game will expand with Arcanum Sets of three figures complete with cards, with four sets available at launch and more to come at a retail price of $35. Finally, they will include terrain packs which feature six additional double-sided tiles with no price or release date announced yet. Organized play will be heavily supported for in-store events, which will feature exclusive digital prizes on top of the standard rewards.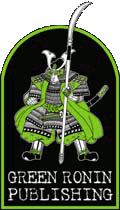 Green Ronin publishing has several releases coming up, including the FREEPORT: THE CITY OF ADVENTURE setting book for PATHFINDER. The book comes in at a massive 512 pages retailing at $74.95. This is a book I'm glad to see, as it has an all-star cast of designers, including Chris Pramas, Robert J. Schwalb, Owen KC Stephens, James Bell, Patrick O'Duffy, Todd Secord, and Christina Stiles.
They are also rebooting Steve Kenson's superhero roleplaying game ICONS, the second such game that Kenson released through Green Ronin (the first being MUTANTS AND MASTERMINDS). The new edition of the game will have a new hardcover release with rules previously available in sourcebooks along with updated rules and art. No date or price is available for this, but it should be out sometime this summer.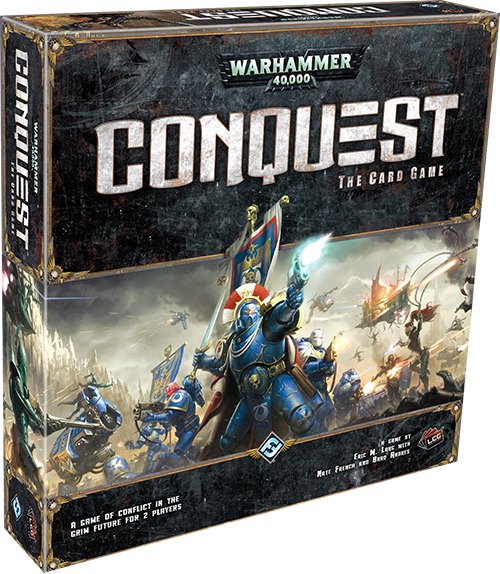 Fantasy Flight Games debuted the two-player living card game WARHAMMER 40K: CONQUEST. The game is expected in Q3 2014 and focuses on long wars as you attempt to crush your opponent both through military superiority as well as through economic attacks and more. You can focus on controlling specific systems or spread yourself out. No pricing information is available at this time, but
FFG has put a huge preview on their site
if you want more information.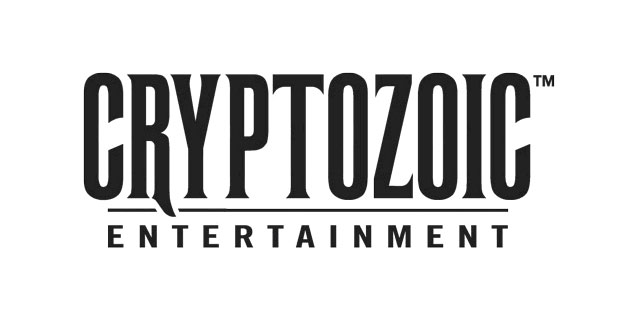 Cryptozoic announced their second release from John Kovalic, DOUBLE FEATURE: THE MOVIE GAME FOR EVERYONE in June. To play, you flip over two cards listing a prop, location, character, scene, theme, setting, or production. The first person to name a film featuring both items gets a point, and the person with the most points wins. Advertised as a party game for both film fans and non-film geeks alike, this game will retail for $15 and contain 120 cards plus a rulebook.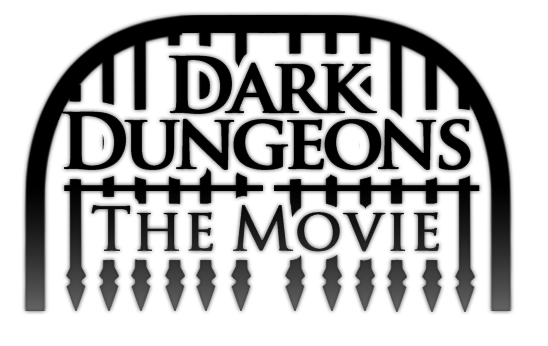 If you remember, I talked about Zombie Orpheus Entertainment's Kickstarter to make a film of the Jack Chick comic DARK DUNGEONS, a warning about the dangers of playing role playing games that many people unfortunately took seriously. Well, that film has a trailer. And yes, it looks just as epic as you'd hope. This trailer shows, just like the Kickstarter did, that they're taking this subject matter very seriously, allowing the material to parody itself rather than try to force jokes on it. Because Jack Chick is a big enough joke as it is.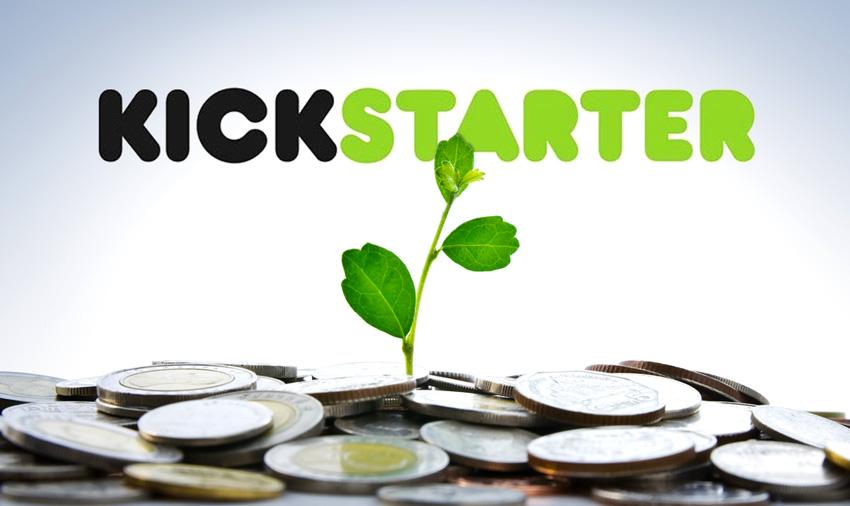 Wow, there's some big ones going on right now. But first, I'd like to address a controversy that has nothing to do with tabletop games. As I'm sure you know, Facebook purchased independent and Kickstarter-funded video game maker Occulus for $2 billion. This roused anger in many backers for the project, as they feel it was against the independent spirit of the Kickstarter. I'm not going to take a stand on one side or the other philosophically on this issue, but I do want to say that you take a risk when you back any Kickstarter project. You are investing in a company, and there are very few small companies that will turn down a nine or ten figure buyout offer. You're not an investor, you're not on the board of directors, and you don't get voting stock. The only thing you get is the chance to help a project get made, and to get a reward based on your pledge level. Keep that in mind, and your Kickstarting experience will be far more rewarding.
Speaking of amazing Kickstarter experiences, I personally backed the first Dwarven Forge Kickstarter and was very pleased with the feedback and what I received. And now, they're doing it again with
DWARVEN FORGE CAVERNS, a natural-cave expansion for Dwarven Forge
. This is another one of those Kickstarters where it's good to get in early because, dear lord, you're getting so much stuff. I shouldn't need to sell this to you. If you want it, go for it. Just make sure to pledge at least at the $145 level to get two sets you get all the unlocked add-on pieces (or $205 for the hand-painted sets, a good idea if you've still got a Reaper Bones box you haven't finished paining yet). This Kickstarter ends April 8 and is at over a million dollars at this point.
VITICULTURE is a worker placement game set themed around a vineyard.
Jamey Stegmaier is expanding that amazing game with TUSCANY
. This expansion adds several new gameplay elements available in three tiers, so you can tailor the complexity of the game as your group sees fit. Jamey Stegmaier is one of the most well-respected Kickstarter success stories out there not only because he's always delivered his product as promised, but because he is one of the most responsive Kickstarter-funded companies out there. He was also the first to offer a money-back guarantee on his products through Kickstarter. If you already own VITICULTURE, you can get the TUSCANY expansion for a $45 pledge. You can also get the core game and expansion for $79. If you want to bling up your game, you can add 72 custom metal lira coins to the game by bumping your pledges to $59 and $99, respectively. This Kickstarter is well over 10 times its goal and knocking out stretch goals until April 9.
Continuing their tradition, Onyx Path is Kickstarting
MAGE: THE ASSENSION 20th ANNIVERSARY EDITION
. This Old World of Darkness product follows on their successful VAMPIRE and WEREWOLF reboots by reprinting everything you need to play the game with errataed rules and all the Traditions and Spheres. A $35 pledge gets you the PDF version, while $135 gets you the hardcover gold-embossed version with a library of other PDFs. This Kickstarter is fully funded, but you'd better hurry to get in on the April 2 end date.
If you'd like something a little different for your dark fantasy, there's
TILL DAWN, a vampire-themed card game for 4-12 players
. Each player takes on the role of a vampire as you try to feed and gain power through the night. Do you play conservatively, or do you risk the coming sun or a vampire hunter to gain more blood? The game looks very interesting and plays with a fixed number of turns. You can get the core game for $24, or get the game and 4 player expansion (allowing up to 12 players) for $39. This Kickstarter is fully funded and runs until April 13.
Finally, Soda Pop Miniatures is funding
SUPER DUNGEON EXPLORE: FORGOTTEN KING
, the first expansion for their breakout success game SUPER DUNGEON EXPLORE. It's a stand-alone game you can play alone or add to your current SDE game. The miniature-heavy and anime-inspired game bases itself on old 8bit JRPGs as you explore a dungeon, attempting to defeat the boss. This expansion adds six tiles, new heroes, and a crapload of new monsters. There's only one pledge level, $100 to get the game and all the unlocked stretch goals. As this is close to the retail price of the original game, this is going to be a good deal with the add-ons. This Kickstarter is fully funded and runs until April 16.
That's it for this week. I've been busting my ass over at
Gamer's Tavern, my personal website and podcast
</a> to add a lot of new content. You can listen to my
actual play podcast of SHADOWRUN 4th Edition, Gamer's Tavern Game Table
, or you can check out episodes of the Gamer's Tavern podcast where we've had recent guests like Robert J. Schwalb, Steve Kenson, Adam Jury, Michael Surebrook, Bill Keyes, Richard Lee Byers, Elizabeth Bear, Scott Bennie, and a lot more coming up. You can also track me down at
COMICPALOOZA in Houston May 23-26
or at
ANIMATION CELEBRATION in Galveston on July 4th-6th
(where I will be performing at some VIP events as well as hosting a live episode recording of the Gamer's Tavern podcast). For more gaming news, you can
follow me on Twitter @Abstruse
, and you can email me all your gaming news
theabstruseone@gmail.com
.