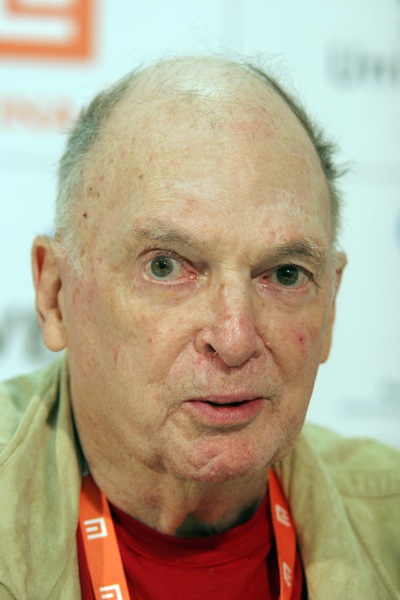 "I think BATMAN was the best thing I ever wrote, including those big movies. As a whole work, it came out the way that I wanted it to and I was excited by it."
Legendary screenwriter Lorenzo Semple Jr. has passed away at the age of ninety-one, leaving behind an eclectic filmography including THE PARALLAX VIEW, PAPILLON, THREE DAYS OF THE CONDOR, the 1976 remake of KING KONG and 1980's FLASH GORDON. But Semple's most well-known contribution to the popular culture is unquestionably the 1960s BATMAN television series starring Adam West and Burt Ward. The endearingly silly take on the Dynamic Duo was a ratings hit, eventually spawning a big-screen feature in 1966 that, as far as I'm concerned, remains the most thoroughly entertaining Batman movie on record.
Like so many of his generation, Semple volunteered to serve in World War II. There are conflicting accounts of his service, but two things are clear: 1) he lost part of his leg during combat in Africa, and 2) he was awarded the Bronze Star. After the war, Semple wrote short stories that were published in THE SATURDAY EVENING POST and COLLIER'S WEEKLY, as well as two plays, TONIGHT IN SAMARKAND and THE GOLDEN FLEECING. The latter work was adapted by George Wells into a comedy film starring Steve McQueen in 1961. Semple made the move to Hollywood at around that time, but for most of the '60s, he stuck to television, writing for shows like BURKE'S LAW, THE GREEN HORNET and, of course, BATMAN.
Semple's first post-BATMAN screenplay was for the cheeky-if-forgettable Raquel Welch/Tony Franciosa spy adventure FATHOM in 1967, but he wrote a real humdinger of a cult film in 1968 called PRETTY POISON. Starring Anthony Perkins as a recently institutionalized young man with delusions of working for the CIA, it's a terrifically off-kilter thriller that showcases Semple's talent for creating fascinatingly damaged characters and thrusting them into believably absurd situations. Semple pushed even further with DADDY'S GONE A HUNTING (on which he shares a co-writing credit with Larry Cohen) and the seriously underrated THE MARRIAGE OF A YOUNG STOCKBROKER, in which an unhappily married Richard Benjamin transitions into a life of voyeurism. None of these films were particularly well-reviewed at the time (though Pauline Kael sort of rescued PRETTY POISON), but they've all acquired cult followings due to Semple's offbeat sensibility.
Semple vaulted to the ranks of A-list screenwriters in 1973 when he co-wrote the adaptation of Henri Charriere's PAPILLON with Dalton Trumbo. This and the ensuing credits for THE PARALLAX VIEW (with David Giler) and THREE DAYS OF THE CONDOR (with David Rayfiel) are easily his most prestigious, but they were collaborations involving big-time movie stars, and are more of a tribute to Semple's professionalism; while his voice is certainly present in these movies, for uncut Semple you need to watch Gordon Parks's THE SUPER COPS, the rollicking 1974 action flick based on the real-life exploits of two unorthodox New York City cops nicknamed, what else, Batman and Robin. It's a unique movie that combines the gritty naturalism of Friedkin and Lumet with a knockabout sense of humor - and it's recently been rediscovered thanks to Edgar Wright citing it as an influence on HOT FUZZ (Semple joined Wright for a post-film Q&A at a New Beverly screening in 2011). It's just a really good movie about good cops battling the system for the good of the city, and it deserves to find a wider, more appreciative audience.
I'm a fan of Semple's screenplay for the Dino De Laurentiis's KING KONG, a film that's as misunderstood today as it was at the time of its release. Much like Semple's BATMAN and FLASH GORDON, it's a high-camp adventure that encourages its actors to play their roles with a stylized, '30s-serial hamminess. Charles Grodin nails this tone perfectly, as does Jessica Lange, the ditzy aspiring actress who falls for the big monkey; that critics continue to disparage Lange's performance as an embarrassment only proves they're completely missing out on the unabashedly goofy approach taken by Semple and director John Guillerman. The film's a bit long at 134 minutes, but it's much better than its reputation suggests.
Semple got to play in the Bond sandbox with Sean Connery and director Irvin Kershner on 1983's NEVER SAY NEVER AGAIN, a generally entertaining remake of THUNDERBALL (made possibly by producer Kevin McClory, who retained the rights to Ian Fleming's novel after the first adaptation), and then went on to co-write the quite terrible SHEENA with David Newman. Semple's writing career was winding down at this point, but over the years he proved to be a generous mentor to young writers and a willing guest at screenings of his films. He later teamed with retired agent Marcia Nasatir for a YouTube movie review show called Reel Geezers, which offered the two sharp-minded old-timers a platform to skewer and occasionally praise today's films. Whatever Semple was doing, he always appeared to be having fun.
Lorenzo Semple, Jr. was a writer's writer, admired by his peers and beloved by everyone fortunate enough to get to know him. That's a heck of a run. Holy good life, Batman!
Faithfully submitted,
Jeremy Smith