Papa Vinyard here, now here's a little somethin' for ya...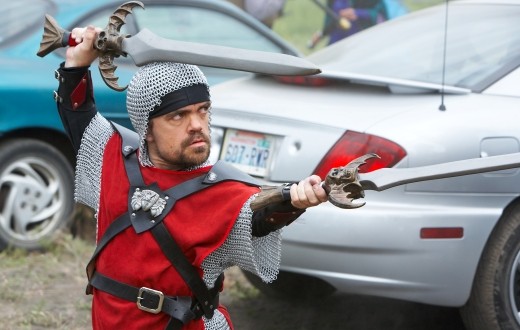 Everyone's favorite Lannister (not to knock goddess Lena Headey), Peter Dinkalge, has just landed a lead role in a high-profile studio comedy (and there was much rejoicing). After winning the hearts of geeks everywhere in GAME OF THRONES (and, to a much lesser extend, THE KNIGHTS OF BADASSDOM), Dinklage is now going to throw down against some world-invading video game characters in PIXELS, according to The Wrap. He'll be playing one of the main characters, alongside Adam Sandler, Josh Gad, and Kevin James, "video game experts" who are called in to figure out how to stop a ton of video game properties from taking over the planet. Sure. Like knowing the CONTRA code is actually going to take out hostile invaders.
Dinklage is no stranger to comedy (check out his scene-stealing appearances in ELF, THE BAXTER, both DEATH AT A FUNERALs, and BADASSDOM), but this is his first go-around with the Sandler crew. I'm praying to GOD (really Joe Pesci) that they don't make his size the butt of the typical Happy Madison easy target gags. He's done such a great job distinguishing his talent from his physical appearance that I'd hate for a mainstream studio comedy to bring his progress right back to square one, but I have faith that the Dink wouldn't be game unless he felt the humor would be tasteful (or, at the very least, funny).
Personally, Dinklage's participation gives the most hope I've had for the project since I first heard they were adapting Patrick Jean's short film. Let's just see how many of those licensed characters will make it into the finished film...
-Vincent Kim-Zahedi
"Papa Vinyard"
vincentzahedi@gmail.com
Follow Me On Twitter