Papa Vinyard here, now here's a little somethin' for ya...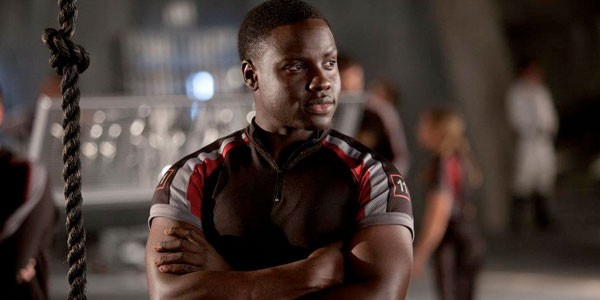 Rumors abounded this week that John Boyega was being looked at for the role of Miles Dyson's son in TERMINATOR: GENESIS. This morning, Variety announced that Alan Taylor and his people are actually going with the relatively unknown (even to Boyega) Dayo Okeniyi.
Okeniyi's an up-and-comer, with showy parts in HUNGER GAMES (as Thresh) and THE SPECTACULAR NOW (as Marcus Miles Teller's surprisingly accomodating rival for Brie Larson's affections), but this should prove to be his highest-profile role to date. While I'm sure people are going to be upset that Boyega didn't end up signing on, let's not forget that he was also being considered for a role in EPISODE VII. Does Okeniyi's casting mean that Boyega was able to land the gig? We'll see...
Also, I believe this lends credence to my Vukovich theory. You really think J.K. Simmons is going to be the ONLY major actor not playing a previously established character in this thing? I suppose it's possible, but until I hear otherwise, I'm sticking to my guns on this one.
TERMINATOR: GENESIS will take your clothes, your boots, and your motorcycle on July 1st, 2015.
-Vincent Kim-Zahedi
"Papa Vinyard"
vincentzahedi@gmail.com
Follow Me On Twitter