Coaxial
New Fox Reality Show Humiliates Another Gaggle of Hot American Girls!!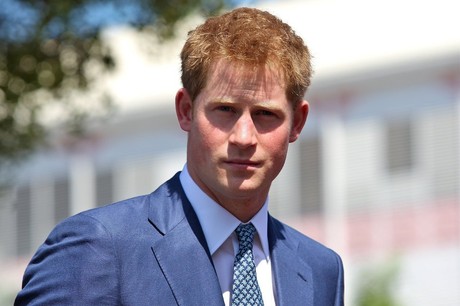 The Fox Network, which in 2003 conspired to make a boatload of American girls think they were dating a millionaire, when in fact the "millionaire" was actually a broke ditch-digger, is at it again.
For "I Want To Marry 'Harry,' Fox has tricked 12 young American women into thinking they're dating Prince Charles and Princess Diana's younger son, impersonated for the series by a lookalike with no royal lineage.
Fox announced the summer reality series will premiere May 27, along with a bunch of its other spring and summer plans (including its new Jack Bauer "24" miniseries:
FOX ANNOUNCES ADDITIONAL SPRING AND SUMMER PREMIERE DATES

GORDON RAMSAY'S "KITCHEN NIGHTMARES" RETURNS FRIDAY, APRIL 11;

NEW UNSCRIPTED SERIES "RIOT" SLIDES INTO TUESDAY, MAY 13;

SEASON FIVE OF "MASTERCHEF" LAUNCHES MONDAY, MAY 19

NEW ACTION-DRAMA "GANG RELATED" TO PREMIERE THURSDAY, MAY 22

NEW DATING SERIES "I WANNA MARRY 'HARRY'" ROMANCES TUESDAY, MAY 27;

SEASON 11 OF "SO YOU THINK YOU CAN DANCE" DEBUTS WEDNESDAY, MAY 28

RAMSAY CHECKS INTO "HOTEL HELL" MONDAY, JULY 21

FOX is announcing additional spring and summer premiere dates for 2014. FOX spices up summer with new seasons of Gordon Ramsay's KITCHEN NIGHTMARES, MASTERCHEF and HOTEL HELL; the debuts of event series 24: LIVE ANOTHER DAY and new drama GANG RELATED; the premieres of dating show I WANNA MARRY "HARRY" and new unscripted series RIOT; and the Season 11 premiere of SO YOU THINK YOU CAN DANCE.

THE MINDY PROJECT returns for its Spring Premiere with two nights of all-new one-hour events airing at special times Tuesday, April 1 (9:00-9:30/9:30-10:00 PM ET/PT) and Tuesday, April 8 (9:00-9:30/9:30-10:00 PM ET/PT). The comedy then moves into its regular time period Tuesday, April 15 (9:30-10:00 PM ET/PT), following an all-new episode of NEW GIRL (9:00-9:30 PM ET/PT).

In an epic KITCHEN NIGHTMARES Season Six Premiere, Friday, April 11 (9:00-10:00 PM ET/PT) on FOX, the fan-favorite series catches up with the most talked-about restaurant in KITCHEN NIGHTMARES history: Amy's Baking Company in Scottsdale, AZ. Find out what has happened with Amy and Samy in the past year since the original episode aired, and the media firestorm ensued. In this special edition of the show, Chef Gordon Ramsay will reveal never-before-seen footage and take the audience through the highlights of the public's reactions.

Slide into Tuesdays with the premiere of RIOT (formerly titled SLIDE SHOW) on May 13 (9:00-10:00 PM ET/PT), following the Season Finale of GLEE (8:00-9:00 PM ET/PT). From executive producer Steve Carell and Shine America, and hosted by Australian comedian and talk show host Rove McManus, the series features the nation's funniest celebrities and comedians facing unpredictable song, dance and sketch challenges, often while navigating the show's trademark one-of-a-kind set, tilted at a 22 degree angle.

MASTERCHEF returns for an exciting fifth season on Monday, May 19 (8:00-9:00 PM ET/PT). MASTERCHEF gives talented home cooks from all walks of life the chance to showcase their skills, knowledge and passion in front of the show's esteemed judges: Gordon Ramsay, Joe Bastianich and Graham Elliot.

Gritty new action-drama GANG RELATED will have its series premiere on Thursday, May 22 (9:00-10:00 PM ET/PT), following an all-new installment of HELL'S KITCHEN (8:00-9:00 PM ET/PT). The series follows RYAN LOPEZ (Ramon Rodriguez, "Battle Los Angeles," "The Wire"), a rising star in Los Angeles' elite Gang Task Force – led by SAM CHAPEL (Emmy Award winner Terry O'Quinn, "Lost") – who teams up with longtime Task Force member CASSIUS GREEN (RZA, "G.I. Joe: Retaliation," "Californication") to take on the city's most dangerous gangs, including one that he swore an allegiance to as a boy. Encores of GANG RELATED will air Fridays, beginning May 23 (9:00-10:00 PM ET/PT).

Reality meets romance, with a little twist, in the surprising dating show I WANNA MARRY "HARRY," premiering Tuesday, May 27 (8:00-9:00 PM ET/PT). Summer love is in the air, as an average English "bloke" is given the royal treatment and an upper crust makeover before meeting 12 single American women searching for Prince Charming. Will he be able to convince them he's regal? And if he does, will they fall for the crown, or fall in love with the real him? Join "Harry" as he courts each of the ladies, taking them on romantic dates worthy of a princess and trying to make some version of their fairytales come true.

SO YOU THINK YOU CAN DANCE soars into its 11th season with a two-hour premiere event showcasing America's most talented dancers during the audition rounds, beginning Wednesday, May 28 (8:00-10:00 PM ET/PT). Hosted by Cat Deeley, and featuring resident judges Nigel Lythgoe and Mary Murphy, the new season of the Emmy Award-nominated hit dance competition series once again will include awe-inspiring performances, as well as nail-biting eliminations, as the contestants compete to be named America's Favorite Dancer.

HOTEL HELL opens its doors for a second season on Monday, July 21 (9:00-10:00 PM ET/PT). Gordon Ramsay is back and hitting the road to fix some of America's most horrendous hotels, troubled inns and struggling resorts, many of which are on the brink of closure. Ramsay will travel to locations including Applegate, OR; Las Cruces, NM; Longview, WA; Murphys, CA; Pipestone, MN; Starkville, MS; West Dover, VT; and Woodbury, CT.

As previously announced, new comedy series SURVIVING JACK, starring Emmy Award nominee Chris Meloni ("True Blood," "Law & Order: Special Victims Unit"), premieres tomorrow, Thursday, March 27 (9:30-10:00 PM ET/PT). Also, as announced, the iconic pulse-pounding clock resets when 24: LIVE ANOTHER DAY premieres with a special two-hour television event Monday, May 5 (8:00-10:00 PM ET/PT), and makes its time period premiere the following week on Monday, May 12 (9:00-10:00 PM ET/PT). Set and shot in London, the suspenseful event series once again will follow the exploits of heroic agent JACK BAUER (Kiefer Sutherland), as he attempts to thwart an unthinkable terrorist attack that could change the world forever. An encore of 24: LIVE ANOTHER DAY's two-hour Series Premiere event will air Friday, May 9 (8:00-10:00 PM ET/PT). Beginning the following week, Friday, May 16, encores of the highly anticipated event series will air at 8:00-9:00 PM ET/PT.

FOX finales include: RAISING HOPE (one-hour series finale Friday, April 4; 9:00-9:30/9:30-10:00 PM ET/PT), THE FOLLOWING (Monday, April 28; 9:00-10:00 PM ET/PT), NEW GIRL (Tuesday, May 6; 9:00-9:30 PM ET/PT), THE MINDY PROJECT (Tuesday, May 6; 9:30-10:00 PM ET/PT), BONES (Monday, May 12; 8:00-9:00 PM ET/PT), GLEE (Tuesday, May 13; 8:00-9:00 PM ET/PT), SURVIVING JACK (Thursday, May 15; 9:30-10:00 PM ET/PT), BOB'S BURGERS (Sunday, May 18; 7:00-7:30 PM ET/PT), AMERICAN DAD (Sunday, May 18; 7:30-8:00 PM ET/PT), THE SIMPSONS (Sunday, May 18; 8:00-8:30 PM ET/PT), FAMILY GUY (Sunday, May 18; 8:30-9:00 PM ET/PT), AMERICAN IDOL XIII (two-night Season Finale Tuesday, May 20; 8:00-9:00 PM ET live/PT tape-delayed and Wednesday, May 21; 8:00-10:00 PM ET live/PT tape-delayed) and COSMOS: A SPACETIME ODYSSEY (Sunday, June 8; 9:00-10:00 PM ET/PT).

Additional finale dates, summer premiere dates and schedule information to be announced.

RECAP – FOX 2014 ADDITIONAL PREMIERE DATES

(All times ET/PT, except as noted)

Thursday, March 27:
9:30-10:00 PM SURVIVING JACK (Series Premiere)

Tuesday, April 1:
9:00-10:00 PM THE MINDY PROJECT (One-Hour Spring Premiere)

Friday, April 11:
9:00-10:00 PM KITCHEN NIGHTMARES (Season Premiere)

Monday, May 5:
8:00-10:00 PM 24: LIVE ANOTHER DAY (Two-Hour Series Premiere)

Monday, May 12:
9:00-10:00 PM 24: LIVE ANOTHER DAY (Time Period Premiere)

Tuesday, May 13:
9:00-10:00 PM RIOT (Series Premiere)

Monday, May 19:
8:00-9:00 PM MASTERCHEF (Season Premiere)

Thursday, May 22:
9:00-10:00 PM GANG RELATED (Series Premiere)

Saturday, May 24:
7:00-10:00 PM ET Live FOX SPORTS SATURDAY: BASEBALL NIGHT IN AMERICA

Tuesday, May 27:
8:00-9:00 PM I WANNA MARRY "HARRY" (Series Premiere)

Wednesday, May 28:
8:00-10:00 PM SO YOU THINK YOU CAN DANCE (Season Premiere)

Monday, July 21:
9:00-10:00 PM HOTEL HELL (Season Premiere)