Papa Vinyard here, now here's a little somethin' for ya...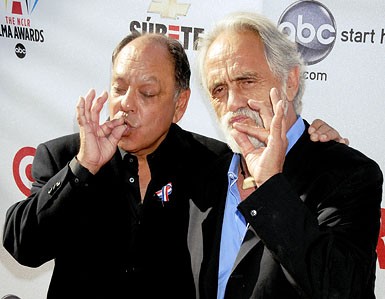 When Cheech Marin and Tommy Chong (also known as Cheech & Chong) reunited back in '08, there were immediately rumblings of a new movie. The two hadn't appeared onscreen together since Cheech's cameo in 1989's FAR OUT MAN (and hadn't headlined a feature film since THE CORSICAN BROTHERS in '84), but they seemed interested in getting their senior citizen asses back in the saddle, joint in hand, for our viewing pleasure. It seems that it's actually coming together now, since THR (via CelebStoner) that the duo's recruited Broken Lizard member and (SUPER TROOPERS/CLUB DREAD director) Jay Chandrasekhar to write and direct their "comeback" movie, about the pair going to a contemporary music festival called the "Burning Joint." If everything comes together, the film could get in cameras as early as this summer, but at the very least, they will have a (presumably) workable script in hand in the immediate future, as well as Chandrasekhar's commitment. Which is plenty better than nothing.
Chong's own words:
"(Jay)'s working a script right now for us. We've had some preliminary meetings. It looks really good. It looks really funny. It's about us going to a festival called the Burning Joint. All sorts of shenanigans happen. It's going to be a lot of fun. They came at us with a rough idea and now they're fleshing it out and making it into a budgetable script. We could start shooting this summer."
The C&C films (6 in total) were often really rough, low-brow, narratively scattershot stoner flicks that mostly consisted of the duo bumbling around and getting into (or causing) various types of trouble. Aside from UP IN SMOKE, I don't think I'd qualify any of them as genuine "classics," and I'm not sure there was a real need for more than one or two of those flicks (the public seemed to agree; going into the "Just Say NO" Reagan '80s, each film made less money than the last), but there's no doubt the two had a great rapport and and a lovable hippied-out attitude. One has to look no further than the excellent concert film HEY WATCH THIS (currently available on Netflix Instant) for proof that the two dudes still got the chemistry and enthusiasm, despite their age, so an awesome movie out of themat their respective ages (Cheech is currently 67, while Chong is 75) is far from out of the question.
If Chandrasekhar (and the other Lizard guys) are going to make us wait even longer for a SUPER TROOPERS 2 (which they keep promising, most lately with the idea of using Kickstarter to gauge interest), I'm glad this is how he's going to use his time. A 21st-century Cheech & Chong movie, set in a Burning Man-type festival in the post-medicinal era, could be just what the marijuana-prescribing doctor ordered. If they can pull it together and make it as awesome as UP IN SMOKE or SUPER TROOPERS? Then we'll owe the three of them a serious smoke-out. None of that Labrador neither (don't care if the shit does get you high).
Cheech and Chong - Up in Smoke from Abraham on Vimeo.
-Vincent Kim-Zahedi
"Papa Vinyard"
vincentzahedi@gmail.com
Follow Me On Twitter