Papa Vinyard here, now here's a little somethin' for ya...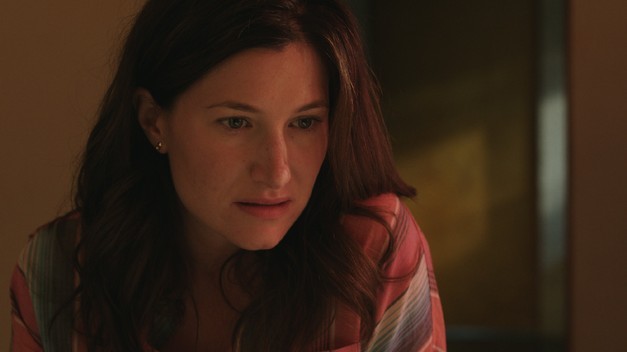 With articles like this one permeating the web in the wake of disasters like THE HAPPENING, THE LAST AIRBENDER, and last summer's AFTER EARTH, it's easy for some to forget the massive impact of M. Night Shyamalan's two breakthrough films. Even his biggest detractors tend to admit, when asked, that THE SIXTH SENSE and UNBREAKABLE remain potent pieces of entertainment, indicative of a deft handling of both subtle drama and moments of powerful intensity. Having said that, there's no doubt he burned a lot of goodwill over the past 10 years (although LADY IN THE WATER holds a soft spot in my heart for the sheer audacity of its narrative), and he's hoping to reclaim some of that lost love with his next flick, a low-budget spooker called SUNDOWNING.
Shyamalan has been tweeting about the currently-shooting project over the past month, but hadn't revealed any details of what it was about, or even who was starring in it, but The Wrap just revealed that Kathryn Hahn and child actor Ed Oxenbould are the leads of the film, a single mother and her protective son, respectively. Hahn is obviously known for her more comedic work in films like STEP BROTHERS and the recent BAD WORDS, but she got strong reviews for her turn in AFTERNOON DELIGHT last year. Oxenbould hasn't been seen on theater screens yet, but he landed the coveted lead in the ALEXANDER AND THE TERRIBLE, NO GOOD, VERY BAD DAY adaptation set for release this October. One does not have to strain to remember the excellent performances Shyamalan was able to get out of Haley Joel Osment, Spencer Treat Clark, Rory Culkin, and Abigail Breslin as pre-adolescents; hopefully he can conjure up some of that directing magic once more to get a similarly evocative turn from Oxenbould.
Plot details are still super-scarce, save for a vague premise about Hahn and her two children visiting their grandparents, and speculation on how the titular "sundowning" enters into the plot (it refers to mood swings that occur when the sun goes down, a common occurence for those with Alzheimers or dementia). Could this be a movie about a sick old grannie who turns into a child-killer at dusk? Perhaps, but like with most Shyamalan movies, he's gonna try and throw us for a loop at some point in the narrative, so hopefully the "twist" of this one won't be too easy to guess.
Should Shyamalan be tossed out with yesterday's trash, or does he deserve a second chance to let that SIXTH SENSE/UNBREAKABLE talent resurface?
-Vincent Kim-Zahedi
"Papa Vinyard"
vincentzahedi@gmail.com
Follow Me On Twitter