Papa Vinyard here, now here's a little somethin' for ya...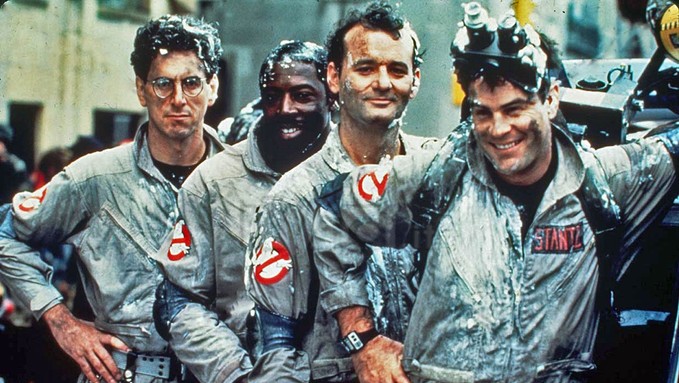 Ivan Reitman, via Deadline, has officially stepped down as director as GHOSTBUSTERS 3. Due to generous contractual agreements from the time of the first two films, Reitman was always going to have the option to direct any incarnation of GB 3, and was considering it until Harold Ramis' death soured him on the idea. However, the draft he conjured up with Dan Aykroyd and Etan Coen (not to be confused with Joel Cohen, the one Bill Murray thought was a Coen Brother) has actually gained traction in the wake of Ramis' passing, and Sony is keen on getting the movie in front of cameras as soon as early as this fall, but more likely in early-2015.
Reitman extensively lays out the project's history and current status in his own words:
"There has been all kinds of stuff, unofficially written about GHOSTBUSTERS. I've been reading things online for about four years, speculation on who's writing, what they're writing, who's in it, who we will use, and who's directing. We'd decided not to comment up till now, I wasn't sure what I was going to do, and it was never clear what Bill was going to do. A lot of things happened in the last few months, the most significant of which was the passing of Harold, who was a very good friend who was extraordinarily influential in my career. We did five movies together including both GHOSTBUSTERS.

The first (draft) was done by Lee Eisenberg and Gene Stupnitsky, and me, Harold and Dan helped them on it. It was a really good script, but then it became clear that Bill really didn't want to do another GHOSTBUSTERS and that it was literally impossible to find him to speak to for the year or two we tried to get it going. When Bill finally…well, he never actually said no, but he never said yes, so there was no way to make that film. We decided to start over again, and I started working with Etan Cohen, with Dan lending a helping hand. Harold got sick about three years ago, and we kept hoping he would get better. I kept pushing forward on the Etan Cohen and we now have a draft that is very good, that the studio is very excited about. It's a version of GHOSTBUSTERS that has the originals in a very minor role.

When I came back from Harold's funeral, it was really moving and it made me think about a lot of things. I'd just finished directing Draft Day, which I'm really happy with and proud of. Working on a film that is smaller and more dramatic was so much fun and satisfying. I just finally met with Amy and Doug Belgrad when I got back. I said I'd been thinking about it for weeks, that I'd rather just produce this Ghostbusters. I told them I thought I could help but let's find a really good director and make it with him

I'm not going to say how many Ghostbusters there will be in the new cast, but we are determined to retain the spirit of the original film, and I am pleased that all of this seems to have happened organically. I'm hoping we can get started by the fall, set in New York, but given the logistics and the stuff that happens, the beginning of 2015 seems more likely."
Without Ramis, Murray, or Rick Moranis (whose semi-retirement has almost reached the 20-year mark), the returning cast members are basically limited to Sigourney Weaver, Aykroyd, Ernie Hudson, and Annie Potts (unless David Marguiles' Mayor is still involved with city politics). I find it really difficult to imagine a legit GHOSTBUSTERS movie with only two members of the original lineup, but if Deadline's got it right, and Sony is dead set on rebooting the franchise, then we gotta just brace ourselves and hope for the best at this point.
Reitman (and, presumably, Aykroyd) have veto power over the choice of director, so hopefully they pick someone that can properly homage the original film while taking it into a fresh, 21st-century direction.
I was pretty friggin' sure Ramis' death meant this thing was never gonna happen. I honestly don't know how to feel about that not being the case.
What about you guys? Would you want to see a 25-plus-years-later GHOSTBUSTERS 3 not directed by Reitman, without Murray or Ramis, and with Aykroyd and Hudson only appearing in "minor roles"?
-Vincent Zahedi
"Papa Vinyard"
vincentzahedi@gmail.com
Follow Me On Twitter