Ahoy, squirts! Quint here with some pictures of sweet geek art at the most recent Mondo Gallery show. Top artists Martin Ansin and Kevin Tong were the focus of this show and man was there some awesome stuff on display.
A few of these posters, from films like Wizard of Oz, Flash Gordon and the Alien Series have been released online pre-show, but there were a few surprises in there when the doors opened for the press preview just before the truly dedicated folks waiting outside were let in. My favorites were Tong's Psycho and Ansin's RoboCop posters.
I took some photos of the show, including some original art and roughs in pencil and inks, which you'll see below.
Let's start with Ansin's RoboCop, which had a regular and variant (reg ed of 475, variant ed of 250). I talked with Martin a bit about these and was able to snag a photo with him with his babies. I'll show you Mr. Ansin and some better shots of the RoboCop posters and then fill you in on what he was telling me about the happy accident that happened when going from the regular image to the variant.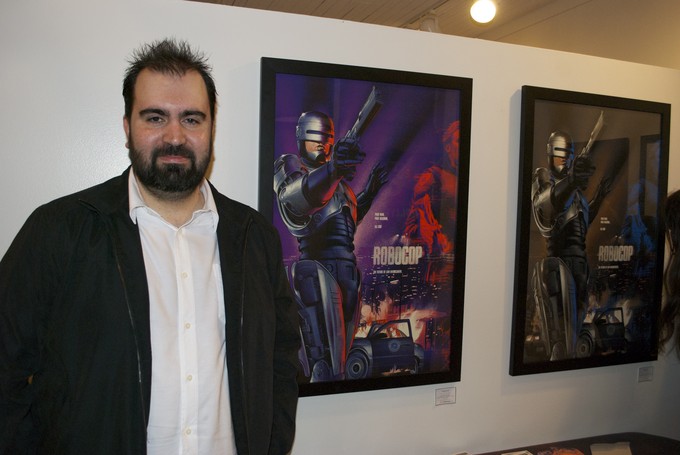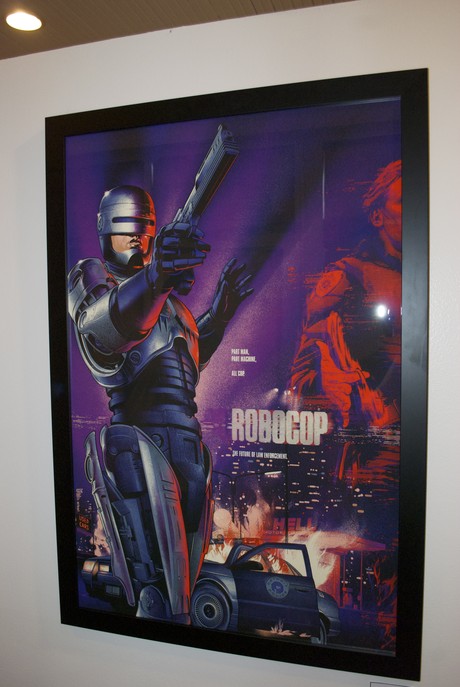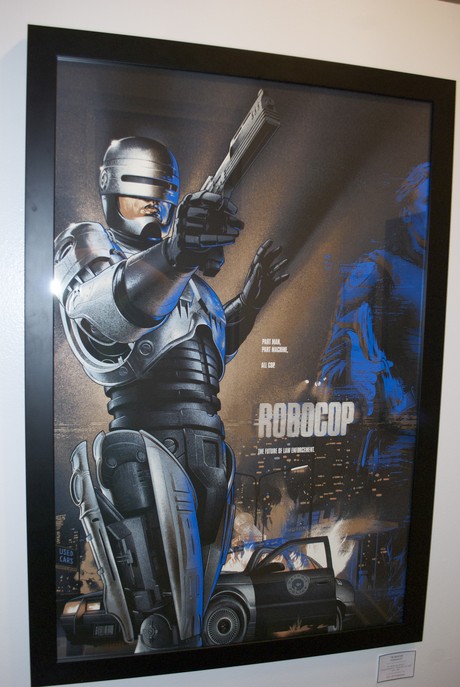 The purple/red Robo is the regular, the silver/blue is the variant (my personal favorite). Ansin said he always just makes his posters for the regular edition and then thinks of the variant after. With this one he wanted very '80s colors, hence the neon purple and reds. When it came time for the variant he was playing with the colors and liked the muted tones. It wasn't until a comparison of the finished images did someone comment that the two together look like RoboCop is standing next to a police cruiser and being bathed in alternating red and blue lights. So it's almost a movie itself when seen together. Pretty neat, right?
Also looking really great together were Ansin's Flash Gordon prints. He made one for the 1980 movie and one for the 1938 serial, meant to exist side-by-side. There is also a regular (edition of 375) and a variant (edition of 175) for both. Regulars are first, followed by variants.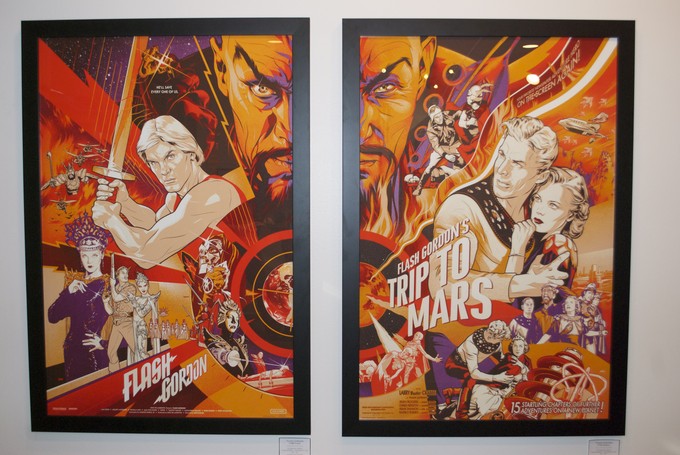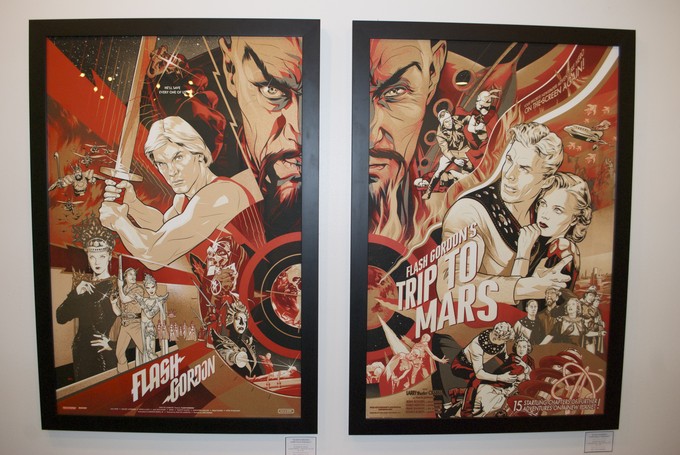 Next up, Ansin's Prometheus and Alien posters, regular and variants. Prometheus has a regular edition run of 425/variant 200 and Alien has 450 reg/235 var run. The regulars of both below: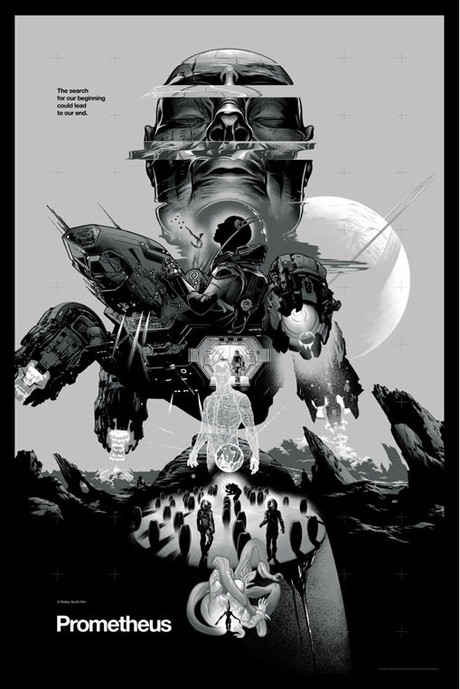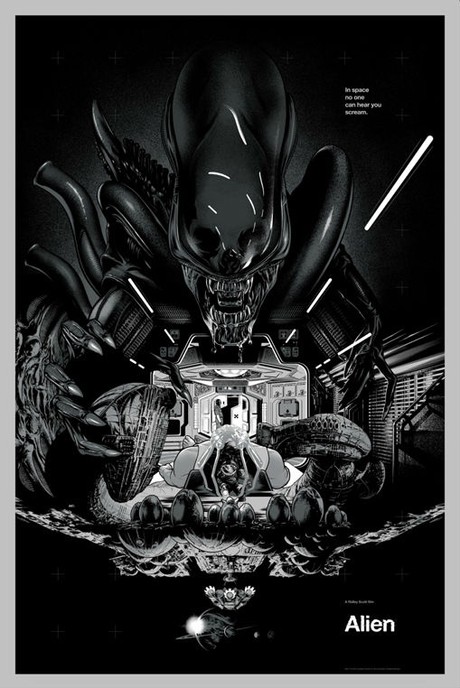 Here's a good way to transition over to the work of Kevin Tong, who did an Aliens print (375 reg/175 var) that's pretty damn neat itself. Below is the regular followed by some photos of his pencils, inks and an incredible print-sized inks of the Alien Queen (which was on sale for $2000).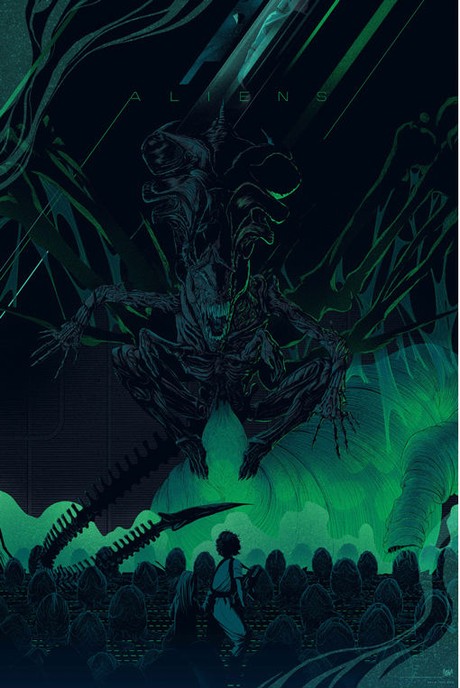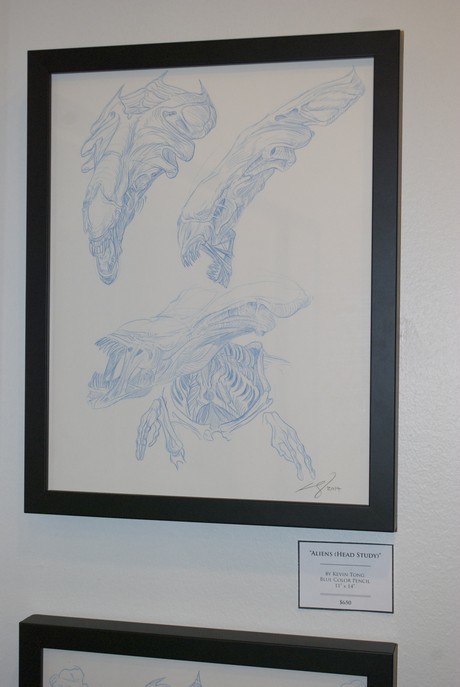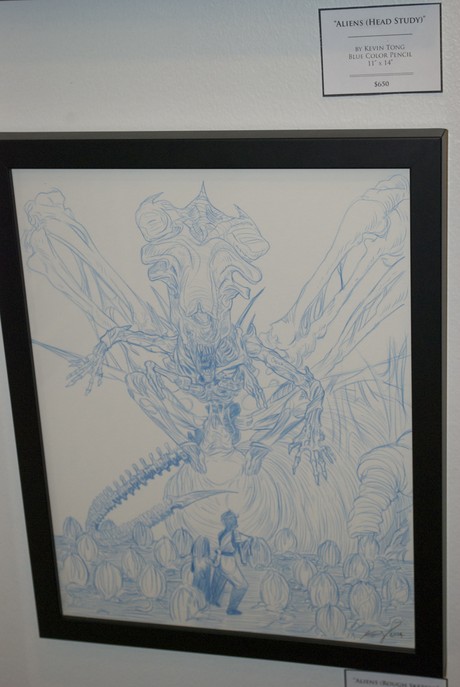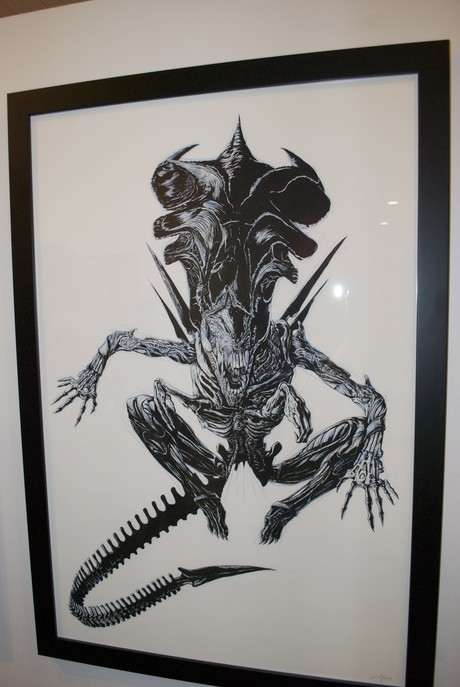 That final one, the print-sized inks, is stunning, isn't it? It's so sharp I thought it was just a print available, not an original art piece.
Here's some more original Tong art, two pieces from his Watchmen Poster: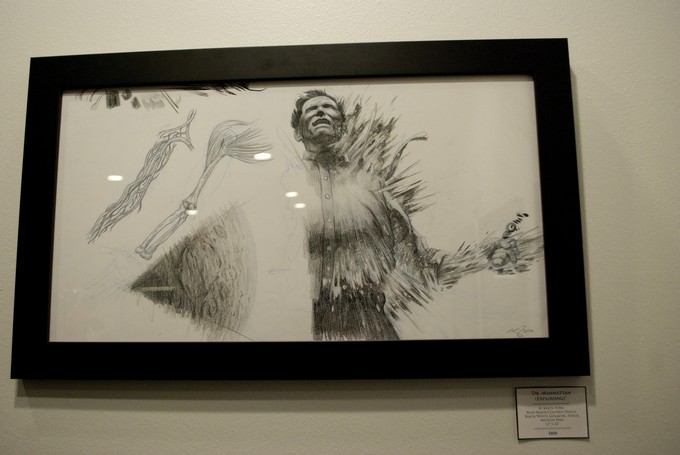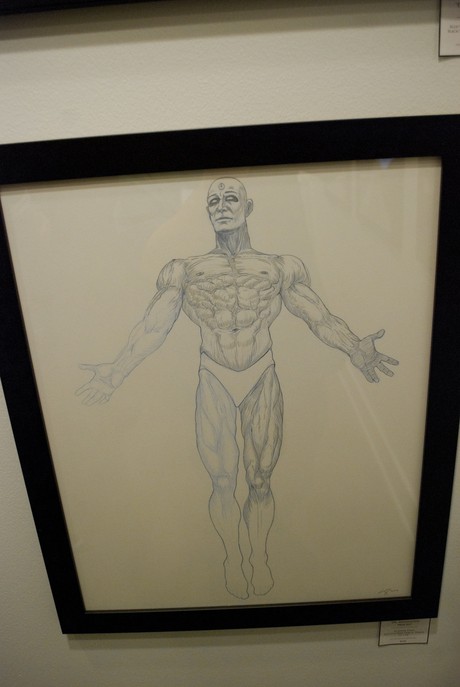 And his print (and original) from Hannibal, available in an edition of 150.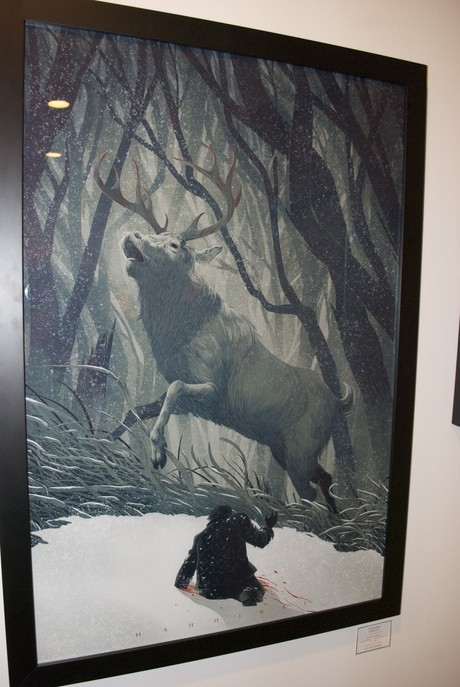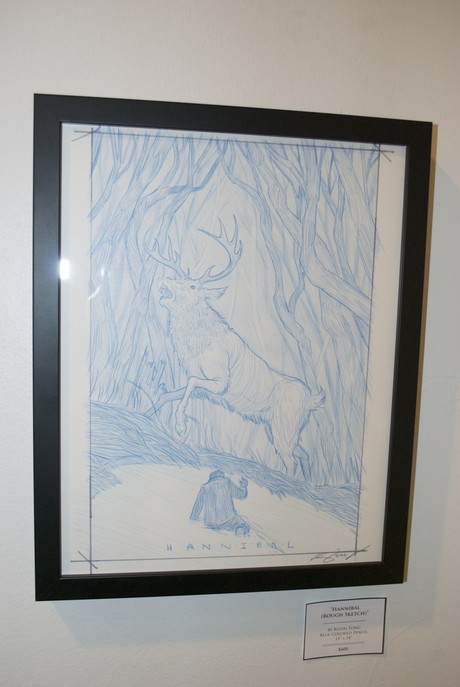 Let's hit up Tong's Wizard of Oz, shall we? First the print and then his sketches and finalized art that illustrates just how many small pieces go into a poster like this.
Wizard of Oz has a regular (pictured below) edition of 325 and a variant edition of 150.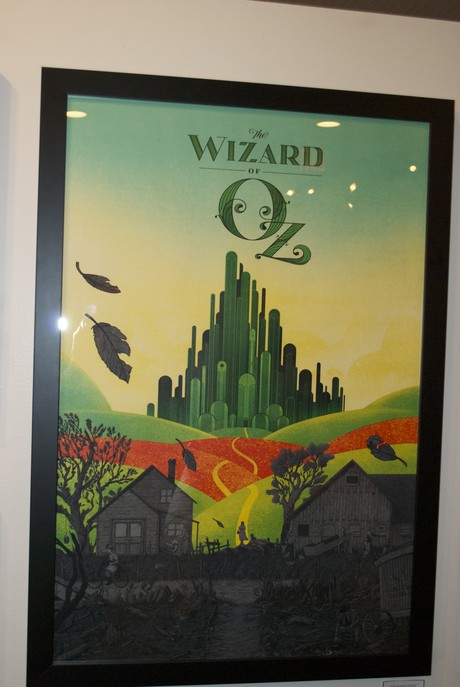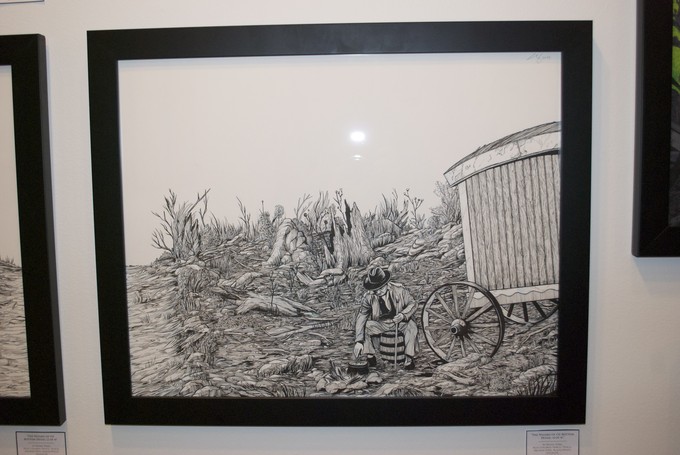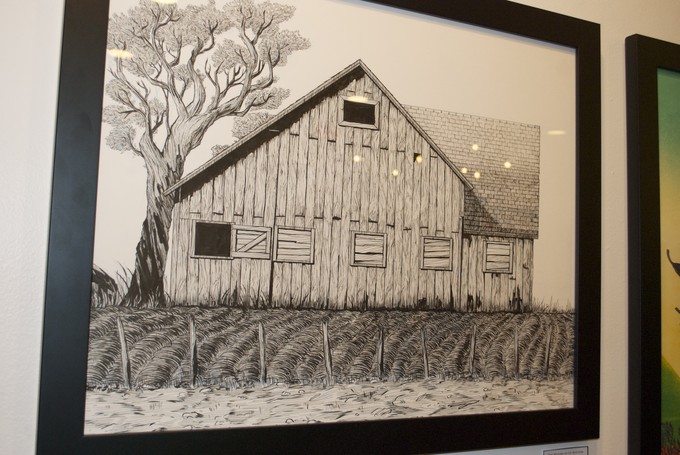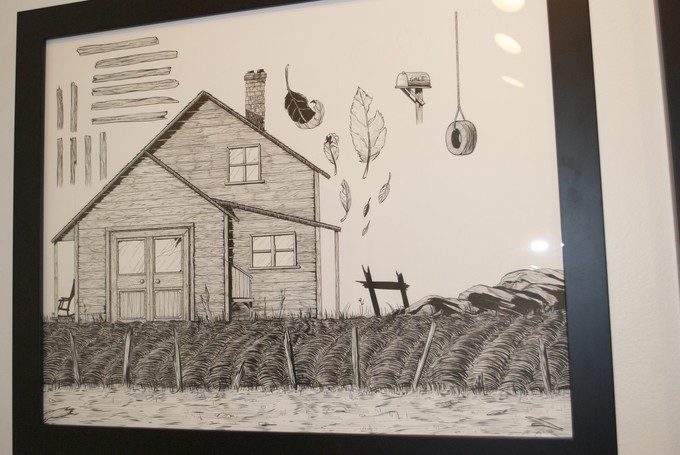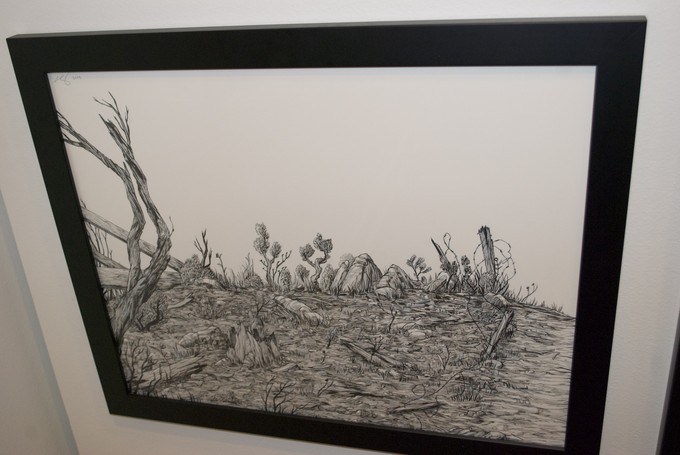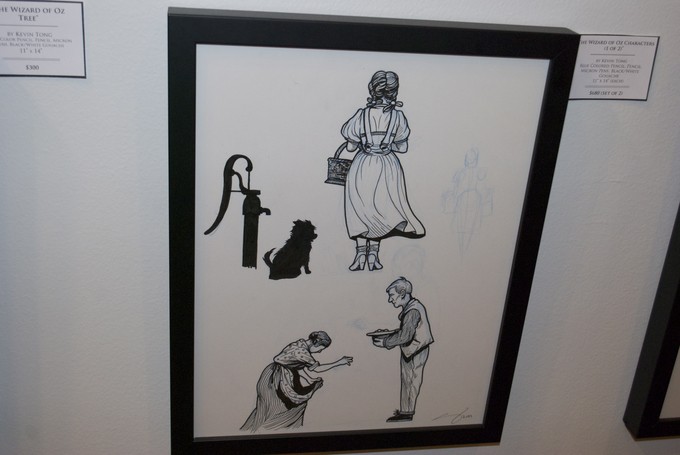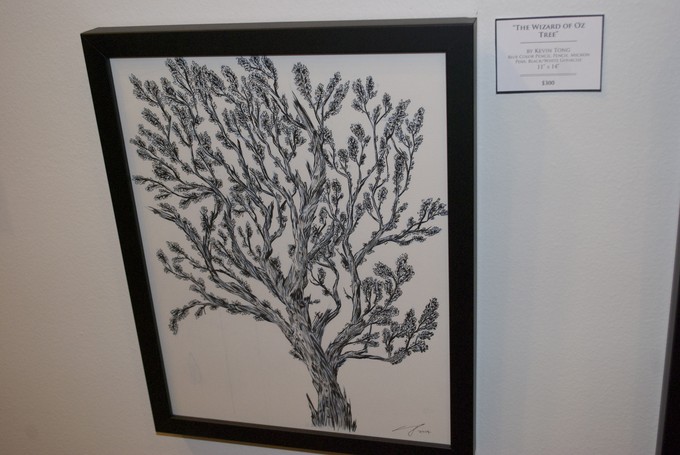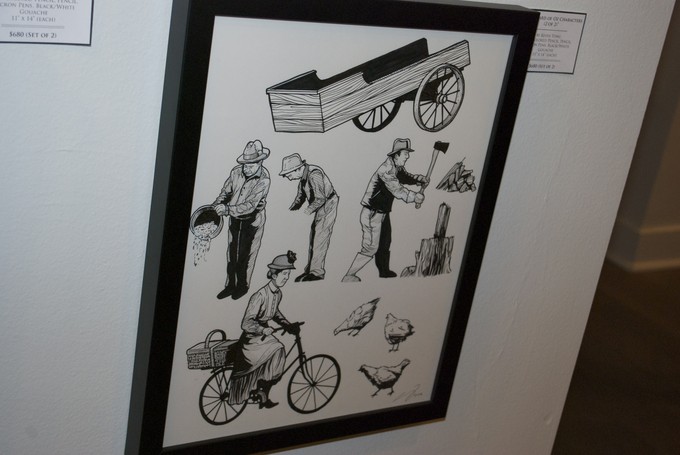 That leaves us with a few more prints, all from Tong. Below you'll see his great Cabinet of Dr. Caligari (regular pictured), Scott Pilgrim Vs. The World and one of my favorites of the show his Psycho.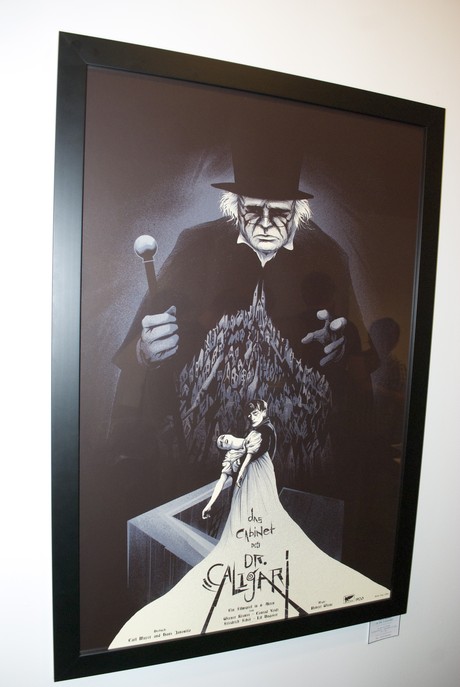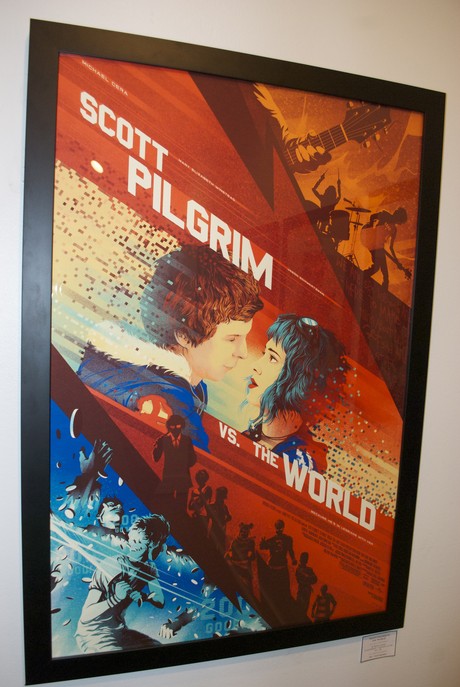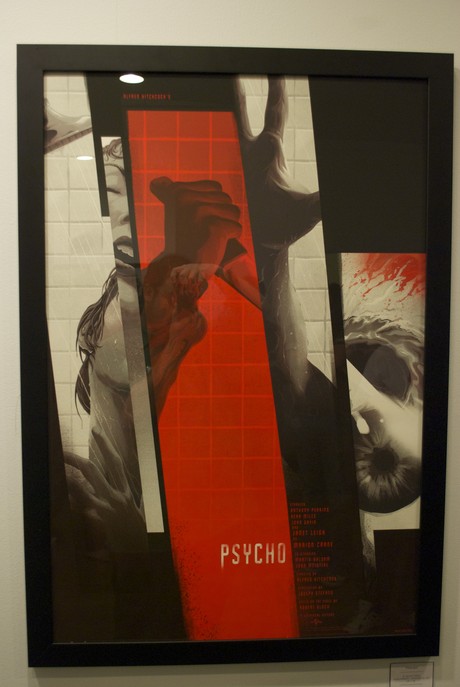 If you're around Austin you can head into the Mondo Gallery at 4115 Guadalupe St during their business hours and pick up any of the above prints (and one more I seemed to neglect to photograph from the indie hit Upstream Color). If not, good luck picking up the remainder whenever they drop online! It's like Gladiator online whenever they drop these things...
Mondo's next gallery is Marvel related. So, start saving up now, fellow poster nerds. I'll likely be there and do another piece like this, so stay tuned next month for all the goodies come out of that show.
-Eric Vespe
"Quint"
quint@aintitcool.com
Follow Me On Twitter