Papa Vinyard here, now here's a little somethin' for ya...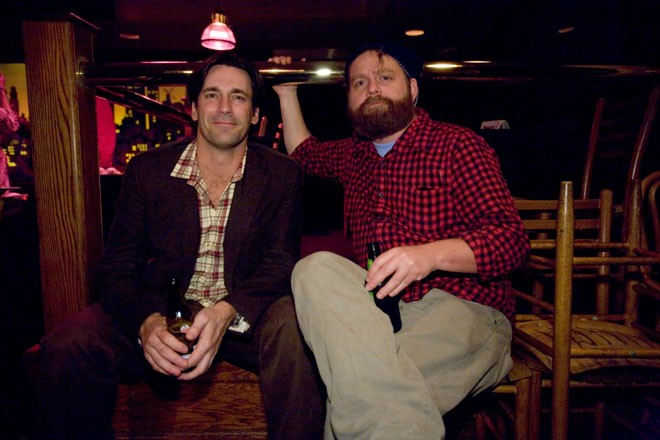 According to THR Zach Galifiankis and Jon Hamm are getting ready for the first time to do a suburban buddy comedy. They're both attached to Greg Mottola's KEEPING UP WITH THE JONESES, which will have one of the stars (presumably Galifianakis) as a half of a "type-A couple" who begin to suspect that their neighbors (including the other male lead, probably Hamm) are actually a sleeper cell of some sort. Sounds like THE WATCH meets NEIGHBORS, if you want to compare it to the comedy oeuvre of Seth Rogen.
Galifianakis is no stranger to this type of studio comedy, but this'll be Ham's first time headlining as a comedic actor. His most famous role of this ilk is probably still as the callous Ted in BRIDESMAIDS, but he's been making impressions with his SNL appearances, guest spots on Adult Swim shows like CHILDREN'S HOSPITAL and THE GREATEST EVENT IN TELEVISION HISTORY, and a funny turn in Mottola's CLEAR HISTORY. Also, he sparred with Galifiankis himself on a "Between Two Ferns" episode a few years back (see below). Methinks their chemistry has some potential.
This'll be Mottola's first theatrical feature since PAUL (an underrated gem) back in '11, and it seems like it'll fit comfortably with his more outwardly comedic tendencies, and not that more "indie" side that made THE DAYTRIPPERS and ADVENTURELAND. Even with SUPERBAD, PAUL, and CLEAR HISTORY under his belt, I don't really consider him a typical studio comedy director, and he always manages to inject his films with more personality than some of your assembly-line helmers can muster on their best day. Hopefully, the satirical bent hinted at in the logline will be prominent and biting, and not just window dressing for gross-out gags and such.
Let's see if working with Galifiankis and Mottola will finally catapult the Golden Globe-winning/Emmy-nominated actor into the big-screen stardom he's seemed destined for since MAD MEN premiered in '07.
-Vincent Zahedi
"Papa Vinyard"
vincentzahedi@gmail.com
Follow Me On Twitter