Papa Vinyard here, now here's a little somethin' for ya...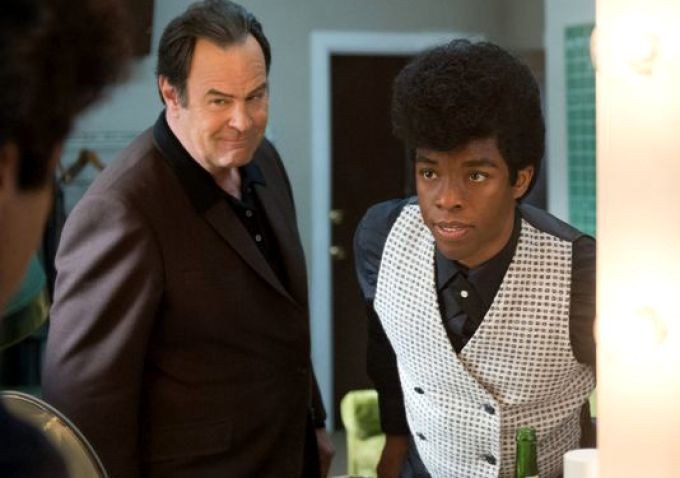 We have our first look at Chadwick Boseman as James Brown in Tate Taylor's GET ON UP, courtesy of USA Today. In it, he's rocking the pompadour and the fancy duds, possibly getting ready for a show, while Dan Aykroyd's Ben Bart looks on approvingly. The film's gonna start out with Brown as a six-year-old boy, and will end with a comeback concert Brown staged in 1993 after a three-year prison sentence. It will also feature Boseman, as Brown, breaking the fourth wall and talking directly to the audience, which Taylor justifies with, "James was a control freak, and even though he's not with us, there's no way he wouldn't be a part of his movie."
He doesn't look a ton like the former Hardest Working Man in Show Business, even in his youth, but I reckon the confidence, swagger, and stage presence are more crucial to this role than a physical resemblance. I'm wishing the best for Boseman, and the rest of the cast (which also includes Viola Davis, Octavia Spencer, Craig Robinson, and Nelsan Ellis), and we should get a better idea of how close he gets to evoking the legendary musican's spirit when we see him in action.
And simply seeing Dan Aykroyd smile brightens my day a little bit. I wish only wonderful things for that man.
GET ON UP will get on up on August 1st.
-Vincent Zahedi
"Papa Vinyard"
vincentzahedi@gmail.com
Follow Me On Twitter